Spirit's robot arm extended for detailed study of soil
BY WILLIAM HARWOOD
STORY WRITTEN FOR CBS NEWS "SPACE PLACE" & USED WITH PERMISSION
Posted: January 16, 2004


The Spirit Mars rover unlimbered its robot arm today and took the first microscopic images of another planet's surface. The smooth operation of the arm during the rover's 13th day on Mars was another major milestone in a mission that, so far, has sailed through activation and checkout without any significant problems.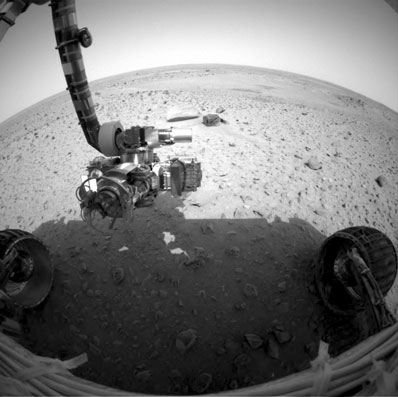 Onboard camera view of the science arm after its deployment Friday. Credit: NASA/JPL



"Today, Spirit began its mission," said Mark Adler, the Mars Exploration Rover mission manager at the Jet Propulsion Laboratory. "We had a good day. It was a lucky sol No. 13. About seven hours ago, we made our first use of the arm. We put the arm out in front of the rover, down hovering over the soil with the microscopic imager, and we took the first microscopic images of the surface of another planet."

As if that wasn't enough, Spirit made a series of observations in concert with a European satellite that arrived at Mars on Christmas day.

"We had the first coordinated international observations at Mars where the Spirit rover looked up and the European Space Agency's Mars Express orbiter looked down through the same atmosphere at the same time," Adler said. "We also had a checkout of our rock abrasion tool, and it checked out great."

Spirit rolled off its lander Thursday morning and parked about a foot away. Before the robot begins moving across the martian surface, scientists want to check out its instrument deployment device, or IDD - the rover's robot arm - and test the operation of its instruments. A rotating turret on the end of the arm carries two spectrometers, a microscopic imager and a rotating rock abrasion took, or RAT, that will be used later to burr into selected rocks, exposing pristine materials not affected by weathering.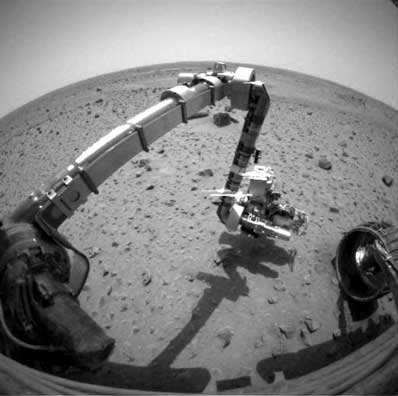 Spirit's arm moves into action for soil studies. Credit: NASA/JPL



The instruments on the arm will "do some wonderful things by taking close-up images of the soil and also figuring out the chemistry and elemental composition of the rocks and soils within Gusev Crater," said Eric Baumgartner, lead robotic arm engineer at JPL.

"But best of all, this robotic arm sits on a rover. And as we've said, a rover is made to rove. And so the rover will take this arm and this tremendous science package along with it and every time we stop, we'll take a look at a rock or a piece of soil as we traverse across Gusev Crater. We have the ability to collect in situ science, science from the surface of Mars up close and personal and reach out an investigate that surface."

Baumgartner said he was happy to report that "the instrument deployment activities that went on today were very successful."

Ken Herkenhoff, science lead for the microscopic imager, said things went so smoothly "I'm a little tongue tied. It's hard for me to describe all the emotions I'm feeling right now. I'm elated and relieved at how well things are going. As I'll show you, we've got some nice images from our first day on Mars with the microscopic imager."

The microscope is capable of resolving features as small as a human hair or a grain of table salt. Test images taken earlier today were at "the highest resolution by far we've ever seen at Mars," he said.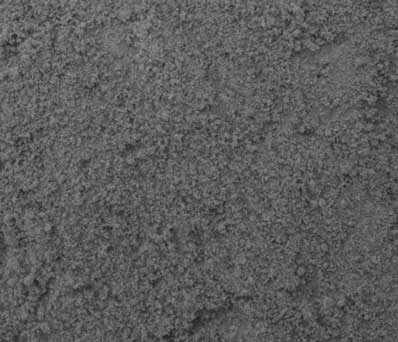 This close-up look at a patch of martian soil by Spirit's microscopic imager is the sharpest image ever taken of another planet. Credit: NASA/JPL/US Geological Survey
See a larger version here



Overnight Friday, the IDD's Mossbauer spectrometer will literally touch the soil in front of the rover for a four-hour test run. Then, Spirit's Alpha Particle X-ray Spectrometer, or APXS, will be positioned a few millimeters above the soil for a planned 20-hour run.

Saturday night, the arm will be stowed for a 15-minute calibration of the APXS. Other IDD observations will be scheduled based on realtime planning while the rover's cameras continue the ongoing characterization of the landing site.

"We're going to have a big science weekend coming up, putting more instruments down on the soil," said project scientist Joy Crisp.

The Opportunity rover, meanwhile, continues to close in on Mars for a planned landing next Saturday night. On Friday, a trajectory correction maneuver was successfully carried out to precisely aim the spacecraft at a landing zone on the other side of Mars.

"Looks like we got a nice burn out of Opportunity," Jim Erickson, the mission manager said in a statement. "We're on target for our date on the plains of Meridiani next Saturday with a healthy spacecraft."


Video coverage for subscribers only:


VIDEO: SEE THE ARM IN ACTION WITH EXPERT NARRATION QT


VIDEO: ANIMATION OF ARM'S ACTUAL MOVEMENTS FRIDAY QT


VIDEO: FIRST MICROSCOPIC IMAGES EXPLAINED BY SCIENTIST QT


VIDEO: FRIDAY'S SPIRIT ROBOT ARM AND SCIENCE BRIEFING QT


MORE: PREVIOUS MISSION COVERAGE!


SUBSCRIBE NOW