Spirit's landing more dramatic than first thought
BY WILLIAM HARWOOD
STORY WRITTEN FOR CBS NEWS "SPACE PLACE" & USED WITH PERMISSION
Posted: January 13, 2004


In the end, it was probably just as well flight controllers couldn't watch the Spirit lander's hair-raising descent to the rocky floor of Gusev Crater January 3. Even a base-jumping skydiver might have experienced a jolt of fear given the last-second maneuvers required to turn a high-speed impact into a safe, if bumpy, landing.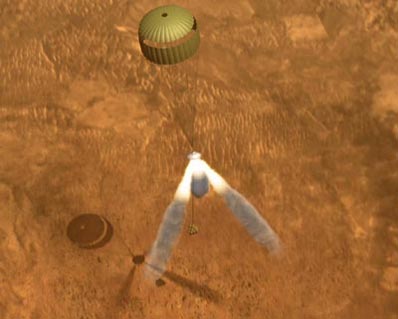 An artist's concept of retrorockets firing just before touchdown. Credit: NASA/JPL/



Plunging toward Mars at 920 mph, Spirit's parachute deployed at an altitude of just 4.6 miles - a mile lower than expected - and its braking rockets fired a scant 34 stories or so above the surface in a flawless, but hair-raising descent that engineers are just now coming to fully appreciate.

The parachute deployed later than predicted because of a dust storm on the other side of the planet that affected the density of the atmosphere above Spirit's landing site. Engineers had instructed the lander's computer to take that into account, but they were surprised at the magnitude of the adjustment.

"It did it just right, but because of the very interesting atmosphere at Gusev at the time we landed, as a result of the dust storm, (parachute deployment) was about a mile lower than our target altitude, which kind of, as you can imagine, makes things a little bit more exciting toward the ground," quipped Rob Manning, Spirit's entry, descent and landing director.

Coming in at an angle, the lander's actual descent velocity was 152 mph, even with its parachute fully deployed. That's somewhat slower than expected, either due to updrafts or higher-than-expected atmospheric density, but still fast enough to cause white knuckles.

"Just to remind you, at 152 miles per hour, the vehicle was going 30 percent faster than a (free-falling) skydiver," Manning said. "And this was with the parachute open. So we are going very fast. In fact, in our animations, some of the early animations we're working on, you can see the ground coming toward you and you realize robots have nerves of steel. Or copper, as the case may be. It is nerve wracking to see the ground come at you that fast. But it works fine, apparently."

As the spacecraft neared the surface, Manning said, a sudden gust of wind began pushing the lander toward a 650-foot-wide crater. But again, Spirit's computer compensated as programmed, ordering side-firing rockets to ignite, counteracting the unwanted sideways motion.

"We were surprised by the dynamics of the wind," said Manning. As a result, the airbag-enclosed lander was cut free of its support bridle at an altitude of just 28 feet above the surface, more than 10 feet lower than expected.

"Think about that. That's only one-and-a-half airbag diameters," said Manning. "Now that's pretty close."

The lander might have survived even if the side-firing rockets hadn't worked. But it would have been a close thing and the spacecraft might have ended up in the crater. But everything worked flawlessly, the lander hit the ground and bounced 28 times across a distance of nearly 1,000 feet before rolling to a stop 57 second later. Spirit ended up about 820 feet from the crater, which will be its first target once surface exploration begins.


Video coverage for subscribers only:


VIDEO: EASTERN HILLS ARE WHERE SPIRIT IS HEADED QT


VIDEO: SCIENTISTS MAP OUT SPIRIT'S LANDING SITE QT


VIDEO: ONBOARD CAMERA VIEW OF FIRST MOTION & WHEEL TURN QT


VIDEO: SPIRIT'S 45-DEG TURN ON LANDER WITH NARRATION QT


VIDEO: TUESDAY'S BRIEFING ON DRIVE PLAN & ROVER FIRST TURN QT


SUBSCRIBE NOW