A Mars stereo panorama is worth ... 6.9 gigabytes
BY WILLIAM HARWOOD
STORY WRITTEN FOR CBS NEWS "SPACE PLACE" & USED WITH PERMISSION
Posted: January 5, 2004


A picture may be worth a thousand words, but the first full-color, high-resolution stereo panorama from the Spirit Mars rover will take a whopping 6.9 gigabytes. With compression, the file size will be smaller, but engineers say reporters and space enthusiasts will need a bit of patience when it comes to waiting for such images to make their way to Earth.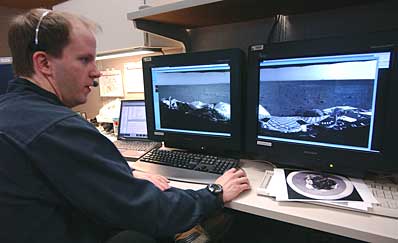 Justin Maki, Mars Exploration Rover imaging scientist, reviews images sent down from Spirit. Credit: NASA/Bill Ingalls



Spirit's camera system must take 24 pictures to complete one 360-degree turn around the lander. For a full panorama, four rows of 24 frames each must be snapped, or 96 frames measuring 1,024-by-1,024 pixels each. Each one of those frames must be shot three times with different color filters. That works out to 288 snapshots for one panorama.

But Spirit's Panoramic Camera system is made up of two identical cameras to provide a stereoscopic perspective. That means the rover actually must snap 576 frames for a complete color stereo panorama.

That's not all. Each pixel in each of those 576 frames includes 12 bits of intensity data. That means a complete panorama, if uncompressed, would require 6.9 gigabytes of computer memory.

Spirit's images can be compressed at least 50 percent, officials say, with no loss of data. Even so, with transmission rates of 11,000 bits per second, it will take several communications sessions to receive a complete panorama.

The first look at a mini panorama - a so-called postcard from Spirit - is expected to be downlinked overnight. That mosaic will represent just a quarter of a gigabyte or so when compressed for transmission.


Video coverage for subscribers only:


VIDEO: RELIVE THRILL OF LANDING NIGHT IN HIGHLIGHTS MOVIE QT


VIDEO: TODAY'S SPIRIT ROVER AND IMAGERY STATUS BRIEFING QT


VIDEO: MEET MEMBERS OF THE MISSION CONTROL "DREAM TEAM" QT


MORE: COMPLETE MARS EXPLORATION ROVER VIDEO REPORT


SUBSCRIBE NOW






Status quicklook

Check the status center for complete coverage.