Spirit's high-gain antenna successfully deployed
BY WILLIAM HARWOOD
STORY WRITTEN FOR CBS NEWS "SPACE PLACE" & USED WITH PERMISSION
Posted: January 5, 2004


In another major milestone, the Spirit Mars rover's high-gain antenna was successfully deployed Sunday night and aimed at Earth. A few minutes before 12:30 a.m. EST today, the first direct-to-Earth communications session over the high-data-rate antenna began, prompting a now-familiar round of cheers and applause in mission control at the Jet Propulsion Laboratory in Pasadena, Calif.

The X-band antenna is critical for Spirit's mission. Flight controllers plan to beam commands directly to the high-gain antenna every morning to tell the rover what to do. Science data from the rover can be beamed back through the high-gain or through NASA's Mars Global Surveyor and Mars Odyssey orbiters.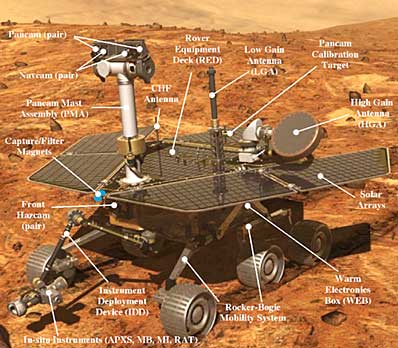 This illustration of the Mars Exploration Rover shows the lollipop-shaped high-gain antenna. Credit: NASA/JPL



During the first communications session early today, engineers successfully established a two-way link, uplinking commands and downlinking science data, including more pictures that were stored in the rover's computer. A so-called "postcard" from Mars, a seven-frame color mosaic taken by Spirit's panoramic camera was expected to be downlinked later in the evening. If all goes well, the picture will be released during a news briefing at noon.

In the meantime, more low-resolution black-and-white Navcam images were downlinked, a series of pictures that will be stitched together into a panorama to help engineers judge how Spirit's mostly collapsed landing airbags change shape as daily heating and cooling affects trapped gases. Engineers are trying to determine what, if anything, needs to be done to further retract sections of partially inflated airbags that might block one or more of Spirits possible exit routes off the lander.


Video coverage for subscribers only:


VIDEO: MIDDAY BRIEFING ON SPIRIT'S HEALTH AND LANDING SITE QT


VIDEO: TAKE SIMULATED FLIGHT OVER THE GUSEV CRATER! QT


VIDEO: BEHIND THE SCENES AT MOMENT OF TOUCHDOWN QT


VIDEO: CHEERS AND SCREAMS WHEN SPIRIT CONFIRMED ALIVE QT


MORE: COMPLETE MARS EXPLORATION ROVER VIDEO REPORT


SUBSCRIBE NOW






Status quicklook

Check the status center for complete coverage.