Japanese H-2A rocket launches two satellites
BY STEPHEN CLARK
SPACEFLIGHT NOW
Posted: September 10, 2002

| | |
| --- | --- |
| | The third H-2A rocket blasts off today. Photo: NASDA |
After two successful test flights, Japan's H-2A rocket launched on its first operational mission today carrying a pair of satellite cargos into two distinctively different orbital perches above Earth.

Liftoff occurred at the opening of the 30-minute launch window at 0820 GMT (4:20 a.m. EDT), or late afternoon at the Japanese launch site on Tanegashima Island.

Officials praised the half-hour mission as successful, deploying the Unmanned Space Experiment Recovery System (USERS) spacecraft and the Data Relay Test Satellite.

The H-2A is now three for three, a positive statistic Japanese space officials hope will help to silence critics of the program inside the country.

Burns of the first stage, the complement of solid-fueled boosters and a single firing of the second stage worked to inject the USERS spacecraft into its low-Earth orbit. Another burn of the upper stage then propelled DRTS into its egg-shaped geostationary transfer orbit.

The USERS research and demonstration platform was expected to be dropped off in a 280-mile circular orbit, though the exact altitude achieved was not immediately available. The satellite will raise its orbit to about 310 miles where it will begin an 8-month mission to conduct crystal growth experiments with high temperature super conductive materials to study for applications on Earth.

A re-entry module will then jettison to return the experiment to Earth as early as May 2003 with a parachuted landing in the Pacific Ocean south of the Japanese main islands.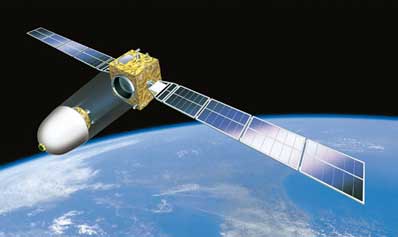 An illustration of the re-entry capsule separating from rest of USERS. Credit: USEF



The larger service module and spacecraft bus will continue to operate in orbit for about two-and-a-half years, increasing its altitude to almost 400 miles to demonstrate a number of new commercial parts and technologies for possible use on future designs.

USERS was developed by the Institute for Unmanned Space Experiment Free Flyer, or USEF.

USERS weighed about 3,740 pounds at liftoff with its fuel tanks full. Twin solar wings will deploy and stretch over 50 feet in length.

DRTS will fire its apogee kick engine several times over the next week to gradually work its way toward a circular geosynchronous orbit 22,300 miles high. From there the satellite will slowly drift toward its permanent slot at about 90 degrees East longitude along the equator, or above the eastern Indian Ocean.

Testing of systems and instruments aboard DRTS will occur for a few months after launch before the satellite is ready to begin conducting its communications experiments and operational activities.

DRTS will be involved in high-speed, high-accuracy communications transmissions with one and sometimes two or more satellites at a time. Likely targets of DRTS experiments and customers of the spacecraft's services include the ADEOS-2 Earth observation satellite, the ALOS land studies craft and the Japanese Kibo laboratory module of the international space station, all of which have not yet been launched.

ADEOS-2 and ALOS do not require support from DRTS to carry out their Earth studies missions, but DRTS provides a more timely relay capability than would be available otherwise.
| | |
| --- | --- |
| | An artist's concept of DRTS deployed in space. Credit: NASDA |
Relaying science data, information of spacecraft health, and commands to and from a number of spacecraft, DRTS will make life easier for ground controllers by being in contact with satellites for over half of each orbit. Currently, controllers can only receive and transmit data during a limited time when craft are passing over ground stations.

The DRTS program was originally conceived to include a pair of satellites, each covering different sides of the globe to provide near-continuous coverage. But in August 2001, NASDA officials halted development and construction of the second spacecraft due to budget problems.

DRTS was built by primary contractor Mitsubishi Electric, with the communications equipment largely manufactured by NEC Toshiba Space Systems of Japan. Development costs were over $250 million in US dollars.

The satellite utilizes S-band and Ka-band equipment for communications, with S-band largely involved in command transmissions and spacecraft telemetry relay due to its decreased sensitivity and lower volume capability. Ka-band will be used for image and science communications.

Weighing 6,160 pounds at liftoff, DRTS is designed for at least a 7-year lifetime in orbit. Its solar panels will span over 55 feet from tip-to-tip when deployed, producing 2.1 kilowatts of power.

Up next for the NASDA team is the launch of the ADEOS-2 Earth observation satellite and three secondary payloads in the November/December time frame aboard an H-2A. The fifth flight of the H-2A rocket is scheduled for next January or February, with a spy satellite payload aboard for the Japanese government. Two H-2A launches are currently set for liftoff next summer.

NASDA plans to conduct no less than 10 more H-2A flights through at least 2005.

An augmented version is in development to haul at least 6 tons into geostationary transfer orbit, but the specific design of the configuration is still in question. The original plan called for the addition of a single large liquid-fueled booster added to the side of the first stage, but high cost estimates have forced officials to look toward other options. A widebody first stage has been considered, increasing fuel capacity and providing room for a second LE-7A engine to be installed along with four large solid-fueled strap-on boosters.

Eventually, officials would like to competitively market the H-2A against other rockets offered by the United States, Europe, Russia and China to launch commercial payloads. All H-2A flights on the books currently are carrying government satellites, and many experts believe that a series of several consecutive successful missions is needed before contracts for commercial launches become a reality.

The H-2A is an advanced version of the H-2 rocket, which suffered a series of failures before being retired.