Landmark four-ton weather satellite blasts off from Japan
BY STEPHEN CLARK
SPACEFLIGHT NOW
Posted: February 27, 2014


Japan launched a $1.2 billion joint satellite mission with NASA on Thursday to measure global rain and snowfall, filling coverage gaps and anchoring an international orbital network to supply scientists and forecasters a radar-like snapshot of global precipitation every three hours.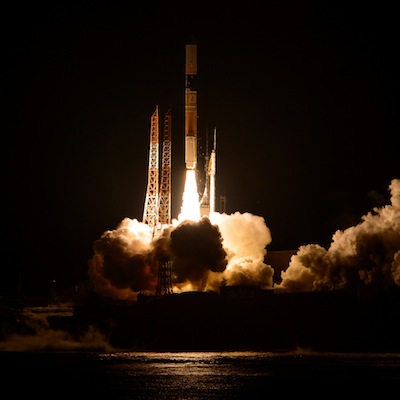 The GPM Core Observatory launched at 1837 GMT (1:37 p.m. EST) Thursday, or 3:37 a.m. local time at Tanegashima Space Center, Japan. Credit: NASA/Bill Ingalls

Data from the Global Precipitation Measurement satellite fleet will help predict a range of natural cataclysms, from floods and cyclones to drought and famine.
The 8,500-pound satellite launched from southern Japan on Thursday is the network's centerpiece, helping officials tie together disparate measurements into a single dataset, a one-stop shop for researchers interested in global precipitation patterns.
"Why are we flying GPM? Rain and snowfall affect our daily lives in many ways," said Steven Neeck, NASA's associate administrator for Earth science flight programs. "The distribution of precipitation in space directly affects the availability of fresh water for sustaining life. Extreme precipitation events like hurricanes, blizzards, floods, droughts and landslides have significant socio-economic impacts on our society."
The GPM Core Observatory lifted off atop a Japanese H-2A rocket Thursday at 1837 GMT (1:37 p.m. EST) from Tanegashima Space Center, an idyllic island launch base off the southern shore of Japan's main islands at the intersection of the Pacific Ocean and the East China Sea.
Coated in orange insulating foam to preserve reservoirs of super-cold liquid oxygen and liquid hydrogen propellants, the 174-foot-tall launcher lit its core main engine and two strap-on solid rocket boosters to race away from the Tanegashima spaceport, where it was 3:37 a.m. local time Friday.
Provided by the Japan Aerospace Exploration Agency and built by Mitsubishi Heavy Industries Ltd., the two-stage rocket accelerated through the speed of sound in less than a minute, dimming from a brilliant fireball to a star-like point of light in live video broadcast from the launch site.
The H-2A released its two solid rocket boosters about two minutes after liftoff, then jettisoned its first stage about six-and-a-half minutes into the flight.
The second stage engine ignited for an eight-minute burn, racing over the Pacific Ocean to a speed of more than 17,000 mph before turning off and deploying its Earth observation primary payload about 16 minutes after launch.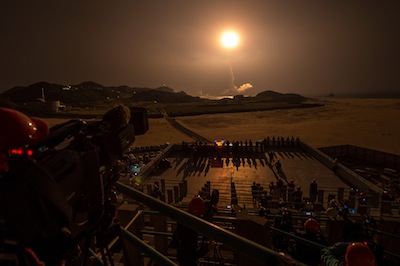 Liftoff of the H-2A rocket as seen from the press viewing site about 2.3 miles from the launch pad. Credit: NASA/Bill Ingalls

The rocket was programmed to later separate seven small secondary satellites for Japanese scientists and university students.
The GPM observatory unfurled two solar array wings to begin charging its electrical batteries, according to NASA engineers. The spacecraft was supposed to deploy a high-gain communications antenna a few hours after launch.
Art Azarbarzin, GPM's project manager for NASA, said the satellite's two instruments will be activated in the first week of the mission. Then officials plan two months of commissioning to verify the satellite and its research sensors are working as designed.
GPM will orbit at an altitude of 253 miles, or 407 kilometers, and fly between 65 degrees north and south latitude, peering into clouds, severe storms, cyclones and blizzards to gauge precipitation rates around the world.
The satellite will extend coverage of ground-based weather radars into undeveloped countries, the oceans and polar regions.
"The difference from ground radar is ground radar can measure a limited area, but spaceborne radar can measure the whole world," said Kinji Furukawa, JAXA's deputy GPM project manager.
It joins nearly a dozen other satellites already flying or in development in an international fleet to give scientists a worldwide view of precipitation every three hours.
Radar and microwave observations from GPM Core Observatory launched Thursday will serve as a reference for the other spacecraft, allowing researchers to create a uniform database updated eight times a day.
"We need to measure precipitation frequently both at the local and regional scales so that we can follow fresh water through the water cycle of the Earth," said Gail Skofronick-Jackson, NASA's deputy GPM project scientist. "We use the GPM Core Observatory as an anchor, an anchor to hold together all the rest of the constellation members."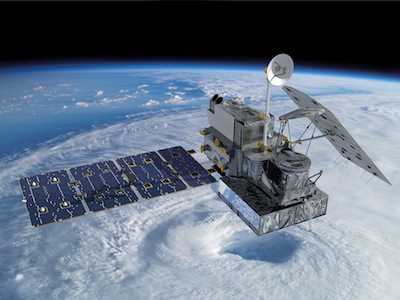 Artist's concept of the GPM Core Observatory in orbit. Credit: NASA

The GPM constellation includes satellites from the United States, Japan, France, India and Eumetsat, the European weather satellite agency.
The GPM Core Observatory was built at NASA's Goddard Space Flight Center in Greenbelt, Md., and development of its microwave imager was led by Ball Aerospace and Technologies Corp. under contract to NASA.
Japan supplied the precipitation radar and H-2A launcher.
NASA's budget for the mission is $933 million, paying for the spacecraft, microwave instrument and ground systems. JAXA invested $226 million into the project to cover the radar and launch vehicle, putting the mission's total cost at nearly $1.2 billion.
GPM is the second collaborative precipitation measurement satellite developed by NASA and JAXA, following the successful Tropical Rainfall Measuring Mission launched in 1997. Now well beyond its design lifetime, TRMM is limited to detecting heavy rainfall in the tropics and subtropics.
"Thanks to TRMM, we have accumulated a lot of knowledge on tropical rain systems," said Riko Oki, the lead JAXA scientist for the GPM mission.
Engineers put GPM into a higher inclination orbit to cover the mid-latitudes up to the Arctic and Antarctic Circles.
Oki says GPM's radar has Ku-band and Ka-band functions. The new Ka-band radar frequency is sensitive to weaker rain storms and frozen precipitation.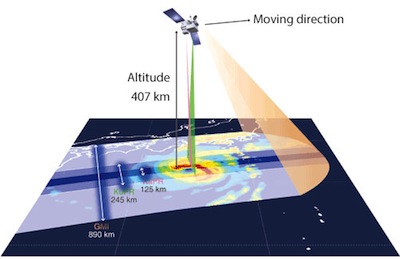 GPM will measure rainfall from an altitude of 407 kilometers, or 253 miles. Credit: JAXA

The radar, manufactured by NEC Toshiba Space Systems, works like ground-based weather radars that supply imagery seen on news broadcasts and used to issue real-time severe storm warnings. The instrument sends out a radar wave and registers its reflection off water particles in the atmosphere.
The U.S.-built instrument on GPM will tally the sum of all precipitation contained within cloud layers. The 13-channel microwave imager will improve on the resolution of a similar sensor carried aboard the TRMM satellite.
The microwave radiometer has a 3.9-foot-diameter, or 1.2-meter, spinning antenna rotating at 32 rpm.
Skofronick-Jackson compares the mission to a health check-up for the planet.
With the dual-frequency radar, "we are able to have what we call a CT scan, it's a three-dimensional view of the precipitation and it's just like seeing three-dimensional within the cloud," Skofronick-Jackson says. "The GMI, on the other hand, I like to describe as an X-ray through the cloud. It's a projection of all the liquid and all the ice in the cloud.
"Just like a doctor uses CT scans and X-rays to diagnose what's happening in the human body, GPM Core Observatory is going to use the measurements of the radar and the radiometer to diagnose the precipitation strucutures within the cloud."
With its upgraded radar, GPM will see tiny raindrops and ice crystals suspended in clouds and falling to Earth, detecting rain and snowfall rates as little as 0.2 millimeters per hour. That's barely enough to wet a windshield.
"We are actually going [to see] from 0.2 millimeters per hour all the way up to 110 millimeters per hour, and we're able to detect snow," Skofronick-Jackson said. "There are some areas of the world that get all of their rain in very light rainfall events, other areas of the world may have these periodic monsoon seasons where they're getting very heavy rain, and there are other parts of the world that get a majority of their fresh water through frozen precipitation. We need to measure all those phases.
"On the other hand, for drought and for early famine warning when you think your crops are going to fail, we need to know how little it's going to rain, too. GPM is going to be able to tell us that as well."
Follow Stephen Clark on Twitter: @StephenClark1.