BY SPACEFLIGHT NOW


Follow the preparations and launch of the second test flight of Japan's H-2A rocket. Reload this page for the very latest on the mission.





Flight data file
Vehicle: H-2A
Payload: MDS-1 & DASH
Launch date: Feb. 4, 2002
Launch time: 0228-0347 GMT (9:28-10:47 p.m. EST on Feb. 3)
Launch site: Tanegashima Space Center, Japan


Snapshots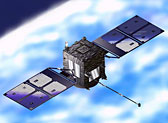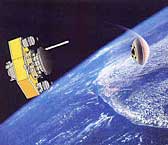 Artist's concepts of the MDS-1 satellite in orbit (top) and the DASH reentry experiment (bottom). Credits: NASDA and ISAS



Pre-launch briefing
Launch timeline - Chart with the key events to occur during the launch.



Ground track - Map showing the course the rocket will follow during its flight.



H-2A - Diagram showing the configuration of the rocket.