Spaceflight Now +





Premium video content for our Spaceflight Now Plus subscribers.

Launch of New Horizons
The New Horizons spacecraft begins a voyage across the solar system to explore Pluto and beyond with its successful launch January 19 aboard a Lockheed Martin Atlas 5 rocket from Cape Canaveral, Florida.

Full coverage

Stardust comes home
NASA's Stardust spacecraft returns samples of cometary dust to Earth with its safe landing in Utah on January 15.

Full coverage

NASA administrator
NASA Administrator Mike Griffin and his deputy Shana Dale hold a news conference at Kennedy Space Center in the final hours of the countdown to the New Horizons launch. Questions from reporters ranged from the Pluto-bound mission, the agency's budget and the space shuttle program.

Dialup | Broadband | iPod

STS-32: LDEF retrieval
Space shuttle Columbia's mission in January 1990 sought to retrieve the Long Duration Exposure Facility -- a bus-size platform loaded with 57 experiments -- that had been put into orbit six years earlier. LDEF was supposed to be picked up within a year of its launch. But plans changed and then the Challenger accident occurred. Columbia's STS-32 crew got into space, deployed a Navy communications satellite, then fulfilled their LDEF recovery mission, carried out a host of medical tests and returned to Earth with a nighttime touchdown in the California desert. The crew presents this post-flight film of mission highlights.

Small | Medium | Large

NASA through the decades
This film looks at the highlights in NASA's history from its creation in the 1950s, through the glory days of the Mercury, Gemini and Apollo programs, birth of the space shuttle and the loss of Challenger, launch of Hubble and much more.

Small | Medium | Large

STS-49: Satellite rescue
If at first you don't succeed, keep on trying. That is what the astronauts of space shuttle Endeavour's maiden voyage did in their difficult job of rescuing a wayward communications satellite. Spacewalkers were unable to retrieve the Intelsat 603 spacecraft, which had been stranded in a useless orbit, during multiple attempts using a special capture bar. So the crew changed course and staged the first-ever three-man spacewalk to grab the satellite by hand. The STS-49 astronauts describe the mission and narrate highlights in this post-flight presentation.

Small | Medium | Large

First satellite repair
The mission for the crew of space shuttle Challenger's April 1984 flight was two-fold -- deploy the experiment-laden Long Duration Exposure Facility (LDEF) and then track down the crippled Solar Max spacecraft, capture it and perform repairs during spacewalks. Initial attempts by the astronauts to grab the craft while wearing the Manned Maneuvering Unit spacewalk backpacks failed, but the crew ultimately retrieved Solar Max and installed fresh equipment while it was anchored in the payload bay. The crew narrates this post-flight presentation of home movies and highlights from mission STS-41C.

Small | Medium | Large

STS-26: Back in space
The space shuttle program was grounded for 32 months in the painful wake of the 1986 Challenger accident. Americans finally returned to space in September 1988 when shuttle Discovery safely launched for its mission to deploy a NASA communications satellite. Enjoy this post-flight presentation narrated by the astronauts as they show movies and tell the story of the STS-26 mission.

Small | Medium | Large

Amazing STS-51I flight
Imagine a space shuttle mission in which the astronaut crew launched two commercial and one military communications spacecraft, then conducted a pair of incredible spacewalks to recover, fix and redeploy a satellite that malfunctioned just four months earlier. The rescue mission was a success, starting with an astronaut making a catch of the spinning satellite with just his gloved-hand. Enjoy this post-flight presentation narrated by the astronauts as they tell the story of shuttle Discovery's August 1985 mission known as STS-51I.

Small | Medium | Large

Become a subscriber
More video







New Earth observer launched into orbit
BY STEPHEN CLARK
SPACEFLIGHT NOW
Posted: January 24, 2006


A first-class, four-ton Earth remote sensing satellite was orbited by Japan today, setting off on a mission to help cartographers create more precise maps on a global scale, scientists in their search for natural resources and officials in response to disasters.


| | |
| --- | --- |
| | The H-2A rocket blasts off with ALOS. Photo: JAXA |
The Advanced Land Observation Satellite was launched into space by an H-2A rocket that came to life with a thunderous roar before climbing into cloud-filled skies above the Yoshinobu complex on Tanegashima Island in the southern part of Japan. Liftoff of the 174-foot tall booster was on time at 0133 GMT (8:33 p.m. EST Monday), or in the mid-morning hours at the launch site.

Fitted with two large solid rocket boosters and a pair of smaller strap-on motors, the H-2A launcher quickly sped away from Tanegashima on a southerly ground track. After a flight of 16 minutes and 30 seconds, the H-2A second stage deployed ALOS into the planned Sun-synchronous orbit with an altitude of around 430 miles above Indonesia's eastern islands.

On-board cameras provided stunning video of the four strap-on boosters separating from the rocket's main stage, and later the second stage releasing the ALOS spacecraft.

For the first time, the rocket's main stage LE-7A cryogenic engine sported an extended cooling nozzle that increases both thrust and efficiency to loft larger payloads. Insulation was also added to the nozzle to test the material before it is incorporated into more powerful versions of the country's leading launcher in the near future.

Five minutes after spacecraft separation, ALOS began to unfurl its 72-foot solar array -- the largest in Japanese space history -- that will provide electrical power to the craft throughout its mission. Six cameras are on-board to visually verify the correct deployment of the solar panel and various instrument antennas.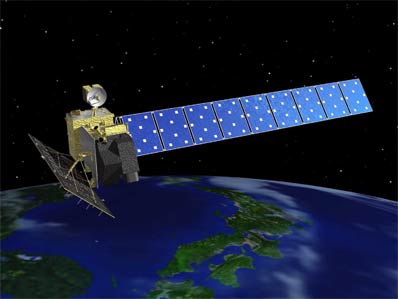 This artist's concept shows the ALOS spacecraft at work studying Earth. Credit: JAXA



Today's flight had been postponed since last summer after engineers discovered transistors on another satellite being readied to launch contained foreign object debris, causing the units to work improperly. Officials checked a host of other satellites still on the ground for similar problems, and they noted that ALOS relied on similar transistors produced by the same company near the same time as those aboard the ASTRO-F infrared telescope. As a precaution, workers replaced the transistors on ALOS, delaying the launch until early this year.

A subsequent issue cropped up Wednesday concerning one of three telemetry transmitters on the H-2A rocket, and managers ordered a swap out of the suspect component. The vehicle was rolled to the pad from its nearby assembly hangar late Sunday, local time, in the final hours before a Monday morning launch attempt. However, Monday's try was scrubbed before sunrise to allow engineers time to troubleshoot an issue with ground equipment responsible for monitoring conditions inside the ultra-clean payload shroud.

Keeping with Japanese space tradition, ALOS carries a nickname -- "Daichi," which translates to "land" in English.

The craft is a key member of Japan's Earth observation fleet, and is one of the largest satellites ever sent into space in that nation's history. Weighing in at well over 8,000 pounds at launch, ALOS is designed to operate for at least three years, with a program objective for a mission lasting up to five years.

Japan's environmental satellite program has a past dotted with missions having premature endings, including the loss of two spacecraft tasked with tracking global warming and climate change.

Officials hope to put that karma to rest with ALOS, which will alone obtain data to compose worldwide maps on a 25,000 to 1 scale, but with special emphasis on the Asia-Pacific region. The satellite will use technology and instruments derived from those included on earlier missions such as the Japan Earth Resources Satellite and the Advanced Earth Observation Satellite project.

The Panchromatic Remote-sensing Instrument of Stereo Mapping, or PRISM, payload will take images with a resolution as high as eight feet in black-and-white. The optical camera consists of three sensors pointing forward, down, and backward along the craft's ground track as it orbits Earth. This feature allows the instrument to gather quality three-dimensional data in individual swaths over 20 miles wide for scientists and map-makers to use in their topographic maps.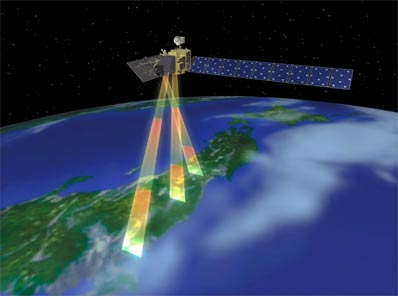 This artist's concept shows the new Earth observation satellite deployed in orbit. Credit: JAXA



Also aboard ALOS is the Advanced Visible and Near Infrared Radiometer-2 (AVNIR-2), which is derived from its namesake that flew on the ADEOS satellite in 1996. The device can pan across the flight path of the spacecraft at angles of up to 44 degrees, and will use this ability to help sense vegetation and plant types. This information will be compiled into land usage maps.

The third instrument included on the satellite is the Phased Array L-band Synthetic Aperture Radar, or PALSAR. This payload is an upgrade of a similar radar system that was aboard the JERS-1 platform that was launched in 1992. PALSAR will send radar beams toward Earth from space, and will analyze the pulses as they are bounced off the surface back to a receiver. This capability enables all-weather observations that can conducted around the clock.

Fully developed by the Japanese Aerospace Exploration Agency, ALOS is expected to contribute to response efforts during natural disasters and other emergencies due to the satellite's ability to produce detailed images within two days of an event. Regional observations will focus on land usage, crops, forests, and floating ice.

The next H-2A launch is just under a month away on February 15, when the multi-functional MTSAT-2 satellite will be launched on a dual mission to improve air traffic congestion in the Far East and to deliver regional weather data to forecasters. That flight will use the same model of the H-2A rocket as ALOS, and both vehicles were integrated in parallel using two mobile launch tables.

Other H-2A missions on the books in the coming year include the launch of a pair of Japanese government spy satellites by next March. The manifest also includes the oft-delayed mission to carry the ETS-8 communications and engineering test satellite to space.