After lengthy delay, India's GSLV set for crucial launch
BY STEPHEN CLARK
SPACEFLIGHT NOW
Posted: January 4, 2014


After a five-month grounding to replace a leaky second stage, India's Geosynchronous Satellite Launch Vehicle is counting down to liftoff Sunday on a pivotal test flight with a communications payload on-board.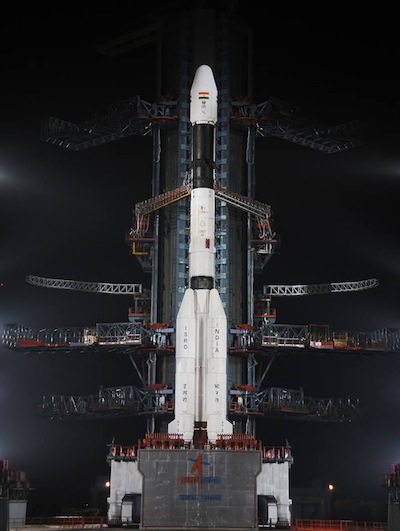 The Geosynchronous Satellite Launch Vehicle is set for launch at 1048 GMT (5:48 a.m. EST; 4:18 p.m. Indian time). Credit: ISRO

Launch is scheduled for 1048 GMT (5:48 a.m. EST) from the Satish Dhawan Space Center on India's east coast on a long-awaited test flight of India's troubled GSLV rocket program.
The rocket sprung a fuel leak during a countdown Aug. 19, forcing Indian officials to scrap the long-delayed test launch of the GSLV with an Indian-built cryogenic upper stage, which engineers see as a pathway to building larger launchers with all-Indian technology.
The launch team aborted the countdown about an hour and 15 minutes before liftoff in August, then ground crews rolled the GSLV back inside its assembly building to be taken apart, inspected and refurbished.
The leaking liquid fuel rained down on the first stage and the GSLV's four strap-on boosters, forcing engineers to replace electronic components in the boosters and install a new core first stage, according to a report in the Hindu newspaper.
The Hindu reported engineers blamed the fuel leak on the fuel tank, which was made of an aluminum-zinc alloy called Afnor 7020 prone to corrosion and cracking. Engineers modified the GSLV second stage tank to use a different aluminum alloy named AA2219.
The GSLV will take off on 1.5 million pounds of thrust from a solid-fueled S139 core stage and four L40H liquid-fueled boosters powered by Vikas engines. The GSLV's second stage uses another Vikas engine, and the third stage is powered by India's homemade cryogenic engine.
"We got a new S139 solid first stage. Its four liquid strap-on stages have a lot of avionics, so we refurbished them at Mahendragiri and Hindustan Aeronautics Ltd," said K. Radhakrishnan, chairman of the Indian Space Research Organization, in a report by the Hindu. "We also made a new second stage. When the launch was called off in August, the liquid stage had to be drained of fuel and washed with much water. This might have affected the electronics systems, so we replaced them, too."
The 161-foot-tall rocket is carrying the GSAT 14 communications satellite, a 4,369-pound spacecraft to extend Ku-band and C-band services over India.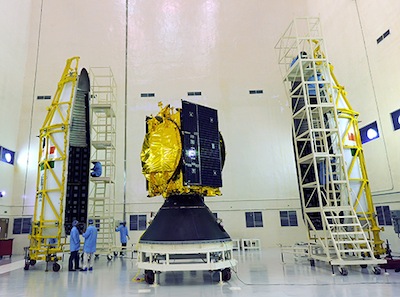 The two halves of the GSLV's payload fairing are positioned around the GSAT 14 spacecraft. Credit: ISRO

Indian technicians removed the GSAT 14 spacecraft from its launch vehicle while officials investigated the fuel leak and restored the rocket to flight condition. The satellite was re-installed on top of the GSLV last month before the rocket rolled to the Second Launch Pad at the Indian spaceport about 50 miles north of Chennai.
Much of the attention on Sunday's launch will focus on the GSLV, the centerpiece of India's ambition to become a fully independent space power. Without the GSLV, India must launch its heaviest satellites on foreign rockets such as the European Ariane 5.
India grounded the GSLV following a pair of launch failures in 2010 - first a premature shutdown of the GSLV's Indian cryogenic upper stage in April, then an explosive mishap shortly after liftoff on another mission in December.
Engineers are confident they have fixed the problems.
"We are sure, with the adjustments we have made and the meticulous reviews we have gone through, this stage should perform precisely, and we'll have a very successful GSLV mission," said S. Ramakrishnan, director of India's Vikram Sarabhai Space Center, last summer before the Aug. 19 launch attempt. "I'm sure with the kind of teamwork we have, and the kind of people we have with us, we will be able to definitely overcome any issue or problem, and GSLV will also be operational one day as PSLV."
India's Polar Satellite Launch Vehicle, or PSLV, has racked up a string of 24 straight successful launches dating back to 1994. But the PSLV's capacity is limited to satellites bound for low orbits or smaller spacecraft heading for higher altitudes.
But the GSLV has a worse record. ISRO has declared four failures in the GSLV's seven launches since 2001.
The success of the all-Indian GSLV, known as the GSLV Mk.2, will give India an independent route to space for its communications satellites and planned interplanetary probes. India currently launches its largest communications payloads on foreign rockets, such as Europe's Ariane 5.
The GSLV Mk.2 configuration can loft payloads weighing more than 5,000 pounds to geosynchronous transfer orbit, the drop-off point for most communications satellites.
Sunday's flight will feature an Indian-built hydrogen-fueled third stage built to replace a Russian-provided engine used on the GSLV Mk.1 model, the rocket's early variant.
International missile and defense technology agreements stipulated Russia could only provide readymade third stages for the GSLV, forcing India to start an in-house program to design and build its own upper stage.
The Indian upper stage failed during its first test flight in April 2010, when the engine's fuel turbopump failed about one second after igniting, dooming the mission. Another GSLV launch with a Russian third stage disintegrated in a fireball less than a minute after liftoff in December 2010, a failure caused by the "untimely and inadvertent snapping of connectors" between the GSLV's computer and the control system on its four liquid-fueled strap-on boosters.
Since 2010, Indian engineers made a number of improvements to the GSLV, including a redesign of the third stage engine's fuel turbopump to account for the expansion and contraction of bearings and casings as super-cold liquid propellant flows through the engine.
Officials also modified the third stage's ignition sequence to ensure the "smooth, successful and sustained ignition" for the main engine, steering engine and gas generator system.
India also made improvements to the third stage engine's protective shroud and a wire tunnel in the third stage. Engineers revised their understanding of the aerodynamic characteristics of the GSLV and added an on-board camera system to better monitor the rocket's performance in flight.
Before approving the improved GSLV for flight, India completed two acceptance tests of the GSLV's third stage fuel turbopump to ensure it will not succumb to the same problem that plagued the April 2010 launch. Engineers also put the third stage engine into a vacuum chamber to simulate ignition at high altitude.
The third stage engine, designed to produce nearly 16,860 pounds of thrust, will take over 4 minutes, 54 seconds after liftoff.
The third stage engine will fire for 12 minutes during Sunday's launch to inject the GSAT 14 satellite into a geosynchronous transfer orbit with a low point of 111 miles, a high point of 22,353 miles and an inclination of 19.3 degrees.
GSAT 14's own propulsion system will raise the low point, or perigee, of its orbit to an altitude of 22,300 miles and align its orbit over the equator to begin a 12-year mission.
Follow Stephen Clark on Twitter: @StephenClark1.