SpaceX resupply launch scrubbed by bad weather
BY STEPHEN CLARK
SPACEFLIGHT NOW
Posted: September 20, 2014


Persistent rain showers and clouds at SpaceX's Cape Canaveral launch base kept a Falcon 9 rocket grounded Saturday, delaying the start of a resupply mission to the International Space Station by at least one day.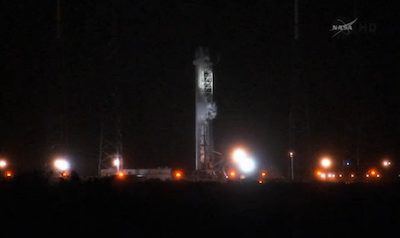 SpaceX's Falcon 9 rocket stands on Cape Canaveral's Complex 40 launch pad during a rainy countdown early Saturday. Credit: NASA TV

Despite a grim forecast, SpaceX ground crews readied the 208-foot-tall booster for a middle-of-the-night launch Saturday, pumping kerosene and liquid oxygen propellants into the Falcon 9 rocket as the countdown moved toward liftoff at 2:14 a.m. EDT (0614 GMT).
But Mother Nature had other plans as steady rainfall loomed over Florida's Space Coast accompanied by thick clouds that violated launch weather criteria.
SpaceX called off the launch with approximately 30 minutes left to go in the countdown and began procedures to drain the rocket's propellant tanks and configure systems for another try Sunday at 1:52 a.m. EDT (0552 GMT).
Meteorologists expected weather conditions to improve later Saturday, but the forecast for Sunday's early morning launch opportunity still called for iffy weather with a 60 percent chance thick clouds and precipitation could prevent liftoff.
If weather or technical problems keep the Falcon 9 from launching Sunday, the next attempt would occur Tuesday.
The rocket is crowned with a SpaceX-built Dragon cargo capsule packed with more than 5,100 pounds of experiments and supplies for the International Space Station.
The flight marks SpaceX's fourth operational resupply run to the space station under a 12-mission, $1.6 billion contract with NASA.
The cargo includes a habitat with 20 mice to probe how microgravity causes muscle atrophy, a 3D printer to demonstrate in-space component manufacturing, and a $26 million NASA instrument to measure winds over the world's oceans.
The Dragon supply ship will reach the space station Tuesday if it can launch Sunday, with its pursuit culminating with a laser-guided final approach before the free-flying craft is grappled by the outpost's Canadian-built robotic arm.
After a one-month mission, the automated spaceship will depart the station and return to Earth to a splashdown in the Pacific Ocean with research samples and other gear.
Follow Stephen Clark on Twitter: @StephenClark1.