SpaceX achieves back-to-back successes for AsiaSat
BY STEPHEN CLARK
SPACEFLIGHT NOW
Posted: September 7, 2014


Putting on a late summer sky show along Florida's Space Coast, a Falcon 9 rocket climbed into space after midnight Sunday with a commercial communications satellite to connect growing markets in China and Southeast Asia.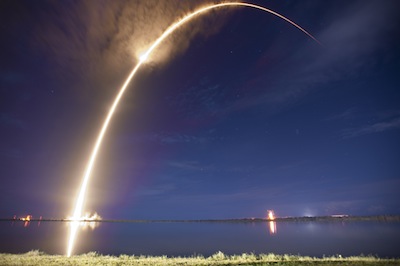 The Falcon 9 rocket streaks into the sky after liftoff from Cape Canaveral. Credit: SpaceX

The mission began at 1 a.m. EDT (0500 GMT) Sunday with the fiery ignition of the 224-foot-tall launcher's nine Merlin first stage engines. Once the kerosene-burning engines ramped up to full power, the Falcon 9 rocket soared away from Cape Canaveral atop a flickering pillar of red-hot exhaust, piercing through clouds before arcing east over the Atlantic Ocean.
The rocket's booster stage gave way to a single-engine upper stage about three minutes after liftoff, beginning the first of a pair of burns to propel the nearly five-ton AsiaSat 6 communications satellite to geostationary transfer orbit, a waypoint on its way to a permanent operating post fixed 22,300 miles over the equator.
SpaceX declared the launch a success shortly after 1:30 a.m. EDT (0530 GMT), when the Falcon 9 was programmed to release AsiaSat 6 into an egg-shaped transfer orbit.
AsiaSat, a commercial satellite operator based in Hong Kong, confirmed ground controllers established communications with AsiaSat 6 a few minutes later, verifying its functionality after Sunday's launch.
The mission was valued at $190 million, including the launcher, satellite and insurance, according to William Wade, AsiaSat's president and CEO.
Manufactured by Space Systems/Loral of Palo Alto, Calif., AsiaSat 6 was expected to raise its orbit to geosynchronous altitude within a few days, where it will hover over the equator for its 15-year mission.
"It takes a few days to do orbit-raising and get all the antennas deployed, and then once all the deployments are done and everything is ready to go through in-orbit testing, where we'll test all the transponders and subsystems," Wade said in an interview before the launch of AsiaSat 6. "That usually takes a little less than 30 days, and once that's done, then it will come online."
If everything goes as planned, AsiaSat 6 should be operational some time in October.
The spacecraft hosts 28 C-band transponders and two communications beams.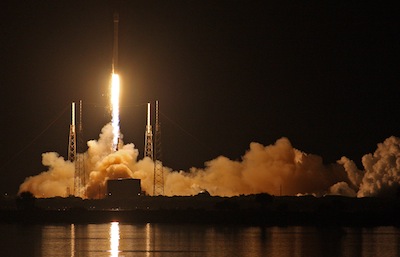 The Falcon 9 rocket climbs away from Cape Canaveral's Complex 40 launch pad. Credit: Stephen Clark/Spaceflight Now

AsiaSat will share up to 50 percent of the satellite's communications capacity with Thaicom, Wade said.
"For AsiaSat, the bulk of that capacity as we see it will be used in China -- C-band capacity in China -- for video services and other telecommunications and data services ... whereas we expect the Thais to use it for data services in Southeast Asia," Wade said.
Thaicom has named its share of the satellite Thaicom 7.
"Our new bird will help fulfill the increasing demand in satellite capacity in Thailand and in the Asia-Pacific region," said Suphajee Suthumpun, chairman and CEO of Thaicom. "Thaicom 7 will help strengthen the company's servicing capacity, as well as allow it to expand into new markets overseas."
In a press release Sunday, Thaicom said its capacity on the new satellite was fully booked at the time of launch, made up of about 50 percent pre-launch sales, with the remainder in the final contract stages.
For AsiaSat, Sunday's launch marked the end of a nearly $400 million development program started in 2011. The initiative culminated in back-to-back launches of AsiaSat satellites aboard SpaceX Falcon 9 rockets.
AsiaSat 8 lifted off from Cape Canaveral on Aug. 5 and was expected to enter service in early September. AsiaSat 6 was supposed to launch Aug. 26, but SpaceX delayed the flight to review data from a rocket mishap at the company's test site in Central Texas.
The prototype rocket lost in Texas uses the same type of Merlin engine as operational Falcon 9 missions, but investigators traced the cause of the mishap to a sensor failure. SpaceX officials said the Falcon 9 rocket uses more advanced software logic and is not susceptible to a single bad sensor.
"Our history has usually been a little bit more conservative where we launched satellites usually three-to-four years apart mainly for replacement satellites or some growth that way," Wade said. "But this is a little bit different for us. We went out and ordered two satellites at the same time from Loral, with the idea that we had opportunities to bring on new capacity for growth.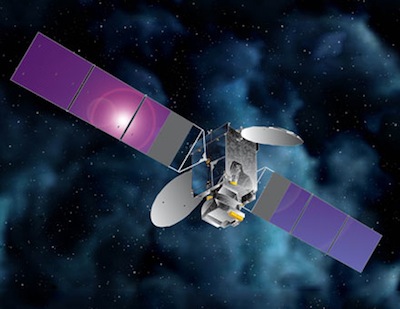 Artist's concept of the AsiaSat 6 satellite. Credit: Space Systems/Loral

"These two satellites launching a month apart are really growth satellites for us," Wade said. "They're not replacements. They're new, incremental growth satellites for us across Asia, with C-band on AsiaSat 6 mainly in China, and Ku-band on AsiaSat 8, which was mainly for the Indian subcontinent as well as the Middle East."
AsiaSat paid SpaceX $52.2 million for each of the launches, according to regulatory filings.
AsiaSat's next satellite -- AsiaSat 9 -- is bigger than the two craft launched by SpaceX. It is booked to launch on an International Launch Services Proton rocket in late 2016 or early 2017.
"We don't have anything booked with [SpaceX] now, but certainly our experience with them would warrant a repeat," Wade said.
SpaceX's next launch is scheduled for no earlier than Sept. 19, when another Falcon 9 rocket will blast off from Florida with a Dragon cargo capsule on a resupply mission to the International Space Station.
Follow Stephen Clark on Twitter: @StephenClark1.