AsiaSat CEO says Cape Canaveral has its drawbacks
BY STEPHEN CLARK
SPACEFLIGHT NOW
Posted: September 6, 2014


Expect some frustrations from bureaucratic red tape if you're a commercial company looking to launch from Cape Canaveral, says the head of AsiaSat as it prepared to send up a satellite Sunday.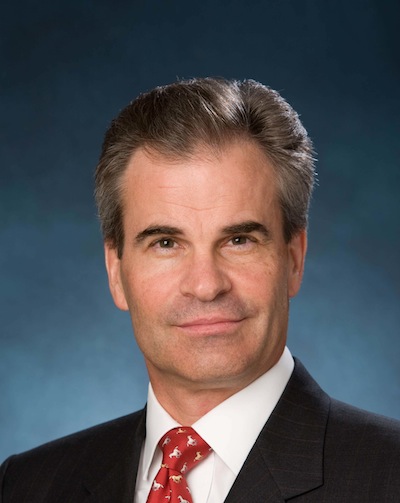 William Wade is AsiaSat's president and CEO. Credit: AsiaSat

Based in Hong Kong with an international staff, AsiaSat is in the midst of back-to-back launches with SpaceX. The missions from Cape Canaveral mark AsiaSat's first time launching from Florida since 2003, when an Atlas 3B booster delivered one of the company's satellites to orbit.
"I think Cape Canaveral is a great place to launch, but it does have its downside, which is it's quite bureaucratic here," said William Wade, AsiaSat's president and CEO.
"There are a lot of regulations and clearances and restrictions, which I think hinders the processing of commercial satellites here," Wade said in an interview at Cape Canaveral. "I think that's too bad because it is a bit of a negative."
SpaceX's launch pad and processing facility is on U.S. Air Force property. The military controls access to the launch base, meaning employees and visitors must comply with Defense Department security and safety restrictions.
"Even though our processing has gone well, it's not been without some frustrations from the various teams just having to deal with some of the bureaucracy of the government in working at the Cape," Wade said. "Unfortunately, I think that's one of the reasons that SpaceX is looking at doing commercial launches on their own satellite base down in Texas."
SpaceX announced in August it had selected a site in Brownsville, Texas, to construct a commercial launch facility independent of Air Force and NASA, which own the property at Cape Canaveral Air Force Station and Kennedy Space Center.
The Federal Aviation Administration will still have licensing authority for rocket launches from SpaceX's facility in South Texas.
SpaceX says its launches for NASA and the U.S. military will remain in Florida and California.
SpaceX has won a large share of the global commercial launch services market over the last few years, signing payloads from satellite operators in the United States, Latin America, Europe and Asia.
Cape Canaveral hosted its first commercial satellite launch in five years in December 2013, when a Falcon 9 rocket put up a spacecraft for SES of Luxembourg.
A manifest on SpaceX's website lists nine Falcon rocket launches from Cape Canaveral -- after AsiaSat 6's launch -- in the next three years for commercial satellite firms. A United Launch Alliance Atlas 5 rocket also has a commercial flight booked for next year with a Mexican communications satellite.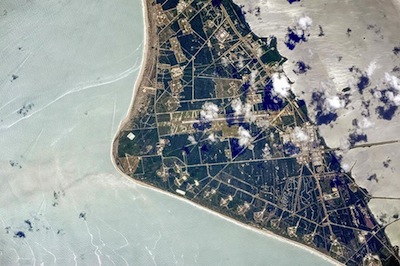 Cape Canaveral as seen from the International Space Station. Credit: Oleg Artemyev

Most of AsiaSat's launches before now have been with International Launch Services, a Virginia-based company that oversees commercial flights of Russia's Proton rocket, which lifts off from the Baikonur Cosmodrome in Kazakhstan.
Wade said Cape Canaveral is "certainly easier to get to than some of the other places that we've launched. It's easier to get to than Baikonur."
"As far as us coming here and bringing guests here, it's a great place to visit," Wade said. "It's a great place to watch a launch. The location is easy to get to, and there a lot of other activities that make it a place that people want to come to. So from that standpoint, it's been great."
But Wade said regulations and procedures in place at Cape Canaveral are not well-suited for commercial launches, which often involve satellites and customers from overseas.
"There are certain clearances and restrictions for foreign nationals here," Wade said. "In addition to just the nationality issues, there are just regulations that all people have to abide by here, and it does make it more difficult from a commercial perspective when you have these regulations in processing, access to locations, weather restrictions and things like that, that you deal with here at the Cape that you don't typically have to deal with at other locations."
Space Florida, a state economic development agency focused on the space industry, envisions luring more commercial business to Cape Canaveral.
One way to make the area more business-friendly would be to develop a launch site off Air Force property, where the launch provider could control access to the facility.
"You're going to have to make the environment very flexible and responsive to the commercial marketplace," said Frank DiBello, CEO of Space Florida, in a July interview. "That means you need to bring in your international customers to the site who want to see and touch their payloads and have easy and free access to the site, as they can overseas. That is difficult to achieve on federal property."
Military satellite launches could also get priority over commercial payloads, which share the same range safety, tracking and communications infrastructure at Cape Canaveral.
"Frequently, a commercial launch will have to sit and wait for a range problem or a high-priority DOD payload to launch," DiBello said. "There are penalties associated with that because you're talking about a commitment to have a capability on orbit by a certain date. There are penalities built into the contract, and there is a lot of revenue at stake."
Despite the difficulties, Wade said working with SpaceX has been smooth, but AsiaSat has no more Falcon launches reserved.
AsiaSat paid SpaceX $104 million for the launch of AsiaSat 8 and AsiaSat 6, or $52 million for each flight.
"We don't have anything booked with them now, but certainly our experience with them would warrant a repeat," Wade said.
Follow Stephen Clark on Twitter: @StephenClark1.