Falcon 9 rocket on track for middle-of-the-night launch
BY STEPHEN CLARK
SPACEFLIGHT NOW
Posted: September 5, 2014


A commercial communications satellite is folded up inside the nose of a SpaceX Falcon 9 rocket for liftoff from Cape Canaveral after midnight Sunday, ready to launch on a 15-year mission to beam broadcast video and data services to China and Southeast Asia.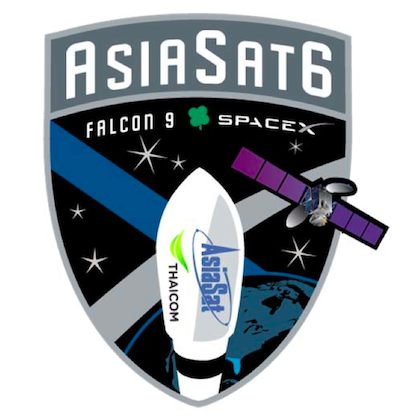 Credit: SpaceX

Owned by AsiaSat, a telecom operator based in Hong Kong, the nearly five-ton spacecraft is fueled, charged and ready for liftoff from Cape Canaveral's Complex 40 launch pad at 12:50 a.m. EDT (0450 GMT) Sunday. The launch window extends to 4:04 a.m. EDT (0804 GMT).
Forecasters predict partly cloudy skies with isolated rain showers during the middle-of-the-night launch window, calling for a 70 percent chance conditions will be acceptable for liftoff of the 22-story Falcon 9 rocket.
SpaceX delayed the launch from Aug. 27 to review the rocket's fault detection software, an effort company founder and CEO Elon Musk said was to ensure the launcher's reliability after a prototype rocket with similarities to the Falcon 9 self-destructed Aug. 22 on a test flight over Central Texas.
SpaceX and AsiaSat announced Friday that liftoff was targeted for Sunday morning.
The launch team plans to oversee the loading of more than a million pounds of liquid oxygen and kerosene into the two-stage rocket Saturday night. Once the Falcon 9's safety, guidance and propulsion systems are verified ready for flight, SpaceX will authorize the start of the rocket's final computer-controlled countdown sequence.
Nine Merlin 1D engines will ignite and go through an automated health check before computers release the rocket from the launch pad.
The Falcon 9 will take off and turn east from Cape Canaveral, powering into the sky atop more than 1.3 million pounds of thrust during a nearly three-minute first stage engine burn.
The rocket's single-engine second stage will take over, jettison the launcher's aerodynamic fairing cocooning the AsiaSat 6 spacecraft, and complete two engine firings to inject the satellite into an egg-shaped geostationary transfer orbit.
Deployment of the AsiaSat 6 satellite is scheduled about 32 minutes after liftoff, according to SpaceX.
AsiaSat 6's hefty weight -- approximately 9,900 pounds -- is near the limit of the Falcon 9's lift capability, so SpaceX says it will not reserve leftover fuel to try to recover the rocket's first stage, an exercise aimed at eventually making the launcher reusable.
Sunday's mission will fly in expendable mode, according to SpaceX.
William Wade, AsiaSat's president and CEO, said AsiaSat 6 will extend its power-generating solar panels, unfurl its communications antennas, and maneuver into an operational orbit 22,300 miles up, where it will hover over a fixed point on Earth along the equator.
Ground controllers at Space Systems/Loral, the California-based builder of AsiaSat 6, will park the satellite at 120 degrees east longitude.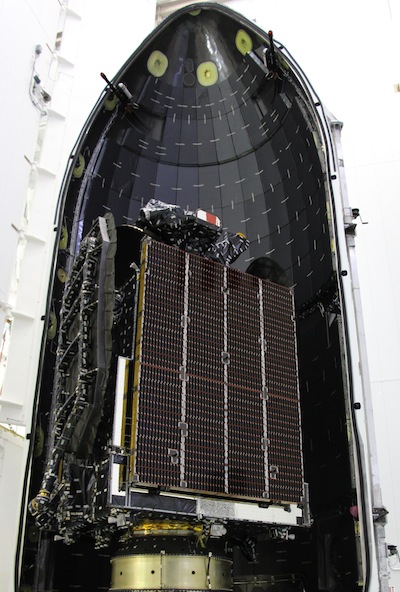 The AsiaSat 6 communications satellite is encapsulated inside the Falcon 9 rocket's payload fairing. Credit: AsiaSat

The value of Sunday's mission is approximately $190 million, including the spacecraft, the launch contract and insurance, Wade said. AsiaSat is paying SpaceX $52.2 million for the launch of AsiaSat 6, according to AsiaSat's regulatory filings.
Wade said AsiaSat 6 will go into service about a month after its launch if everything goes as planned. It is designed for a 15-year lifetime.
AsiaSat 6 hosts 28 C-band transponders to broadcast communications signals through two beams -- a global beam and a regional beam to serve AsiaSat and Thaicom, another satellite operator that negotiated access to up to 50 percent of AsiaSat 6's capacity.
"The purpose of that is to be able to separate the traffic, so we aren't competing with each other in selling and marketing the capacity," Wade said. "For AsiaSat, the bulk of that capacity as we see it will be used in China -- C-band capacity in China -- for video services and other telecommunications and data services ... whereas we expect the Thais to use it for data services in Southeast Asia."
AsiaSat 6's launch will come a month after SpaceX placed a similar satellite into orbit for AsiaSat. A Falcon 9 rocket delivered AsiaSat 8 to orbit Aug. 5 on its last flight.
"These two satellites launching a month apart are really growth satellites for us," Wade said. "They're not replacements. They're new, incremental growth satellites for us across Asia, with C-band on AsiaSat 6 mainly in China, and Ku-band on AsiaSat 8, which was mainly for the Indian subcontinent as well as the Middle East."
Launching two satellites in quick succession with the same launch provider is new for AsiaSat. It is also rare in the wider commercial satellite market.
"I'm not sure very many satellite operators have ever launched back-to-back like we're doing. We certainly never have," Wade said. "Our history has usually been a little bit more conservative where we launched satellites usually three-to-four years apart mainly for replacement satellites or some growth that way."
The two launches are also AsiaSat's first missions with SpaceX.
"SpaceX is new," Wade said. "When we signed up with SpaceX, we knew there would be some growing pains that they would go through. We expected that. That's what we signed up for."
Space Systems/Loral completed testing of the satellites in Palo Alto, Calif., this spring, when the payloads were originally booked to launch with SpaceX. But the launches were delayed to August and September after SpaceX ran into problems with other missions earlier this year.
"Obviously, we're launching a little bit later," Wade said. "These satellites were originally scheduled to launch in the spring, so we're delayed on that. But they've done a great job. Our experience with them has been very good.
"We got a great launch with AsiaSat 8. It was a little bit later than we had hoped, but I think we knew there was that possibility when we signed up because launching rockets is complicated," Wade said. "You kind of have to learn as you go along, and some things are unpredictable. Our experience so far has been very good. The people have been very responsive to our needs, and very open about what we needed to do."
Follow Stephen Clark on Twitter: @StephenClark1.