SpaceX test mishap prompts delay of Falcon 9 launch
BY STEPHEN CLARK
SPACEFLIGHT NOW
Posted: August 24, 2014


SpaceX says it has delayed liftoff of the next Falcon 9 rocket until Wednesday to ensure the problem that caused a prototype rocket to self-destruct in a test flight Friday will not pose a risk to the launch of a telecommunications satellite for AsiaSat.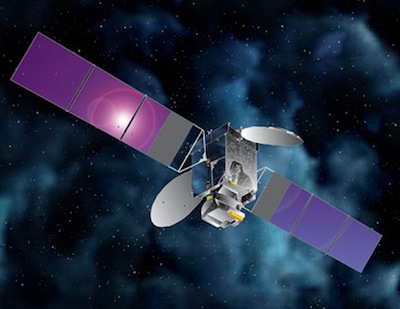 Artist's concept of the AsiaSat 6 communications satellite set for launch on a SpaceX Falcon 9 rocket. Credit: Space Systems/Loral

Launch is now set for 12:50 a.m. EDT (0450 GMT) Wednesday from Cape Canaveral's Complex 40 launch pad. The launch window extends for 3 hours, 15 minutes.
A backup launch opportunity is available Thursday morning, pending final approval by the U.S. Air Force, which controls the launch range at Cape Canaveral.
SpaceX ordered the 24-hour delay as a precaution after a rocket-powered testbed designed to wring out reusable rocket technologies exploded over the company's Central Texas test facility Friday, a company spokesperson said Sunday.
The Falcon 9R Dev 1 prototype's flight termination system automatically destructed the rocket in flight over SpaceX's test site in McGregor, Texas.
"While Friday's F9R three engine, single stage test article and our launch site in McGregor, Texas, are very different from the planned Cape Canaveral, Florida, launch of the AsiaSat 6 satellite on the Falcon 9 rocket, we are taking some additional time to review the circumstances that caused the test vehicle to auto terminate to confirm that there is not a risk to orbital flight," SpaceX said in a statement Sunday.
The three Merlin 1D engines on the Falcon 9R testbed are the same type of engines used on the Falcon 9 launcher.
SpaceX engineers are also reviewing data from a customary prelaunch engine firing Friday on the launch pad at Cape Canaveral before giving a green light for Wednesday's liftoff.
"SpaceX prizes mission assurance above all," the statement said. "This action is consistent with that philosophy."
This week's flight will mark the 12th launch of SpaceX's Falcon 9 rocket, and the launcher's fifth mission this year.
The AsiaSat 6 communications satellite is buttoned up inside the rocket's nose cone.
Built by Space Systems/Loral of Palo Alto, Calif., AsiaSat 6 will distribute video and broadband networking services over Asia, Australia, and the Pacific islands.
The two-stage Falcon 9 rocket will deploy the satellite into an egg-shaped geostationary transfer orbit about 32 minutes after liftoff, according to SpaceX.
The satellite is owned by Hong Kong-based AsiaSat, which launched another satellite on a Falcon 9 flight earlier this month.
The official launch weather forecast calls for partly cloudy skies during the middle-of-the-night launch window.
Forecasters from the Air Force's 45th Weather Squadron say there is a 70 percent chance of favorable weather for the Falcon 9 launch window early Wednesday.
There is little chance Tropical Storm Cristobal will threaten Florida's Space Coast, with the storm forecast to track north from the southeastern Bahamas into the Atlantic Ocean.
The main concerns for launch are anvil and cumulus clouds, according to meteorologists.
Officials expect partly cloudy skies and isolated rain showers in the vicinity of Cape Canaveral early Wednesday, with a temperature of 82 degrees Fahrenheit and northeast winds of 10 to 15 mph.
Weather for Thursday's backup launch window is forecast to improve, with an 80 percent chance of acceptable conditions.
Follow Stephen Clark on Twitter: @StephenClark1.