AsiaSat 8 ready to ride SpaceX launcher into orbit
BY STEPHEN CLARK
SPACEFLIGHT NOW
Posted: August 4, 2014


A Falcon 9 rocket is set for liftoff from Cape Canaveral early Tuesday, continuing a jam-packed sequences of launches by SpaceX for commercial and government customers after a slow start to the year.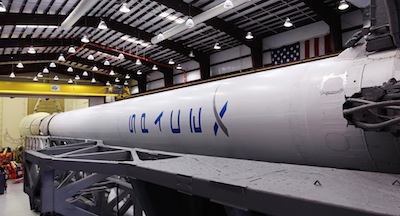 The Falcon 9 rocket with AsiaSat 8 is readied for rollout from SpaceX's hangar at Cape Canaveral, Fla. Credit: AsiaSat

The 22-story rocket will loft the AsiaSat 8 communications satellite into geostationary transfer orbit, a drop-off point for most large telecom payloads heading for operating posts 22,300 miles over the equator.
Liftoff from Cape Canaveral's Complex 40 launch pad is set for 1:25 a.m. EDT (0525 GMT). The launch window extends until 4:11 a.m. EDT (0811 GMT).
Forecasters predict generally favorable weather, with a 30 percent chance thick clouds or cumulus clouds from nearby rain showers could prevent liftoff Tuesday.
The Falcon 9 will turn east from Cape Canaveral, powering into the upper atmosphere atop more than a million pounds of thrust from its nine Merlin 1D main engines. A single-engine upper stage will ignite two times before deploying AsiaSat 8 into an oval-shaped transfer orbit about 32 minutes after liftoff.
Built by Space Systems/Loral of Palo Alto, Calif., AsiaSat 8 will be released in an orbit with a low point of 115 miles, a high point of 22,236 miles and tilted 24.3 degrees to the equator.
Based on Loral's 1300 platform, the spacecraft's on-board propulsion system will boost the satellite into a circular geosynchronous orbit a few weeks after launch, when AsiaSat 8 will complete in-orbit testing and enter service.
AsiaSat 8 will be parked along the equator at 105.5 degrees east longitude, where it will hover 22,300 miles over Asia, broadcasting direct-to-home television signals to China, India, Southeast Asia and the Middle East, according to Hong Kong-based AsiaSat.
The satellite's 24 Ku-band transponders -- routing signals through four communications beams -- will also support data broadcasting and other telecom services. AsiaSat 8 also carries a Ka-band communications payload.
The new spacecraft will be the most powerful member of AsiaSat's fleet. It will be co-located with the AsiaSat 7 satellite launched in 2011.
"The additional capacity from AsiaSat 8 will help meet growing market demand and ensure the delivery of exceptionally high power and quality service to its customers," AsiaSat said in a press release.
AsiaSat 8 is designed to operate for 15 years.

Artist's concept of the AsiaSat 8 satellite. Credit: Space Systems/Loral

The satellite's high-altitude destination leaves no margin for SpaceX to attempt a recovery of the Falcon 9 rocket's first stage as tried on the launcher's last two flights.
AsiaSat 8 will use nearly all of the Falcon 9's lift capacity to reach the launch's targeted geostationary transfer orbit.
On the last two Falcon 9 flights -- in April and July for NASA and Orbcomm -- the rocket had leftover propellant to re-ignite its first stage engines for a controlled descent into the Atlantic Ocean downrange from Cape Canaveral.
SpaceX is demonstrating its technique for recovering the rocket's first stage, with an eye toward trying a rocket-assisted landing on the ground or on a ocean-going platform by the end of the year.
The ultimate objective is to make the first stage reusable, an achievement SpaceX claims will slash launch costs and make space access more routine.
But the reusability prospects for the Falcon 9 will be limited to certain missions where the launcher's performance is not entirely consumed by its payload. Some launches of commercial communications satellites to geostationary transfer orbit will use up all of the Falcon 9's capability.
SpaceX plans to launch the heaviest telecom satellites on the Falcon Heavy, a powerful rocket composed of three Falcon 9 first stages strapped together. The Falcon Heavy has not flown yet, with an inaugural launch from Kennedy Space Center's launch pad 39A set for some time next year.
Tuesday's flight will mark the 11th launch of a Falcon 9 rocket since its debut mission in 2010, and it is the second of four SpaceX launches from Florida planned in a two-month period.
The launches have stacked up in quick succession after multi-month delays in a pair of Falcon 9 flights earlier this year.
A launch of a space station resupply mission this spring was delayed a month after concerns with the Dragon cargo craft and Falcon 9 rocket conspired with a fire at a U.S. Air Force range radar facility to keep the flight grounded.
A series of rocket-related problems kept six Orbcomm machine-to-machine communications satellites from launching for more than two months.
The Orbcomm mission was supposed to lift off in early May, but leaks in the rocket's helium pressurization system, a problem with an engine steering actuator, weather and additional inspections ordered on one of the six payloads meant launch did not occur until July 14.
Tuesday's launch is the first of two Falcon 9 missions planned in August for AsiaSat. The AsiaSat 6 satellite -- already being prepared for launch in Cape Canaveral -- is scheduled for liftoff before the end of the month.
Then SpaceX plans another launch of a Dragon supply ship to the International Space Station no earlier than Sept. 12.
Follow Stephen Clark on Twitter: @StephenClark1.