Orbcomm pleased with SpaceX rocket performance
BY STEPHEN CLARK
SPACEFLIGHT NOW
Posted: July 23, 2014


The six Orbcomm communications satellites launched last week are in good shape after an ultra-precise orbital delivery by a SpaceX Falcon 9 rocket, according to Orbcomm's chief executive.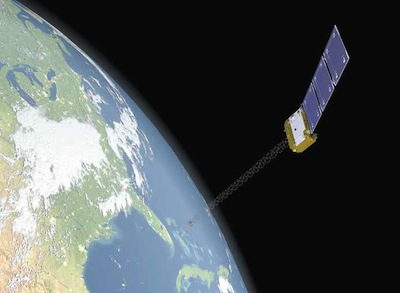 Artist's concept of an Orbcomm satellite in space. Credit: Sierra Nevada Corp.

Marc Eisenberg, head of New Jersey-based Orbcomm Inc., said the Falcon 9 rocket placed its six payloads in an orbit just a half-kilometer off prelaunch predictions, ending up in an orbit with a high point of 740.5 kilometers (460 miles), a low point of 619.5 kilometers (385 miles) and an inclination five one-thousandths of a degree off the rocket's target of 47 degrees.
A SpaceX spokesperson was unable to confirm the precise orbit achieved by the Falcon 9 rocket.
The satellites will not need to use extra propellant loaded into their fuel tanks to correct a potential orbit injection error, Eisenberg said.
He said "13 percent of our propellant was budgeted to correct a miscalculation in the insertion. We'll use none of it."
The extra fuel will add to the spacecraft's reserves, providing more maneuverability for the 375-pound satellites in orbit.
"All six satellites were deployed as planned," Eisenberg said last week. "All antenna and solar panels have been deployed as designed."
"Overall, considering it's a new constellation, we are extremely pleased with where we are," Eisenberg said.
The Falcon 9 rocket with the six second-generation Orbcomm, or OG2, satellites lifted off July 14 after two months of delays blamed on the launcher's helium pressurization system, a second stage steering actuator, range availability and the payloads themselves.
The launch was part of a $42.6 million two-launch contract package purchased by Orbcomm at a discount from SpaceX's advertised Falcon 9 launch prices.
According to an update posted on Orbcomm's website, engineers from spacecraft manufacturer Sierra Nevada Corp. will spend the first 30 days of the mission commissioning each of the refrigerator-sized satellites.
Then engineers will turn to testing of the Boeing-built payload on each satellite. Full commercial service for Orbcomm's nearly 900,000 subscribers should be available by mid-September, Orbcomm said.
The satellites also need to drift in space to their operational positions within Orbcomm's fleet.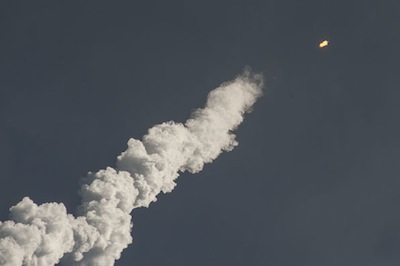 The Falcon 9 rocket launched July 14 from Cape Canaveral with six Orbcomm satellites. Credit: SpaceX

The satellites are designed for machine-to-machine communications and maritime tracking services.
Sierra Nevada said 11 more OG2 satellites are in final integration and testing at the company's space manufacturing facility in Louisville, Colo. The satellites are booked to launch on another Falcon 9 rocket, a flight that could be scheduled by the end of the year, officials said.
Most of Orbcomm's existing first-generation, or OG1, satellites were launched more than 15 years ago and have outlived their design lifetimes.
Orbcomm officials say the company's investment in the second-generation satellite fleet is worth approximately $230 million, including construction of the 17 satellites, launch services and insurance.
Built for 10-year lifetimes, the satellites launched into one of four orbital planes occupied by Orbcomm's communications satellites. The new platforms will join 25 operational first-generation Orbcomm satellites, plus a pair of small ship-tracking spacecraft used by Orbcomm.
Subscribers use the satellites to relay status updates, location pings, commands and other data between companies and far-flung trucks, ships, rail cars, oil and gas infrastructure, weather buoys and research stations.
Orbcomm says the new constellation of satellites is fully compatible with existing ground terminals. The company offers a new modem with the same interface as a legacy modem to be plugged into customers' equipment.
The satellite operator's clients include household brands such as Caterpillar, Wal-Mart, Volvo, Tropicana, General Electric. Orbcomm says it focuses on the commercial transportation, heavy equipment, industrial fixed assets, marine, and homeland security industries.
Orbcomm says its customers will see benefits from the launch, including reductions in the time it takes to transfer messages. Full exploitation of the OG2 system's upgrades, such as 24-hour near real-time service, larger message capacities, and greater geographic coverage, will with the second OG2 launch.
Each second-generation satellite has six times the data capacity and twice the transmission rate of one of Orbcomm's existing satellites. A higher-power communications system on the OG2 satellites will allow customers on the ground to connect with smaller, less-expensive antennas, officials said.
Follow Stephen Clark on Twitter: @StephenClark1.