Delay-stricken SpaceX launch scrubbed by technical issue
BY STEPHEN CLARK
SPACEFLIGHT NOW
Posted: June 20, 2014


SpaceX called off launch of a Falcon 9 rocket Friday after detecting an unexpected pressurization signature on the launcher's second stage.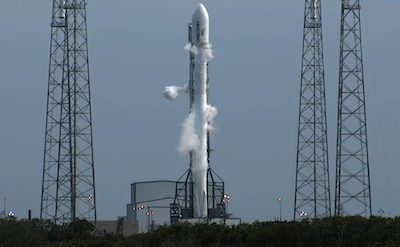 SpaceX's Falcon 9 rocket on the launch pad during Friday's countdown. Credit: SpaceX

Officials said the launch team detected a drop in pressure on the rocket's second stage shortly before beginning the terminal countdown for liftoff at 6:08 p.m. EDT (2208 GMT). The launch crew spent nearly an hour evaluating the problem, aiming to be ready for liftoff at the end of Friday's launch window at 7:01 p.m. EDT (2301 GMT).
It was not clear whether the issue was on the launcher or ground systems, and engineers studying the problem ultimately called an abort at T-minus 7 minutes, 50 seconds.
"This is stage two. We are abort, abort, abort," said a member of the SpaceX launch team.
"Right now, we are going in and putting the Falcon 9 in a safe configuration," said John Insprucker, SpaceX's Falcon 9 product manager, in a company webcast. "The launch vehicle and the spacecraft are OK. We'll be looking at off-loading propellants. The team will continue looking at data on the second stage pressure decay that we saw."
Liftoff could be reset for as soon as Saturday if engineers clear the rocket for flight in time. Saturday's launch window opens at 5:46 p.m. EDT (2146 GMT).
Six commercial communications satellites, valued at about $70 million, are mounted on top of the 224-foot-tall Falcon 9 rocket. Owned by Orbcomm Inc., the satellites will bolster a fleet of spacecraft that relay data and commands between remote assets -- such as trucks, cargo containers, ships, ocean buoys and weather stations -- and their owners.
Orbcomm is paying $42.6 million for two Falcon 9 rocket launches to deliver 17 of the satellites to orbit 466 miles above Earth.
The delay-stricken launch was set for liftoff May 10, but SpaceX ordered a delay after engineers saw a leak in the rocket's first stage helium pressurization system during a customary prelaunch countdown dress rehearsal.
SpaceX released no additional information on the nature of the problem, or its actions to correct the leak, but Orbcomm officials were satisfied with the fix.
The flight was delayed another week to June 20 to analyze a concern with one of the six 375-pound Orbcomm satellites on-board the rocket.
Friday's scrub was also blamed on a pressurization anomaly, but telemetry showed the issue was with the Falcon 9 rocket's second stage, which is served by a separate pressurization system than the first stage.
Delays in launching two SpaceX flights have tightened the company's launch manifest for the second half of the year.
After a quick and successful start to 2014 with the Jan. 6 liftoff of the Thaicom 6 satellite on a Falcon 9 rocket, SpaceX's second and third missions of the year have had trouble getting off the launch pad.
The launch of the Thaicom 6 telecom payload demonstrated a one-month turnaround of SpaceX's launch pad at Cape Canaveral, coming after another successful commercial satellite launch in early December. SpaceX must reliably repeat that achievement to keep up with a manifest filled with commercial satellites and cargo deliveries to the International Space Station.
A resupply flight to the space station launched April 18 after more than a month of delays. SpaceX discovered contamination inside the Dragon supply ship's unpressurized cargo trunk, triggering a two-week schedule slip, then a U.S. Air Force tracking radar at Cape Canaveral was knocked offline by an electrical fire, prompting another two-week delay.
SpaceX scrubbed the cargo mission's first launch attempt April 14 due to a valve anomaly in the rocket's first stage helium system.
The Falcon 9 rocket, like many launchers, uses helium to pressurize the rocket's propellant tanks. Gaseous helium also does several other functions during the final countdown and flight.
The Dragon logistics freighter blasted off April 18 to begin a successful one-month round-trip flight to the space station, delivering and returning experiments, spacesuit hardware and other equipment.
SpaceX officials said earlier this year they planned 10 launches in 2014, and up to double that number in 2015.
The next flight after Orbcomm's launch will carry the AsiaSat 8 communications craft, followed by another satellite delivery for the Hong Kong-based operator. AsiaSat 8 is in storage at Cape Canaveral waiting for the Orbcomm launch.
Two more Dragon flights to the space station are booked for this year, along with Orbcomm's second flight on Falcon 9, a flight currently penciled in for late this year.
Follow Stephen Clark on Twitter: @StephenClark1.