Payload problem prompts SpaceX launch delay
BY STEPHEN CLARK
SPACEFLIGHT NOW
Posted: June 13, 2014


The need for additional analysis of an issue with one of the six Orbcomm communications satellites set for liftoff on the next SpaceX Falcon 9 rocket has delayed the booster's launch from Cape Canaveral past Sunday, officials said Friday.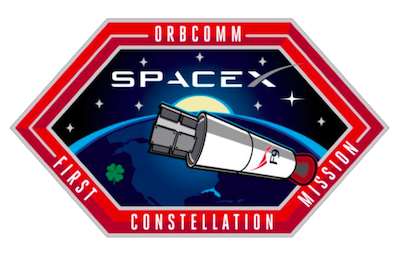 SpaceX's mission patch for the Orbcomm launch. Credit: SpaceX

Orbcomm, a New Jersey-based company specializing in machine-to-machine communications, said all six satellites aboard the Falcon 9 rocket have completed testing and are functioning as expected.
"In an effort to be as cautious as possible, it was decided to perform further analysis to verify that the issue observed on one satellite during final integration has been fully addressed," Orbomm wrote in an update. "The additional time to complete this analysis required us to postpone the OG2 Mission 1 Launch. We are working with SpaceX to identify the next available launch opportunity, and we will update the schedule shortly."
The U.S. Air Force's Eastern Range is scheduled to undergo two weeks of maintenance beginning next week. It was unclear Friday whether the Air Force could accommodate SpaceX's launch during that time.
Sources said SpaceX and Orbcomm were considering a launch opportunity as soon as next Friday, June 20.
The Air Force's network of communications and tracking assets are mandatory for rocket launches from Cape Canaveral.
The Falcon 9 rocket completed a customary prelaunch static engine firing Friday afternoon. The 22-story rocket was held down on Cape Canaveral's Complex 40 launch pad during the test, in which the first stage's nine Merlin 1D engines were ignited for a three-second firing at the end of a practice countdown.
The engines produce more than a million pounds of thrust and fire for nearly three minutes during launch.
Officials will review data from the static engine firing before clearing the Falcon 9 rocket for liftoff.
SpaceX engineers loaded liquid oxygen and kerosene propellants, along with helium pressurant, into the rocket Friday. The fueling test apparently demonstrated SpaceX has resolved the problem that triggered a helium leak during a previous countdown in early May, forcing a month-long delay in the mission as engineers assessed the root cause of the leak and completed repairs.
Friday's static fire was delayed from Thursday by inclement weather in Florida.
The six oven-sized satellites, built by Sierra Nevada Corp., will join Orbcomm's network in orbit 466 miles above Earth. They will inaugurate Orbcomm's second-generation, or OG2, satellite fleet.
The spacecraft will relay data and messages between ships, oil and gas platforms, trucks and other corporate assets.
Orbcomm announced Tuesday that technicians encountered a "minor issue" during final integration of the six satellites, prompting "precautionary steps to ensure there are no operational concerns with the satellite."
The satellites are mounted on an adapter built by Moog Inc. inside the Falcon 9 rocket's payload fairing.
SpaceX plans to launch 11 more Orbcomm satellites later this year to complete the 17-spacecraft OG2 constellation.
Follow Stephen Clark on Twitter: @StephenClark1.