SpaceX investigating Falcon 9 first stage helium leak
BY STEPHEN CLARK
SPACEFLIGHT NOW
Posted: May 21, 2014


COLORADO SPRINGS, Colo. -- SpaceX and Orbcomm officials say they are targeting liftoff of the next Falcon 9 rocket for no sooner than June 11 to give more time for engineers to trace the root cause of a helium leak that squandered a launch opportunity in early May.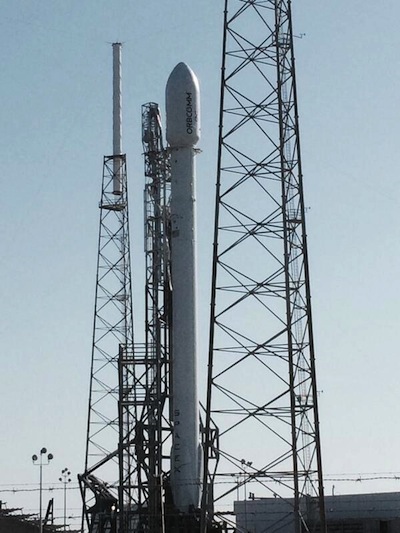 The Falcon 9 rocket with six Orbcomm satellites is pictured on the launch pad prior to the launch delay earlier this month. Credit: Marc Eisenburg via Twitter

The rocket was on the eve of launching May 10 with six communications satellites for Orbcomm, a New Jersey-based company which provides asset tracking and machine-to-machine data links for worldwide clients.
But the launch crew encountered a helium leak during a practice countdown May 9, forcing SpaceX to call off the launch to inspect the Falcon 9 rocket's first stage to find the source and cause of the leak.
"The issue was a helium leak in a different location that wasn't present during earlier tests," said Emily Shanklin, a SpaceX spokesperson. "We are thoroughly reviewing the stage before clearing it for flight, as we want to make sure that no further such issues occur."
The Falcon 9 rocket uses helium to pressurize its first stage liquid oxygen tank, which engineers believe is the location of the problem. The helium is stored at high pressure inside tanks on the first stage.
The booster burns liquid oxygen and rocket-grade kerosene to power its nine Merlin 1D engines for nearly three minutes in the first stage of flight.
Sources said SpaceX is still analyzing data to determine the root cause of the leak, and institute corrective actions, out of concern the high-pressure helium tanks might leak or fail in flight.
Officials familiar with the data analysis described the June 11 launch date as a target, with the potential for further delays if SpaceX and its customer do not reach a quick conclusion to the investigation.
SpaceX has reserved June 11 and June 12 on the Air Force's Eastern Range.
Engineers disassembled the two-stage rocket and its satellite-carrying nose section after the launch delay. In an update posted on its website, Orbcomm said satellite engineers will return to Cape Canaveral the first week of June to re-encapsulate the six Orbcomm spacecraft inside SpaceX's 5.2-meter (17.1-foot) diameter payload fairing, assuming launch remains on track for June 11.
Another practice countdown, culminating in a brief engine ignition on the launch pad, is set two or three days before launch.
The delay is likely to cause some ripple effect in SpaceX's manifest this summer. Two AsiaSat communications satellites are in storage at their factory at Space Systems/Loral awaiting a launch opportunity, and NASA has SpaceX booked for an Aug. 8 launch of the next Dragon commercial resupply mission to the International Space Station.
Follow Stephen Clark on Twitter: @StephenClark1.