Launch unlocks manifest for Orbcomm, AsiaSat
BY STEPHEN CLARK
SPACEFLIGHT NOW
Posted: April 21, 2014


Friday's liftoff of a Falcon 9 rocket cleared a bottleneck in SpaceX's Florida launch schedule that forced two commercial customers, Orbcomm and AsiaSat, to keep their completed satellites at their factories to wait out launch delays.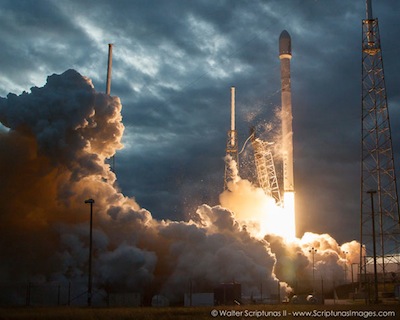 File photo of a Falcon 9 rocket launching from Cape Canaveral, Fla. Photo credit: Walter Scriptunas II/Scriptunas Images

SpaceX founder and CEO Elon Musk said Friday the Hawthorne, Calif.-based company still expected to launch 10 Falcon 9 rockets this year despite the delays.
With the Jan. 6 liftoff of the Thaicom 6 telecom satellite and Friday's launch of a Falcon 9 rocket with SpaceX's Dragon cargo spacecraft to the International Space Station, eight more missions are on the Falcon 9 manifest this year.
Four of the launches are booked by New Jersey-based Orbcomm and AsiaSat of Hong Kong.
Not all of the delays leading up to Friday's launch were the fault of SpaceX, which found itself at the mercy of the U.S. Air Force's Eastern Range and the often-tricky scheduling of operations involving the International Space Station.
SpaceX did push back the space station resupply launch twice itself in recent weeks because of concerns over contamination in the Dragon supply ship's cargo-carrying trunk and a faulty helium valve that scrubbed an April 14 launch attempt.
The six Orbcomm satellites scheduled to launch on SpaceX's next mission completed testing and were ready to be transported to Cape Canaveral several weeks ago but had to be held at their Sierra Nevada Corp. factory until SpaceX was ready to receive them, officials said.
Orbcomm says it now expects the launch to be between May 17 and May 25.
Next in line on SpaceX's launch manifest are AsiaSat 8 and AsiaSat 6. Both satellites passed were declared ready for shipment to Cape Canaveral in early March at Space Systems/Loral, the spacecraft's manufacturer based in Palo Alto, Calif.
AsiaSat 8 and AsiaSat 6 each passed a "pre-ship review" in early March, a milestone marking the completion of manufacturing and testing of a satellite before shipment to the launch site, according to Roger Tong, AsiaSat's vice president of engineering and operations.
But AsiaSat 8 will have to wait until a launch opportunity in late June, at the earliest, followed a month later by AsiaSat 6, assuming no difficulties preparing any of the upcoming missions for launch.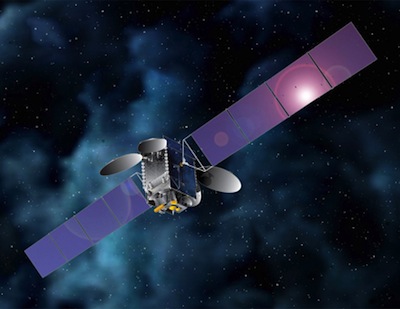 Artist's concept of AsiaSat 8. Photo credit: Space Systems/Loral

AsiaSat 8 carries Ku-band and Ka-band transponders to support direct-to-home television broadcasts, private networks and broadband services over the Middle East, Europe and Asia. AsiaSat 6's C-band communications payload will beam video programming and broadband connectivity to customers in Asia, Australia and the Pacific islands.
Both AsiaSat satellites will be injected by the Falcon 9 rocket into geostationary transfer orbit, a high-altitude, egg-shaped parking orbit for spacecraft heading to operating positions 22,300 miles over the equator. Orbcomm's OG2 satellite constellation will be placed in low Earth orbit.
Orbcomm was the first commercial satellite operator to sign up for launches with SpaceX. The company, which specializes in machine-to-machine communications and tracking services, initially booked the launch of its second-generation, or OG2, satellite constellation on SpaceX's small Falcon 1 rocket.
But the lightweight launcher was phased out by SpaceX, and Orbcomm's satellites switched to flights of clusters of satellites on the larger Falcon 9 booster under a $42.6 million contract for two Falcon 9 missions.
The second-generation OG2 satellites will improve Orbcomm's messaging service with faster transmission speeds and increased throughput. The satellites will operate in orbit at an altitude of about 750 kilometers, or 466 miles.
The first four OG2 satellites arrived at SpaceX's Cape Canaveral launch site Monday, according to Orbcomm CEO Marc Eisenburg. Two more satellites are due to arrive in Florida later this week after shipment via truck from Sierra Nevada's manufacturing plant in Louisville, Colo.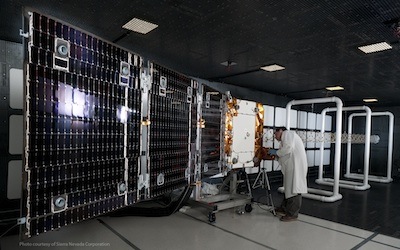 A second-generation Orbcomm satellite under construction at the Sierra Nevada factory in Colorado. Photo credit: Sierra Nevada Corp.

Each spacecraft weighs 380 pounds fueled for liftoff and measures about the size of a mini-refrigerator. Once in orbit, the satellites will extend its power-generating solar panel and antenna to a span of 42 feet tip-to-tip.
Emily Shanklin, a SpaceX spokesperson, said the first and second stages of the Falcon 9 rocket assigned to the Orbcomm mission are at the Cape Canaveral launch site to begin final preparations.
The rocket will be assembled and the satellite filled with propellant inside SpaceX's hangar, which sits on the southern edge of Cape Canaveral's Complex 40 launch pad.
Friday's launch of the Falcon 9 rocket and Dragon spacecraft cleared room to move the Orbcomm launcher and satellites into the facility.
SpaceX officials have said a steady cadence of launches this year will be critical to proving the company can launch customers' satellites on schedule. That poses production and processing challenges at SpaceX's headquarters and factory in California, the rocket test facility in Central Texas, and the launch site in Florida.
"We think we can probably still do 10 [launches], but it's a bit too early to tell if all 10 will occur this year," Musk said Friday. "The main constraint is actually on vehicle production, and it all boils down to this one particular part, which is an injector casting, and we think we've resolved that particular issue, which should unlock quite a high rate of booster production."
SpaceX needs to achieve about one Falcon 9 launch per month to pull off 10 flights this year, replicating a one-month turnaround SpaceX demonstrated between two Falcon 9 missions in early December and early January with the SES 8 and Thaicom 6 television broadcasting satellites.
"I think we've demonstrated that we can do 30-day turnarounds," said Barry Matsumori, SpaceX's vice president of commercial sales, in March. "It is going to be our challenge this year to execute on that manifest, and reliably fly that manifest ... What it comes down to is pad turnaround and getting the vehicles processed. That's where we have to show and demonstrate that we can do it."
Follow Stephen Clark on Twitter: @StephenClark1.