SpaceX presses ahead for Friday launch attempt
BY WILLIAM HARWOOD
STORY WRITTEN FOR CBS NEWS "SPACE PLACE" & USED WITH PERMISSION
Posted: April 16, 2014


SpaceX is pressing ahead for another attempt Friday to launch a Falcon 9 rocket carrying a commercial cargo craft bound for the International Space Station, setting up an Easter Sunday rendezvous and berthing.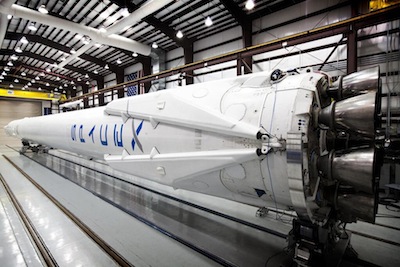 The Falcon 9 rocket inside its hangar at Cape Canaveral. Photo credit: SpaceX

Launch from pad 40 at the Cape Canaveral Air Force Station is targeted for 3:25:21 p.m. EDT (GMT-4). If all goes well, the Dragon cargo ship, loaded with nearly 5,000 pounds of equipment and supplies, will be grappled by the space station's robot arm around 7:15 a.m. Sunday and pulled in for berthing at the Earth-facing port of the forward Harmony module.
Assuming an on-time liftoff and berthing Sunday, two station astronauts -- Steven Swanson and Rick Mastracchio -- plan to carry out a two-and-a-half-hour spacewalk Wednesday, April 23, to replace a computer processor in the lab's solar power truss that failed last week.
SpaceX engineers had hoped to launch the Falcon 9 Monday, but the flight was delayed about an hour and a half before liftoff because of an internal helium leak in a system used to separate the rocket's first and second stages.
"During Monday's launch attempt, preflight checks detected that a helium valve in the stage separation pneumatic system was not holding the right pressure," SpaceX said in a statement. "This meant that the stage separation pistons would be reliant on a backup check valve.
"No issue was detected with the backup valve and a flight would likely have been successful, but SpaceX policy is not to launch with any known anomalies. We have brought the vehicle back to horizontal and are replacing the faulty valve, as well as inspecting the whole system for anything that may have contributed to the valve not working as designed."
Repairs aside, the weather outlook for Friday is less than optimal, with forecasters calling for a 60 percent chance of conditions that would violate launch safety rules.
Going into the campaign, it was thought that SpaceX only had two opportunities to launch the Falcon 9 -- Monday and Friday -- or the flight likely would slip into June because of a variety of other station-related issues.
But following the delay Monday, SpaceX, NASA and the Air Force Eastern Range agreed the company could make another launch try Saturday if the Falcon 9 fails to get off Friday. A Saturday launching, at 3:02:42 p.m., would result in a three-day rendezvous for the Dragon capsule with berthing expected on April 22.
If that case, NASA managers said they would move up the computer replacement spacewalk to Easter Sunday.
This is SpaceX's third commercial resupply mission under a $1.6 billion contract with NASA. Orbital Sciences holds a $1.9 billion contract to deliver supplies using its Antares rocket and Cygnus cargo ship. NASA is using the commercial cargo craft to make up for the retirement of the space shuttle.
If the Falcon 9 gets off Friday or Saturday, the next Orbital Sciences resupply mission, the company's second operational flight, would take off June 10. If the Falcon 9 fails to get off by Saturday, the SpaceX flight would slip to around June 10 and Orbital would prepare for launch on May 6.