Space station's Robonaut awaits delivery of legs
BY STEPHEN CLARK
SPACEFLIGHT NOW
Posted: April 16, 2014


A humanoid "Robonaut" launched to the International Space Station in 2011 will finally receive its space legs when SpaceX's Dragon cargo carrier arrives at the complex, allowing engineers to experiment with the full breadth of the robot's capabilities.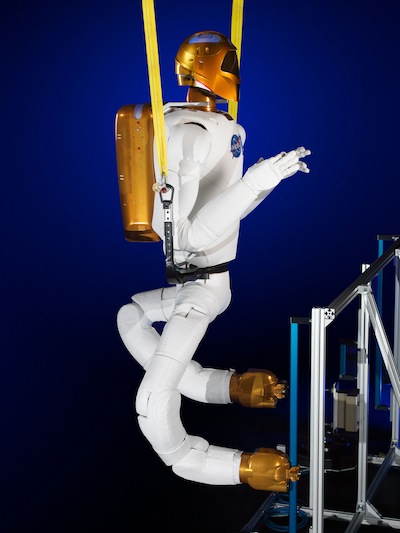 A ground version of Robonaut 2 undergoes testing with its legs. Photo credit: NASA

The two legs are loaded inside the Dragon spacecraft's pressurized cargo cabin, ready for launch atop a Falcon 9 rocket. Liftoff is scheduled as soon as Friday.
The legs will give Robonaut 2, the space station's humanoid robot, mobility inside the space station's modules. Officials eventually plan to test the robot outside the station, once it receives upgrades to its upper body.
The dextrous robot, also called R2, includes a computerized torso, head and two arms with hands and five fingers. It is designed to accomplish many of the same upkeep tasks astronauts do every day aboard the space station.
"Robonaut is an example of how we can use robots for repetitive and dangerous tasks in space," said Andy Petro, head of NASA's small satellite technology development program.
According to NASA, the legs will be unpacked and attached to Robonaut 2 by the end of June, with an eye toward testing the assembled robot within the confines of the space station's pressurized modules later this year.
"We call them legs," Petro said. "They're not really for walking in the zero gravity environment. They're used for climbing around."
The legs have seven joints and stretch out to a length of 9 feet to give Robonaut flexibility when moving around the station.
"At the end, instead of feet, they have clamping devices to allow them to connect to handrails and other objects on the space station," Petro said.
Robonaut's use of its legs for climbing frees up its hands and fingers for finer tasks, such as working with tools or repairing systems.
A power backback will be launched to the space station this fall to finish outfitting Robonaut to move around on its own. Right now, the robot can only be powered through an extension cord connected to the space station's electrical supply.
R2 is designed to do routine chores, such as cleaning and replacing air filters, to free up the astronauts to do more important work.
Officials plan for Robonaut to eventually be able to go outside the space station to conduct maintenance, reducing astronauts' exposure to the the risks of spacewalks.
"The whole Robonaut has been designed to function within the same environment as the astronauts," Petro said, adding it is able to use switches, handholds and tools inside and outside of the space station.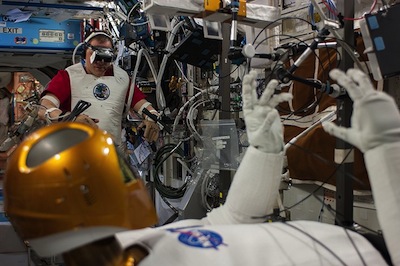 Astronaut Tom Marshburn participates in testing with Robonaut 2 aboard the International Space Station in May 2013. Photo credit: NASA

The robot's integrated head, upper torso and arms were launched by the space shuttle Discovery in February 2011.
The legs were built in 2012 and have completed a series of tests on the ground to certify them for flight to the space station, according to Petro.
The initial checkout of the legs with Robonaut will include joint health tests, simple joint motions, and the opening and closing of the grippers at the end of the legs, which are accompanied by a vision system to verify and eventually automate each leg movement, according to a NASA fact sheet.
Robonaut will go through this summer's tests powered by an extension cord before the backpack's launch on another SpaceX cargo flight later this year.
Since its launch in 2011, the legless R2 has demonstrated its ability to complete tasks such as pressing buttons, flipping switches, turning knobs and wiping down handrails. Astronaut Tom Marshburn also tele-operated the robot to catch a free-floating object inside the space station, according to NASA.
Developed in partnership with General Motors, Robonaut 2 builds upon more than a decade of NASA experimentation and testing with humanoid robot concepts.
R2 is covered with thousands of sensors, a camera in its head and control electronics in its torso.
Follow Stephen Clark on Twitter: @StephenClark1.