SpaceX resupply mission set for flight to space station
BY STEPHEN CLARK
SPACEFLIGHT NOW
Posted: April 13, 2014


SpaceX's Dragon supply ship is ready for takeoff from Cape Canaveral on Monday to add to the International Space Station's stockpiles of research experiments, crew provisions and gear to continue operating the 450-ton orbiting complex.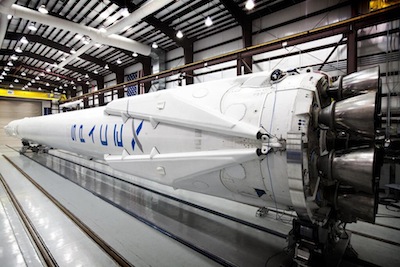 The Falcon 9 rocket inside the SpaceX hangar at Cape Canaveral, Fla. Photo credit: SpaceX

The commercial cargo craft is scheduled for liftoff at 4:58 p.m. EDT (2058 GMT) Monday from Cape Canaveral's Complex 40 launch pad.
A two-stage Falcon 9 rocket will boost the Dragon spacecraft into a circular 200-mile-high orbit, positioning the automated spaceship for pursuit of the space station culminating in a laser-guided final approach early Wednesday.
Capture of the Dragon capsule with the space station's Canadian-built robotic arm is expected at 7:11 a.m. EDT (1111 GMT) Wednesday. The robot arm will maneuver the spacecraft to an attachment point on the station's Harmony module a few hours later.
The flight is the third operational resupply run to the space station by SpaceX. It comes after two successful cargo missions in October 2012 and March 2013, which kicked off the execution of a $1.6 billion contract with NASA covering 12 logistics deliveries through 2016.
Monday's launch was in doubt this weekend after a computer failure on the space station's central truss segment knocked out redundancy in the control path leading to several key systems, including the outpost's thermal control system, rotary joints to point power-generating solar arrays toward the sun, and the mobile transporter, a rail car designed to move the station's robotic arm along the backbone of the international research complex.
But officials met on Sunday and approved SpaceX's launch to the space station, deferring a spacewalk to swap out the bad computer until later this month.
Mike Suffredini, NASA's space station program manager, said Sunday they devised workarounds to regain the redundancy lost when the computer stopped responding to commands Friday.
Officials weighed the minimized risk with the workarounds with problems that a further delay in the SpaceX launch could pose for the space station, including programmatic concerns with scheduling a busy slate of cargo and crew launches and the potential of dwindling foodstuffs aboard the outpost.
"There's a certain amount of urgency to go ahead and get these vehicles on ISS as soon as we safely can do that," Suffredini said.
The Dragon spacecraft is set to deliver approximately 2.4 tons of cargo the space station, including 3,347 pounds of equipment packed inside the capsule's pressurized cabin.
Technicians on Sunday planned to load nearly 1,000 pounds of time-sensitive items, including refrigerators packed with research samples that could spoil over time.
The Dragon spacecraft launching Monday sports several upgrades over previous SpaceX cargo vehicles, nearly quadrupling the ship's capacity for powered cargo. The modifications include additional freezers for biological samples and redesigned cargo racks to accommodate additional payloads, according to SpaceX.
The mission is also taking up research experiments in the Dragon's unpressurized trunk for the first time.
The payload packages will be removed from the trunk using the space station's Canadian robotic arm and Dextre robot, a two-armed device fitted with grippers and a toolkit for handyman work outside the complex.
NASA's Optical Payload for Lasercomm Science, or OPALS, will demonstrate a laser communications link between the space station and a ground antenna in Wrightwood, Calif. OPALS will test uplink and downlink capability through an optical beacon as the space station passes over the Wrightwood antenna, with each communications session expected to last about 100 seconds.
Optical communications systems offer higher data transfer rates than achievable through conventional radio systems. OPALS is expected to run its experiments over a 90-day period while attached to a logistics carrier on the space station's truss.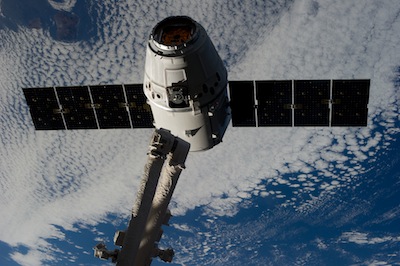 File photo of a Dragon spacecraft arriving at the International Space Station. Photo credit: NASA

"OPALS represents a tangible stepping stone for laser communications, and the International Space Station is a great platform for an experiment like this," said Michael Kokorowski, OPALS project manager at NASA's Jet Propulsion Laboratory. "Future operational laser communication systems will have the ability to transmit more data from spacecraft down to the ground than they currently do, mitigating a significant bottleneck for scientific investigations and commercial ventures."
The High-Definition Earth Viewing camera suite will also launch inside the Dragon spacecraft and will be hosted on a platform on the exterior of the European Space Agency's Columbus laboratory module.
Developed by engineers at the Johnson Space Center in Houston, the HDEV system includes four commercially available high-definition video cameras that will stream live video of Earth for online viewing, according to a NASA fact sheet.
The experiment will help NASA determine what cameras work best in the harsh environment of space.
The optical communications and high-definition video systems are the first large unpressurized NASA experiments assigned for delivery to the space station by SpaceX.
Astronauts will manually remove items stowed inside the Dragon spacecraft's internal section, including 1,576 pounds of science and research gear, 1,049 pounds of crew provisions, 449 pounds of vehicle hardware, and 271 pounds of spacewalk tools.
The Dragon will arrive with a fresh spacesuit for the space station's six-person crew, a space age garden to demonstrate vegetable growth in microgravity, and legs for Robonaut 2, a humanoid robot launched on a 2011 space shuttle mission.
Suffredini said officials decided Saturday to add one more item to Dragon's payload manifest. A new gasket-like material was flown to Cape Canaveral to help astronauts when they mount a spacewalk later this month to replace the failed computer that threatened to delay the SpaceX resupply flight.
The Dragon spacecraft is expected to remain attached to the space station until May, when it will be released by the robotic arm and return to Earth with a parachute-assisted splashdown in the Pacific Ocean off the coast of Baja California.
Follow Stephen Clark on Twitter: @StephenClark1.