Falcon 9 rocket's commercial debut set for Monday
BY STEPHEN CLARK
SPACEFLIGHT NOW
Posted: November 24, 2013


Ready to test the commercial mettle of the Falcon 9 rocket, SpaceX engineers are preparing to loft a television broadcasting satellite into orbit from Cape Canaveral on Monday in a mission that could usher in a new paradigm in the global launch services industry.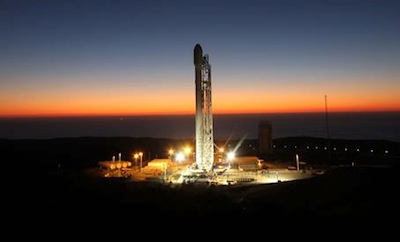 File photo of a Falcon 9 rocket on the launch pad. Credit: SpaceX

With a 6,918-pound communications satellite nestled in its nose, the Falcon 9 rocket is scheduled to lift off at 5:37 p.m. EST (2237 GMT) Monday from Cape Canaveral Air Force Station, Fla.
The SES 8 spacecraft, built by Orbital Sciences Corp. and owned by SES of Luxembourg, will be deployed from the Falcon 9 upper stage about a half-hour later on a 15-year mission to broadcast high-definition television to homes in India, Vietnam, Thailand and other parts of Southeast Asia.
The Falcon 9's first commercial satellite launch is sure to be widely-watched by rocket and satellite operators. Officials with SpaceX and SES say that is for good reason.
"Whether or not this launch is successful, I'm confident we will certainly make it on some subsequent launch," said Elon Musk, SpaceX's CEO and chief designer, in a meeting with reporters Sunday in Cocoa Beach, Fla. "I don't want to tempt fate, but I think it's going to have a pretty significant impact on the world launch market and on the launch industry because our prices are the most competitive of any in the world."
On its website, SpaceX advertises launch costs between $56 million and $77 million for a Falcon 9 flight. That is less than SpaceX's chief competitors, the Proton and Ariane 5 rockets, which run about $100 million and $200 million per launch.
Operated and sold by the European Arianespace launch provider, Ariane 5 rockets typically launch two satellites at a time, bringing its price-per-payload in line with the Russian Proton vehicle marketed by U.S.-based International Launch Services.
"In order for the other launch companies to compete, they, therefore, will have to improve their designs and really strive to have next-generation rocket technology," Musk said. "So I think SpaceX could be a powerful forcing function for the improvement of rocket technology, not just the stuff we do ourselves, but in that we will force other rocket companies to either develop new technology that's a lot better, or they have to exit the launch market."
SES is the world's No. 2 commercial satellite operator measured by fleet size, and the firm got a deal after agreeing to be on the first Falcon 9 launch to geostationary transfer orbit, according to Martin Halliwell, SES chief technical officer.
Halliwell would not disclose what SES paid for the flight, but he said the contract value was in the lower range of the price spectrum posted on SpaceX's website.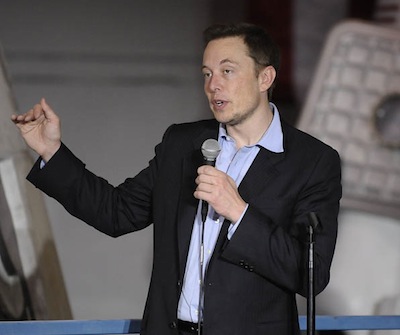 SpaceX founder and CEO Elon Musk. Credit: Gene Blevins/LA Daily News

"This is really rocking the industry. Everybody has to look out," Halliwell said Sunday. "There are a lot of people who hope that SpaceX is going to fail. If you look towards the Ariane, if you looks towards Proton, for example, I think they are shaking in their shoes. I really do. Because if this is a success, the whole industry is going to be turned upside down. I don't mean this one particular launch, but if it now becomes the norm that this is the type of launch vehicle that is going to be provided, everybody is going to have to look to their cost space and they're going to have to change their attitude as the way to go forward."
Based in a Los Angeles suburb, SpaceX builds its rockets and engines side-by-side in a cavernous factory formerly used to build fuselages for Boeing 747 jumbo jets. Musk established the company in 2002 and has followed an ethos of vertical integration, with the vast majority of each Falcon 9 rocket built by SpaceX engineers.
Until now, SpaceX's success at undercutting the prices of its competitors in the commercial launch business has not been matched by execution, at least by launches into the types of orbits favored by communications satellite companies.
Six of SpaceX's Falcon 9 rockets have launched to date. Five of the rockets flew under the banner of a public-private partnership with NASA to develop the Dragon privately-owned cargo spacecraft to service the International Space Station, replacing some of the resupply capacity lost with the retirement of the space shuttle.
SpaceX is now making good on a $1.6 billion contract with NASA covering 12 operational cargo missions using Falcon 9 rockets and Dragon logistics carriers. Two of the flights are in the books, with the third resupply sortie set for launch Feb. 22.
But the launch of SES 8 could be SpaceX's most daunting yet.
Monday's launch will be the first time SpaceX has tried to put a satellite into a high-altitude orbit. The Falcon 9 is targeting a sweeping elliptical orbit arcing as high as 86,500 kilometers, or 53,748 miles, above Earth.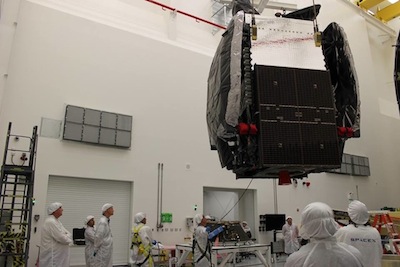 SES 8 was prepared for launch inside SpaceX's processing hangar near the Falcon 9 launch pad. Credit: SES

The "supersynchronous" transfer orbit puts SES 8 on the way toward its final circular orbit 22,300 miles over the equator. At that altitude, orbital mechanics dictates a satellite's velocity matches the rate of Earth's rotation. Such an orbit is ideal for communications satellites because it allows users on the ground keep antennas aimed at the same spot in the sky.
The liquid-fueled engine on SES 8 will handle the rest of the maneuvers to reach the 22,300-mile-high geostationary orbit, arriving there Dec. 6 for in-orbit testing of the craft's 24 transponders before entering service in January.
Monday's launch comes with new challenges for SpaceX, which has compiled a flight history of six successful Falcon 9 launches in six tries since 2010.
All of the Falcon 9's preceding missions have carried payloads to orbits no higher than 1,000 miles. Boosting SES 8 more than 80 times higher requires two burns of the launcher's second stage engine, and SpaceX's record there is mixed.
On a Sept. 29 test launch of SpaceX's next-generation Falcon 9 - sporting upgraded engines, stretched propellant tanks, a triply redundant avionics system and a bulbous payload shroud - the launcher released its passengers into polar orbit as designed after one burn of the rocket's upper stage.
Purely as a test objective, SpaceX programmed the upper stage Merlin 1D engine to re-ignite a few minutes later, but the engine's computer controller aborted the restart.
"We always knew there was some risk with the restart, so we made sure that on the first mission a restart was not necessary for orbit insertion," Musk said. "On this mission, a restart is necessary for orbit insertion, so there is a greater bar of difficulty for this mission."
Musk said engineers found the problem was in the plumbing that feeds igniter fluid into the engine's thrust chamber. Between the Falcon 9's two upper stage burns, the fluid lines froze.
"What appeared to be the case on the last mission was that the igniter lines froze due to impingement from the liquid oxygen bleed," Musk said. "There's a liquid oxygen chill that occurs during coast, and the igniter fluid freezes at a relatively high temperature. Obviously, what we've done to correct that is to insulate those lines and ensure the liquid oxygen bleed does not impinge on the lines."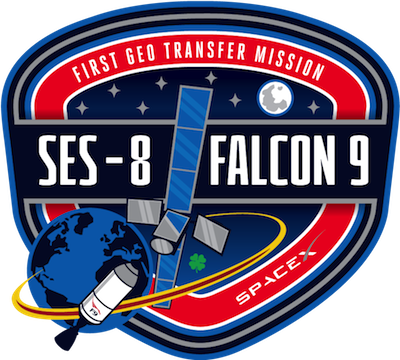 The mission patch for the Falcon 9 launch of SES 8. Credit: SpaceX

Halliwell said SES engineers were "embedded" with the SpaceX propulsion team over the last two months, tracing the cause of the engine issue and inspecting the repair work on the upper stage assigned to the launch of SES 8.
"It's given us a real feel-good factor," Halliwell said Sunday.
The launch Monday is the first flight of the improved Falcon 9, known as version 1.1, from Florida. The Sept. 29 mission lifted off from Vandenberg Air Force Base, Calif.
According to Halliwell, the mission's insurers signed off on the launch. "We have 100 percent insurance on this one," he told CBS News in an interview Friday.
SES 8 will be stationed next to the NSS 6 satellite at 95 degrees east, expanding television broadcast programming over South Asia and Indo-China, beaming TV channels into homes for Dish TV, IPM TV and AVG, three major pay TV operators in India, Thailand and Vietnam.
SES says the region is ripe for growth, and a low-cost launch vehicle helps make the business case for pursuing emerging markets.
"We chose SpaceX and we chose to be the first commercial user for SpaceX for a certain reason," Halliwell said. "We know as we go forward into these growth markets, it's absolutely critical that we have a cost-effective and efficient way to get to orbit. That's really what SpaceX brought us."
The fresh satellite will mark the 55th spacecraft to be launched for SES.
"There's still the potential, since it's a new rocket, for something to go wrong," Musk said Sunday. "With any orbital launch, because the passing grade is 100 percent, you can't issue a recall or software patch or something. It's all or nothing. There's always some risk associated with the flight not working, so we're very appreciative that SES would place a bet on SpaceX here."
Follow Stephen Clark on Twitter: @StephenClark1.