Sizing up America's place in the global launch industry
BY STEPHEN CLARK
SPACEFLIGHT NOW
Posted: November 24, 2013


The launch of a high-definition television broadcasting satellite by SpaceX's Falcon 9 rocket Monday will mark the first commercial communications craft to take off from the United States in four years, a gap representative of America's diminished place in the commercial launch market as more affordable Russian and European boosters gobbled up contracts.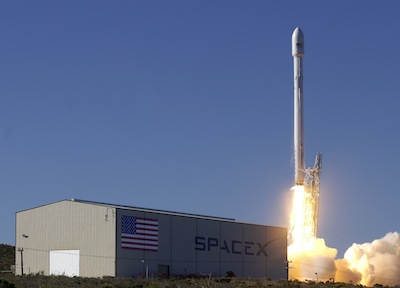 The most recent Falcon 9 launch was on Sept. 29 from Vandenberg Air Force Base, Calif. Credit: SpaceX

It's not because of reliability. The Atlas 5 and Delta 4 rockets operated by United Launch Alliance have accumulated a near-flawless track record over 65 flights since 2002, earning the vehicles a place at the top of the industry.
It's a question of cost, according to Martin Halliwell, chief technical officer of SES, the world's second-largest commercial geostationary satellite operator.
"At the moment, from a commercial point of view, there are only two [launch providers]," Halliwell told CBS News in an interview Friday. "You either have the ILS Proton or you have the Ariane 5. Ostensibly you also have Atlas 5, but of course it's just so expensive it's not terribly viable from a commercial point of view on a nominal basis."
SES hopes SpaceX brings the launches back to Cape Canaveral, Fla., beginning Monday with the liftoff of a Falcon 9 rocket with the SES 8 broadcasting satellite.
Before knowing the outcome of Monday's launch, SES has already inked deals for three more missions with SpaceX, including one option for a launch on the company's Falcon Heavy mega-rocket.
Once at the top of the world's handful of launch service companies, U.S. rockets have been hamstrung by rising costs but have stayed busy with a manifest of missions for the U.S. military, NASA and the National Reconnaissance Office, the federal government's spy satellite agency.
That is currently a captive market for United Launch Alliance, the company formed in 2006 after the merger of the Lockheed Martin and Boeing rocket fleets, but SpaceX is eyeing a slice of the business.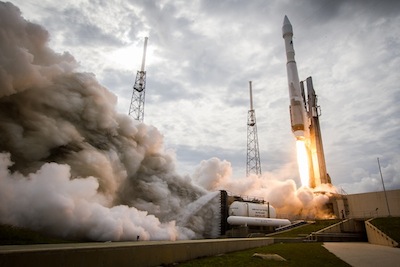 The most recent Atlas 5 launch on Nov. 18 dispatched NASA's MAVEN orbiter to Mars. Credit: Walter Scriptunas II/Spaceflight Now

The Atlas 5 and Delta 4 rockets were developed more than a decade ago to give military payloads reliable, assured access to space. The thinking was, if one rocket is grounded by a failure, the other launcher would still be available to loft the government's most critical national security missions.
As part of the business case presented by Lockheed Martin Corp. and Boeing Co., the developers of the Atlas 5 and Delta 4, the rockets would also be used by NASA and commercial satellites, ensuring the companies could recoup their capital expenditures.
But the commercial satellite business eroded, startup telecom companies failed to transform ideas into reality, and market forecasts from the late 1990s fell short when the 2000s came around.
Since early 2005, when commercial Atlas 5 launches began to drop off, four commercial telecom satellites have launched from Cape Canaveral. From 1997 until the end of 2004, 34 commercial satellites launched from Florida bound for geostationary orbit, a location 22,300 miles above Earth favored by communications satellites.
Related to the reduced flight rate, rising rocket costs in the United States also stymied the Atlas 5 and Delta 4's potential, with the launchers selling for more than $160 million in the last two years to government customers like the Air Force and NASA.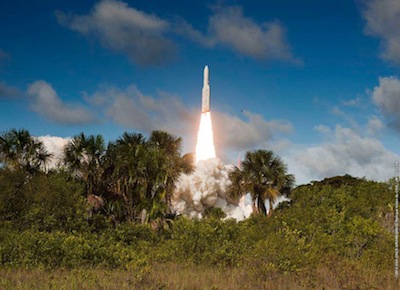 File photo of an Ariane 5 launch earlier this year. Credit: ESA/CNES/Arianespace/Photo Optique video du CSG/JM Guillon

The commercial business has fled the United States, going primarily to Europe's Ariane 5 rocket and the Russian Proton booster. China's Long March rocket, the Sea Launch program and the Atlas 5 have played bit roles in the market to launch communications satellites.
Industry sources say purchasing a mission on a Proton rocket, which is sold by U.S.-based International Launch Services, costs about $100 million.
Europe's Ariane 5 rocket, run by the French launch company Arianespace, is more expensive, but it is also the most capable of the bunch and has won the lion's share of recent commercial contracts.
The Ariane 5's price tag of more than $200 million can be split among two customers because the heavy-duty launcher has enough oomph to boost a pair of communications payloads in one go into geostationary transfer orbit, the standard drop-off point for large telecom satellites.
SpaceX says its commercial Falcon 9 launches go for as little as $56 million, according to its website. The new Falcon 9 configuration, known as version 1.1, can haul satellites up to 4.85 metric tons into an elliptical geostationary transfer orbit.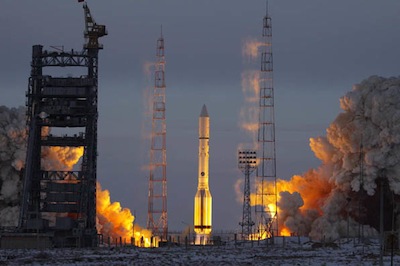 File photo of a Proton rocket launch in 2011. Credit: Roscosmos

The untested Falcon Heavy, which SpaceX hopes to launch within a year, sells for $135 million and can loft up to 21.2 metric tons into the same orbit, according to SpaceX's website.
Europe's institutional and industrial rocket teams have begun work on the Ariane 6 rocket, a smaller, simplified Ariane launcher borrowing technology already developed for the Ariane 5 and the Italian-led lightweight Vega booster.
The Ariane 6's design is expected to launch satellites up to 6.5 metric tons into geostationary transfer orbit, less than the Ariane 5's capacity in excess of 10 metric tons. In another change from the Ariane 5, it will loft one spacecraft at a time and should cost less than 70 million euros, or about $95 million, according to the European Space Agency.
The Russian Proton rocket and its Breeze M upper stage can deploy satellites greater than 6 metric tons into geostationary transfer orbit, with plans for modest performance improvements over the next few years.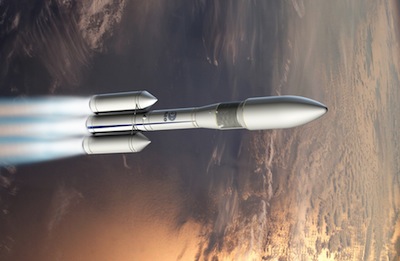 Artist's concept of the Ariane 6 launcher. Credit: ESA

Unlike all its would-be commercial competitors, the Atlas 5 rocket marketed by Lockheed Martin Commercial Launch Services has a modular design. Managers can add solid rocket boosters or a larger nose fairing to match the needs of a specific satellite, giving the Atlas 5 access to a range of payloads from 3.78 metric tons to 8.9 metric tons heading for geostationary transfer orbit.
"I think those organizations make good rockets, but I think with the advent of Falcon 9 we're going to make a forcing function for increased competitiveness in the launch industry," said Elon Musk, SpaceX's CEO and chief designer.
"If the other rockets don't improve their technology rapidly, they will lose significant market share to the Falcon 9," Musk said Sunday. "I actually think it's a good thing to have multiple providers of launch, [but] they are going to need to prove their rocket technology in order to compete and I think that's going to be a good thing for the future of space."
Follow Stephen Clark on Twitter: @StephenClark1.