Upgraded Falcon 9 rocket ignites in prelaunch test
BY STEPHEN CLARK
SPACEFLIGHT NOW
Posted: September 12, 2013
Updated @ 4 a.m. EDT


SpaceX's upgraded Falcon 9 rocket briefly fired nine Merlin 1D engines on the launch pad Thursday, but engineers will review data from the prelaunch static fire test before confirming the mission's targeted Sunday launch from Vandenberg Air Force Base in California, sources familiar with SpaceX's launch preparations said.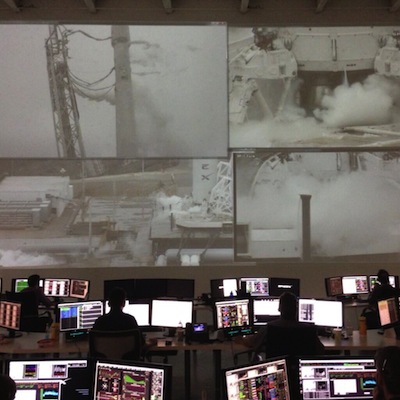 A view of Thursday's countdown from inside SpaceX's mission control in Hawthorne, Calif. Credit: Elon Musk

The static fire occurred after two holds in the final moments of Thursday's countdown to wring out minor problems. It was the first time engines have ignited at SpaceX's new California launch pad.
"Full thrust achieved on 2 sec static fire," SpaceX CEO and chief designer Elon Musk tweeted early Friday. "Some anomalies to be investigated, so launch date tbd [to be determined]."
Launch of the upgraded Falcon 9 v1.1 rocket was set for no earlier than Sunday in a two-hour window opening at 1600 GMT (12 p.m. EDT; 9 a.m. PDT) from Space Launch Complex 4-East at Vandenberg Air Force Base, Calif.
The Falcon 9's first stage engines ramped up to full power for just a few seconds, producing 1.3 million pounds of thrust as the rocket was held down on the launch pad by restraints.
The mission's passengers, including the Canadian Cassiope research satellite and several secondary payloads, were bolted to the Falcon 9 rocket for Thursday's static fire test.
The Falcon 9 v1.1, a prototype of SpaceX's concept for a reusable launcher, features upgraded Merlin 1D engines and stretched propellant tanks, boosting the rocket's performance for a range of missions on the company's launch manifest, including resupply flights to the International Space Station and launches of commercial communications satellites into geostationary transfer orbit, an orbit which SpaceX has not yet reached in previous Falcon 9 flights.
The Falcon 9 v1.1 upper stage is powered by a Merlin 1D engine optimized for performance in vacuum.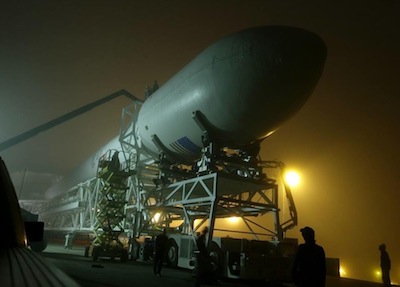 The Falcon 9 rocket rolls to the launch pad at Vandenberg Air Force Base in California. Credit: SpaceX

The launch of Cassiope is heading for a an elliptical polar orbit ranging in altitude from 186 miles to 932 miles, taking the small scientific satellite through Earth's ionosphere to sample plasma and other energetic particles for its research objectives.
The upcoming launch also marks the first use of the Falcon 9's 17-foot-diameter (5.2-meter) payload fairing, a lightweight structure composed of two clamshell-like halves made of carbon fiber with an aluminum honeycomb core.
The fairing, which shields the satellites from ambient prelaunch conditions and airflow in flight, will jettison a few minutes after launch once the Falcon 9 ascends through the lower layers of the atmosphere.
SpaceX plans to put the Falcon 9's empty first stage through a series of reusability tests after it completes its burn about 3 minutes into flight.
The flight plan calls for the first stage to reignite to slow the spent rocket's descent and impact the water with "minimal velocity," according to a waiver document issued by the Federal Aviation Administration, which licenses commercial launches for providers such as SpaceX.
The feat of returning the Falcon 9's first stage to the Pacific Ocean intact would be a key step toward SpaceX's goal of developing a reusable Falcon 9 rocket, in which the launcher's first stage would guide itself back to a pad near the launch site and make a rocket-assisted vertical touchdown on landing legs.
In an interview with Space News, Musk put low odds on the success of the stage's water landing test - at least on the first try.
"Just before we hit the ocean, we're going to relight the engine and see if we can mitigate the landing velocity to the point where the stage could potentially be recovered, but I give this maybe a 10 percent chance of success," Musk told Space News.