Dragon cargo craft's trunk unpacked by robot arm
BY STEPHEN CLARK
SPACEFLIGHT NOW
Posted: March 7, 2013


Engineers on the ground guided the International Space Station's robot arm through a carefully-choreographed maneuver Wednesday extracting two grapple bars from the Dragon spacecraft's external cargo trunk.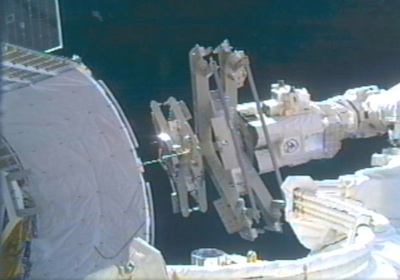 The space station's 58-foot robot arm pulls grapple bars out of the Dragon spacecraft's trunk. Credit: NASA

The robot arm removed the equipment from the Dragon's trunk at about 3 p.m. EST (2000 GMT) and mounted the cargo on a temporary spot on the space station's truss several hours later.
Bolted together for launch, the grapple bars were built by Boeing and installed in the Dragon's trunk by SpaceX engineers. The 602-pound apparatus includes two grapple bars and bundling equipment holding the bars together.
Astronauts will separate the grapple bars during a spacewalk this summer and move them to permanent storage locations on the port and starboard sides of the space station's truss backbone.
NASA ordered delivery of the grapple bars to assist with the removal of the space station's folding accordion-like radiators should they need replaced. The radiators extend from the space station's truss to dissipate heat generated by the lab's computers and electronics.
The grapple bars were he first external payloads carried to the space station on SpaceX's commercially-developed Dragon spacecraft. Future Dragon flights could deliver experiments and spare parts for mounting outside the complex.
After the space shuttle's retirement, the Dragon spacecraft and Japan's HTV cargo freighter are the only two vehicles capable of delivering external supplies to the space station.
The Dragon spacecraft carries unpressurized cargo in a trunk section aft of the capsule's internal cabin.
Since the Dragon spacecraft arrived at the space station Sunday, astronauts have also unloaded nearly 1,300 pounds of supplies from the ship's pressurized compartment.
The crew will pack approximately 3,000 pounds of cargo into Dragon's cabin in the next few weeks before the craft departs the space station and returns to Earth on March 25.