First commercial cargo ship arrives at space station
BY STEPHEN CLARK
SPACEFLIGHT NOW
Posted: May 25, 2012


The International Space Station's robotic arm on Friday reached out and snared a cargo carrier built by SpaceX, making history after the privately-built Dragon spacecraft made a cautious laser-guided approach to the complex, becoming the first commercial spaceship to reach the massive scientific research facility.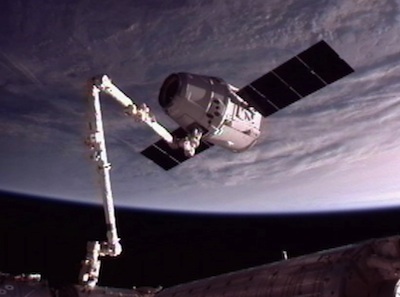 Capture of Dragon with the space station robotic arm occurred at 9:56 a.m. EDT (1356 GMT). Credit: NASA TV/Spaceflight Now

Astronaut Don Pettit at the controls of the station's Canadian robotic arm grappled the free-floating Dragon spacecraft at 9:56 a.m. EDT (1356 GMT) as it hovered about 30 feet below.
"Looks like we've got a Dragon by the tail," Pettit radioed mission control moments after he locked onto the craft with the space station's 58-foot Canadian robot arm.
Applause broke out in mission control centers in Houston and Hawthorne, Calif., at SpaceX headquarters.
The historic link-up occurred as the space station flew over northwest Australia in a night pass. NASA preferred grappling Dragon in daylight, but the ship's rendezvous took longer than planned, and officials opted to take the first opportunity to capture the spacecraft.
The space station crew moved the Dragon spacecraft to an attach point on the Harmony module, and the capsule was firmly berthed to the complex at 12:02 p.m. EDT (1602 GMT).
The Dragon became the first commercial spaceship to ever reach the space station, and it is the first U.S. spacecraft to visit the outpost since the last space shuttle mission departed in July 2011.
"It's been a long time coming," said Mike Suffredini, NASA's space station program manager. "I can't tell you how proud we are to have been a part of this historic moment."
The rendezvous and arrival at the space station occurred three days after Dragon launched atop a Falcon 9 rocket from Cape Canaveral, Fla.
SpaceX developed the Dragon spacecraft with a mix of public and private funding. NASA has paid the California-based company $381 million to date for development of a space station cargo delivery service. SpaceX has spent a total of $1.2 billion since its founding in 2002, with the rest of the financing coming from other contracts and private capital investments.
NASA's strategy after the shuttle's retirement is to turn over regular cargo and crew transportation in low Earth orbit to the private sector, leaving the government to explore deep space and launch missions to asteroids, the moon, and Mars.
SpaceX also has ambitions for commercial voyages to Mars, and Elon Musk, the company's founder and CEO, says his ultimate objective is to make humanity a multi-planetary species.
"The chances of that happening just went up dramatically," Musk said.
SpaceX's next step is outfitting the Dragon spacecraft for human passengers, which Musk said could be done in three years. SpaceX is competing for funding from NASA's commercial crew program, which aims to end U.S. reliance on Russia for astronaut transportation to and from the space station after the retirement of the shuttle.
The ecstasy of NASA and SpaceX officials Friday was culmination of six years of cooperation between the space agency and start-up company. NASA awarded SpaceX the Commercial Orbital Transportation Services agreement in 2006, fostering a public-private partnership leading to Friday's space station arrival.
Dragon's approach to the space station was slow and methodic, including several planned and unplanned pauses to make sure the ship's abort system was operating, its LIDAR laser ranging sensors were working, and its thermal cameras were seeing their target properly.
"There's so much that could have gone wrong, and it went right," Musk said. "We were able to overcome some last-minute issues with some fast thinking at NASA mission control and SpaceX mission control, and we got it there."
Pettit grappled the Dragon spacecraft about two hours later than scheduled, but the delay didn't dampen enthusiasm at SpaceX, where the average of the company's 1,800 employees is about 30 years old.
Speaking from SpaceX's headquarters in Hawthorne, Musk's press conference was marked by raucous cheers from assembled engineers.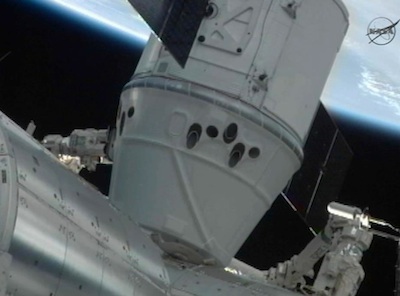 Dragon was firmly moored at the space station at 12:02 p.m. EDT (1602 GMT). Credit: NASA TV/Spaceflight Now

The space station astronauts plan to open the hatch to the Dragon spacecraft Saturday. The crew will test the air inside the ship's pressurized compartment before beginning unloading more than 1,100 pounds of supplies packed inside the 12-foot-diameter, gumdrop-shaped capsule.
SpaceX's agreement with NASA did not require cargo delivery on this mission, but the agency manifested non-essential items - extra food, clothing, student experiments, and laptop computers - to fly to the station.
Dragon is the only cargo craft servicing the space station able to return equipment to the ground. Russian, European and Japanese vehicles dispose of trash when they burn up in the atmosphere, and Russia's Soyuz crew capsule can return only very limited cargo.
Future Dragon flights will haul up to 7,300 pounds of pressurized and external cargo to the space station. Dragon can return up to 5,500 pounds of internal equipment to Earth.
SpaceX has a $1.6 billion contract with NASA for at least 12 cargo missions through 2015.
NASA inked a $1.9 billion contract with Orbital Sciences Corp., which is also in public-private partnership with NASA for cargo transportation development, for at least eight resupply flights.
Suffredini said Orbital's first demonstration flight of its Cygnus freighter could reach the space station as soon as October. Orbital's cargo system ran into delays during construction of the launch pad for the Antares rocket at Wallops Island, Va.
Dragon still must return to Earth before NASA approves the Dragon's first operational cargo resupply mission, which is currently scheduled to blast off in September.
"After the launch, I said there were 1,000 things that had to go right," said Alan Lindenmoyer, NASA's commercial crew and cargo program manager. "Well, there are still several hundred, but I am very confident we will get through it."
Departure from the space station is scheduled for May 31, followed a few hours later by re-entry and splashdown in the Pacific Ocean west of California. Ships will be stationed near the landing zone to recover the spacecraft.
Musk said he was confident in the success of the rest of the mission. A simplified version of the Dragon spacecraft successfully parachuted back to Earth from space in 2010, becoming the first commercial craft to return from orbit.
"The most important part of the mission has been successfully achieved, so we're incredibly excited, and I think it is fair at this point to celebrate a significant victory," Musk said.


Additional coverage for subscribers:


HIGH-DEFINITION: DRAGON AS SEEN BY CREW DOWNLOAD


HIGH-DEFINITION: VEHICLE CAPTURED AND BERTHED DOWNLOAD


VIDEO: HATCH OPENED AND CREW FLOATS IN DRAGON PLAY | HI-DEF


VIDEO: CREW CHATS WITH REPORTERS FROM INSIDE DRAGON PLAY



VIDEO: SECURING DRAGON INTO DOCKING PORT PLAY


VIDEO: ROBOT ARM CAPTURES DRAGON! PLAY


VIDEO: DRAGON FLIES WITHIN ARM'S REACH PLAY


VIDEO: APPROACH HALTED TO FIX LASER GLITCH PLAY


VIDEO: DRAGON'S RENDEZVOUS WITH THE SPACE STATION PLAY



VIDEO: THE FULL LAUNCH EXPERIENCE! PLAY


VIDEO: FALCON 9 ROCKET LAUNCHES DRAGON PLAY | HI-DEF



VIDEO: LAUNCH REPLAYS: ALONG THE NASA CAUSEWAY PLAY | HI-DEF


VIDEO: LAUNCH REPLAYS: WESTERN TRACKING CAMERA PLAY | HI-DEF


VIDEO: LAUNCH REPLAYS: NORTHERN TRACKING CAMERA PLAY | HI-DEF


VIDEO: LAUNCH REPLAYS: SOUTHERN TRACKING CAMERA PLAY | HI-DEF


VIDEO: LAUNCH REPLAYS: CLOSE-UP OF MAIN ENGINES PLAY | HI-DEF


VIDEO: LAUNCH REPLAYS: ASSEMBLY BUILDING ROOF PLAY | HI-DEF


VIDEO: NASA ADMINISTRATOR SPEAKS ON SUCCESS PLAY | HI-DEF


VIDEO: POST-LAUNCH NEWS BRIEFING PLAY



VIDEO: PREVIEW OF DRAGON'S TREK TO SPACE STATION PLAY | HI-DEF


VIDEO: STATION CARGO BEING CARRIED BY DRAGON PLAY | HI-DEF


VIDEO: SUMMARY OF FALCON'S LAUNCH COUNTDOWN PLAY | HI-DEF


VIDEO: ENGINE NO. 5 VALVE REPLACED PLAY | HI-DEF



VIDEO: NARRATED RECAP OF FALCON/DRAGON CAMPAIGN PLAY | HI-DEF


VIDEO: POST-ABORT NEWS BRIEFING PLAY


VIDEO: LAUNCH ABORTED DURING ENGINE START PLAY | HI-DEF


VIDEO: PRE-LAUNCH NEWS CONFERENCE PLAY



SUBSCRIBE NOW