Musk 'optimistic' next Dragon flight will visit space station
BY STEPHEN CLARK
SPACEFLIGHT NOW
Posted: December 9, 2010


SpaceX did its best Wednesday to quiet critics and convince NASA the company is ready to deliver supplies to the International Space Station some time next year.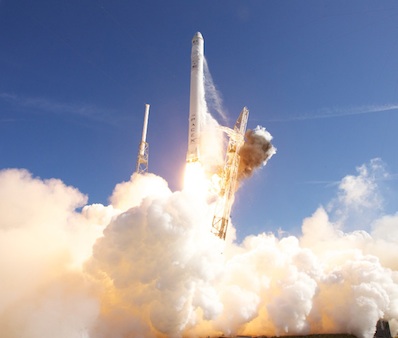 The Falcon 9 rocket blasts off Wednesday morning from Complex 40 at Cape Canaveral. Credit: Chris Thompson/SpaceX



The company launched a Falcon 9 rocket from Florida at 10:43 a.m. EST (1543 GMT) Wednesday, releasing an unmanned Dragon space capsule in orbit 10 minutes later. The Dragon performed flawlessly, circling Earth two times before accomplishing a pinpoint landing in the Pacific Ocean off the coast of northern Mexico at 2:02 p.m. EST (1902 GMT).

"It's just mind-blowingly awesome," said Elon Musk, SpaceX's founder and CEO. "I wish I was more articulate, but it's hard to be articulate when you're mind's blown, but in a very good way."

Musk attempted to quell expectations before launch, predicting the test flight only had a 60 percent chance of complete success.

But Musk's company beat those odds Wednesday, achieving every goal of the mission.

"We ended up checking off all of the mission objectives for this demonstration flight," said Alan Lindenmoyer, head of the Commercial Orbital Transportation Services, or COTS, program at NASA's Johnson Space Center in Houston.

The COTS program has invested $253 million in SpaceX to date, and Wednesday's success will trigger another $5 million payment under a contract that ties government funding to milestones.

"After today, we have increased confidence in SpaceX systems, launch vehicles and spacecraft," Lindenmoyer said Wednesday.

The positive outcome of the mission could also convince NASA to approve SpaceX's request to combine the next two test flights, which were originally manifested in 2006 when SpaceX was awarded a COTS agreement.

The current plan calls for the next Dragon mission to approach the space station, demonstrate its communications and rendezvous systems, then back away and return to Earth. The third flight in the test sequence would continue within 30 feet of the complex, where the station's robotic arm would grapple the capsule and move it to a docking port.

"I'm optimistic that the next flight will be to the space station," Musk said, adding there are several things engineers must add to the Dragon to make that possible.

Most of the improvements will be in the craft's electronics, but SpaceX must also add solar panels and insert more redundancy in the Dragon's equipment. The flight computer will also receive upgrades before a station flight, according to Musk.

"I feel highly confident we can make it to station on the next flight and do it in approximately the middle of next year," Musk said.

NASA reserved judgment on the accelerated test strategy until after this week's mission, but Lindenmoyer said the agency will "certainly give it a good consideration."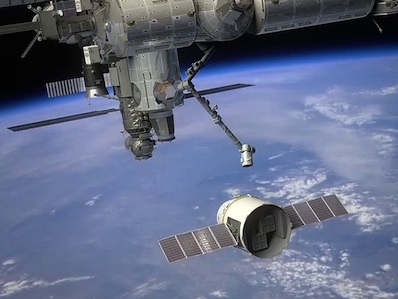 Artist's concept of the Dragon spacecraft approaching the International Space Station. Credit: NASA



The Falcon 9 rocket achieved a nearly perfect orbit almost 200 miles above Earth, the booster's second straight launch to hit a bull's-eye in space. SpaceX corrected two issues with the rocket's roll control system since its first flight in June, and on-board video showed the vehicle was stable throughout the ascent to space.

After releasing the Dragon capsule, the Falcon 9 second stage deployed a cache of small CubeSat secondary payloads, then fired its engine a second time to reach an orbit with a peak altitude of about 11,000 kilometers, or about 6,800 miles, according to Musk.

The Falcon 9's first stage is designed to be retrievable, but the rocket was not recovered by ships stationed several hundred miles northeast of Cape Canaveral. SpaceX has not retrieved any of its rockets so far, but Musk said the company is committed to eventually making the Falcon 9 first stage reusable.

After separation, the Dragon spacecraft activated its control system, started firing its 18 Draco thrusters and began a regimented series of maneuvers in orbit.

"For a rocket to work, and then a spacecraft to work, they're both very complex devices," Musk said. "There's so much that can go wrong, and it all went right."

Musk said the Dragon never had to switch to any backup systems, all the ship's thrusters functioned as designed, and the spacecraft landed right on target in the Pacific Ocean.

SpaceX teams arrived at the floating capsule a few minutes later. Officials planned to load the craft on a barge steaming for California, then the company will transport the Dragon to a Texas test facility for post-flight inspections.

The successful mission also buoyed SpaceX's hopes to place astronauts inside future Dragon capsules.

The company is bidding for NASA funding to modify the Dragon cargo freighter for crewed missions. Musk said SpaceX could have a human-rated Dragon ready for service within three years.

"My assessment is that SpaceX would be the most rapid path to an American crew transport system," Musk said. "If we had people on this flight, we would have taken them to orbit and returned them to Earth safely."

SpaceX may receive the stiffest competition from Boeing Co., which is designing its own commercial spaceship called the CST-100.

Both the Dragon and CST-100 are designed to carry seven space fliers to low Earth orbit, responding to NASA's need for space station crew rotations and meeting potential private demand to other destinations.

"This is the first in a new generation of commercial launch systems that will help provide vital support to the International Space Station and may one day carry astronauts into orbit," said NASA Administrator Charles Bolden in a statement following Wednesday's mission. "This successful demonstration flight is an important milestone in meeting the objectives outlined by President Obama and Congress, and shows how government and industry can leverage expertise and resources to foster a new and vibrant space economy."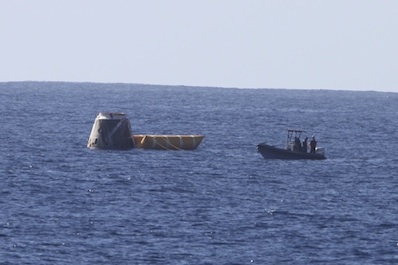 The Dragon spacecraft floats in the Pacific Ocean minutes after splashdown at 2:02 p.m. EST (1902 GMT) Wednesday. Credit: Michael Altenhofen/SpaceX



SpaceX has been the subject of criticism from some members of Congress in the wake of the White House's proposal to shift crew spaceflight missions to private management. Despite the presence of other contenders, including some established companies, SpaceX has received the most attention in the nascent commercial space marketplace.

Congress has since passed a budget blueprint that calls for $312 million in 2011 to jump-start the development of commercial crew vehicles. The so-called compromise legislation also directed NASA to immediately start working on a heavy-lift rocket and government-owned crew capsule for deep space missions to asteroids.

President Obama signed the authorization act in October.

Sen. Kay Bailey Hutchison, the Republican ranking member of the Senate subcommittee overseeing NASA, said Wednesday's test flight "represents an important milestone that reflects the wisdom of the balanced approach outlined in the recently enacted NASA authorization law."

"The new law preserves and advances the activities of commercial space companies working to develop reliable cargo and crew services to the International Space Station," Hutchison said in a statement.

Hutchison's statement after the Falcon 9's first flight in June was more cautious. She called that launch a "belated sign that efforts to develop modest commercial space cargo capabilities are showing some promising signs."

She said in June the "modest success is more than a year behind schedule, and the project deadlines of other private space companies continue to slip as well."

Musk said he expects Wednesday's flight will quiet some critics, but he still expects naysayers.

"There are a lot of people in the world, and there will still be some who are negative, but I suspect far fewer," Musk said.

As for the wisdom of commercial leadership in future space missions, Musk and Lindenmoyer said the COTS model is working and has been a success so far. NASA could shape a commercial crew program based on lessons learned from the COTS initiative.

"Thank you for the early Christmas present, and what a great way to start the holidays," Lindenmoyer told SpaceX officials during a post-mission press conference. "I know you guys deserve a break and will be able to enjoy it."