Falcon 9 booster rockets into orbit on dramatic first launch
BY STEPHEN CLARK
SPACEFLIGHT NOW
Posted: June 4, 2010


Defying questionable odds and technical gremlins, the Falcon 9 rocket completed a nearly flawless first flight Friday afternoon, successfully hitting a bullseye 155 miles high in space after a drama-filled countdown and launch.

The mission was a pivotal test not just for SpaceX, but also for the viability of private firms seeking a leading role in human spaceflight on behalf of NASA.

President Obama's proposal to shift piloted space missions to commercial control has put companies like Space Exploration Technologies Corp. in the limelight. And Elon Musk, a software mogul-turned-rocket designer, says his company is up to the task.

"I think this bodes very well for the Obama plan," Musk said. "I think it really helps vindicate the approach that he's taking, and it shows that even a small new company like SpaceX can make a real difference."

SpaceX was established in 2002 with a handful of employees bent on revolutionizing space exploration. The Hawthorne, Calif.-based company's staff now numbers more than 1,000 engineers, technicans and other workers.

The Falcon 9 rocket fired up its nine first stage engines and took off from Cape Canaveral at 2:45 p.m. EDT (1845 GMT), piercing thin clouds and disappearing into a blue sky over the Space Coast riding a million pounds of ground-shaking kerosene-fueled thrust.


Additional coverage for subscribers:


VIDEO: FALCON 9 LAUNCH AS SEEN FROM NASA CAUSEWAY PLAY | HI-DEF


VIDEO: VIEW FROM KENNEDY SPACE CENTER PRESS SITE PLAY | HI-DEF


VIDEO: VEHICLE ASSEMBLY BUILDING ROOF CAMERA PLAY | HI-DEF


SUBSCRIBE NOW



Liftoff occurred near the end of a four-hour launch window. The flight was pushed back from late morning by telemetry connectivity issues between the rocket and an Air Force control center.
Then the launch was aborted by a last-second pressure glitch in one of the first stage engines just before ignition. SpaceX engineers determined the problem wasn't serious and tried again 75 minutes later, when the Merlin engines were ordered to start and computers gave the go-ahead for launch.
Hydraulic clamps retracted from the base of the Falcon 9 to commit the rocket to flight.
"Upon liftoff, there was some relief that it cleared the pad, and things were obviously extremely tense," Musk said.
The solid white rocket gracefully soared off pad 40, sending a roar across the Kennedy Space Center and trailing a long golden flame.


| | |
| --- | --- |
| | Credit: Ben Cooper/Spaceflight Now |
The first stage powered the rocket to an altitude of more than 50 miles before shutting down and separating from an untested upper stage at the edge of space. Distinguished by a large niobium nozzle built especially for firing in space, the upper stage's Merlin engine ignited and burned for several minutes to propel the rocket toward orbit.

Glowing red hot from the scorching temperatures of its exhaust, the upper stage engine was supposed to burn for nearly seven minutes, according to SpaceX.

The second stage rolled more than expected during its engine firing, and Musk said engineers will investigate the cause of the glitch before launching another Falcon 9.

Although the roll was dramatic in views from on-board rocketcams, the stage still did its job and reached an accurate orbit within a percentage point of pre-launch targets, according to SpaceX telemetry.

"We got our Falcon 9 rocket to orbit," Musk told reporters a few hours after launch. "It achieved a near-bullseye on the target, about 99.8 percent on perigee and 101 percent on apogee."

The rocket was targeting a 155-mile-high orbit inclined 34.5 degrees to the equator. The flight's payload was a ground test article of the Dragon spacecraft, but the capsule stayed attached to the Falcon 9 upper stage as designed.

"This has really been a fantastic day, certainly one of the greatest days of my life," Musk said. "As many people know, we would have been excited to even have the first stage work or get some of the way through the second stage burn. As I said before, it would be a great day if we got to orbit. And, thankfully, it has been a great day."

SpaceX planned Friday's test launch just to ensure the 15-story rocket works. The next Falcon 9 flight will carry the company's own Dragon capsule, the vehicle that will take over some of the space shuttle's logistics duties for the International Space Station next year.


| | |
| --- | --- |
| | Credit: Ben Cooper/Spaceflight Now |
"SpaceX's accomplishment is an important milestone in the commercial transportation effort and puts the company a step closer to providing cargo services to the International Space Station," NASA chief Charles Bolden said in a statement. "This launch of the Falcon 9 gives us even more confidence that a resupply vehicle will be available after the space shuttle fleet is retired."

The Falcon booster for the first Commercial Orbital Transportation Services, or COTS, flight is 100 percent complete at the company's test site in Texas. Final assembly and testing of the Dragon capsule are driving the schedule for that flight, which should occur this summer.

During that mission, which is the next scheduled Falcon 9 launch, the Dragon will break free from the rocket's upper stage and circle Earth about three times. The Dragon capsule would then fire its own rocket engine and enter the atmosphere for splashdown in the Pacific Ocean off the coast of Southern California.

Another COTS demonstration flight is scheduled for next spring to prove the Dragon's ability to approach the space station, where the outpost's robot arm will grapple the unmanned cargo ship and berth it to a U.S. module.

Orbital Sciences Corp. is developing its own rocket and resupply freighter for the space station, giving NASA two independent providers for cargo services. Orbital's Taurus 2 rocket and Cygnus spacecraft should fly to the station in June 2011.

"We look forward to the launch that's going to come up soon, when we will be carrying an active version of the Dragon spacecraft and getting to the space station next year, and hopefully launch astronauts as well, as soon as possible," Musk said.

Musk's aspirations for astronaut travel to the space station are still at the whim of Congress, which still has not weighed in on the White House space policy.

Sen. Kay Bailey Hutchison, R-Texas, issued a statement Friday afternoon voicing her continued opposition to President Obama's plan to shift human space transportation to the private sector.

"This first successful test flight of SpaceX's Falcon 9 rocket is a belated sign that efforts to develop modest commercial space cargo capabilities are showing some promising signs," Hutchison said in a press release. "While this test flight was important, the program to demonstrate commercial cargo and crew transport capabilities, which I support, was intended to enhance not replace NASA's own proven abilities to deliver critical cargo and humans to low Earth orbit."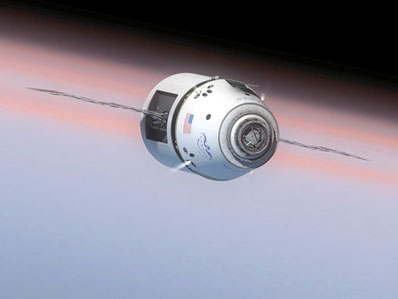 Artist's concept of a Dragon spacecraft. Credit: SpaceX



Hutchison also said the flight does not demonstrate commercial providers are ready to close the gap in U.S. human access to space following the shuttle's retirement.

Musk directly responded to Hutchison's claims shortly after launch.

"I don't understand why she's trying to hurt a Texas company," Musk said. "We do all of our engine testing and development in Texas. We're one of the fastest-growing employers in Texas. That's wrong. And the people in Texas ought to be aware of that."

SpaceX has about 100 workers at a test facility near Waco, Texas.

Hutchison says the Johnson Space Center in Houston, the home of Mission Control, will suffer significant job losses under the White House proposal.

Musk said Sen. Bill Nelson, D-Fla., called him Friday afternoon to congratulate SpaceX on the successful launch. Nelson has been a lukewarm supporter of parts of the new NASA policy.

"SpaceX joins an elite group of companies who have successfully developed launch vehicles with such a great capability," said Rep. Dana Rohrabacher, R-Calif. "But the fact that SpaceX was able to accomplish this in such a short time with such a small budget changes the paradigm of spaceflight."

Rohrabacher is one of very few Republican members of Congress enthusiastically supporting President Obama's decision on NASA.  

"The ambitious flight test with four major targets for first stage, stage separation, second stage, and orbit insertion showed how capable our nation's commercial space launch providers are," Rohrabacher said in a statement. "The fact that the Falcon 9 system aborted the first attempt, and SpaceX was able to recycle and launch within two hours shows that industry is ready to take the lead in our routine orbital space missions."  

SpaceX claims the Falcon 9 and Dragon vehicles, which are already designed to meet published human-rating standards, could be modified to transport crews to the space station within three years of receiving a contract.

It should be as simple as adding a launch escape system for astronaut safety, plus installing seats and cockpit displays, according to SpaceX.

But top NASA officials are not as optimistic, saying the don't expect an operational commercial source for astronaut flights until at least 2015.