Falcon flies to space but misses orbit
BY STEPHEN CLARK
SPACEFLIGHT NOW
Posted: March 20, 2007


The Falcon 1 rocket, a gleaming symbol of hopes to revolutionize space exploration through private industry, took its second shot at orbit Tuesday night but fell back to Earth after experiencing a problem mid-way through the ascent.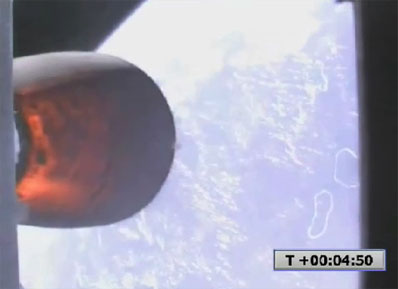 The view from a camera on the rocket shows the second stage engine firing. Credit: SpaceX



A year after its maiden flight met a disastrous end, the SpaceX booster lifted off at 9:10 p.m. EDT (0110 GMT Wednesday) from a remote launch pad on Omelek Island, part of a U.S. Army base at Kwajalein Atoll in the Marshall Islands.

Controllers lost contact with the Falcon during the burn of the second stage that would have placed the rocket into orbit around Earth.

"We did encounter, late in the second stage burn, a roll-control anomaly," Elon Musk, founder and chief executive officer of Space Exploration Technologies Corp., said in a post-launch call with reporters.

Live video from cameras mounted aboard the rocket's second stage showed increasing oscillations about five minutes after liftoff, just before the public webcast was cut off. The rolling prevented the necessary speed to achieve a safe orbit, instead sending the stage on a suborbital trajectory back into the atmosphere.

Musk speculated leading candidates for the roll control problem included a helium leak or a failure of a roll control thruster. Both would be relatively easy to fix, he said.

"Of all the possible causes, there's very few that would really take much effort to address," Musk said.

Burning highly refined kerosene and liquid oxygen, the first stage's Merlin engine produced nearly 80,000 pounds of thrust as it gracefully guided the rocket through clouds on an eastward trajectory from its launch site in the central Pacific Ocean.

The Merlin drained its supply of propellant within three minutes, and the Falcon 1 shed its first stage a few seconds later. The upper stage then fired its Kestrel engine for a planned six-and-a-half minute burn to place the rocket into low Earth orbit.

But engineers stopped receiving live radio signals from the second stage several minutes prior to its scheduled arrival in orbit.

Musk said the stage reached an altitude of about 200 miles when the roll oscillation caused the Kestrel engine to shut down.

"The high likelihood is that it re-entered after less than a full orbit," Musk said.

The rolling motion could have caused the second stage's propellant to slosh outward like a centrifuge, which would lead to the engine switching off, Musk said.

The Falcon 1 was targeting an orbit stretching from 205 miles to 425 miles in altitude with an inclination of about 9 degrees. Engineers had programmed the second stage to conduct a second burn about 45 minutes into the flight to demonstrate the engine's capability to reignite.

Despite the control problem that doomed the mission's goal of reaching orbit, Musk said he was pleased with the progress made by the company since the Falcon's maiden test flight ended in failure last year.

"I think I'll characterize this as a very good day for SpaceX," Musk said. "We successfully reached space and really retired almost all the risk associated with the rocket. So I feel very good about where things are."

Much of the risk with rocket launches come from engine operations and stage separation systems, and Musk said those performed well in Tuesday's flight.

"I would say we've retired probably in excess of 90 percent of risk associated with the rocket," Musk said.

"It definitely could have gone a little better today, but if we've retired almost all the risk associated with the rocket, I think it is hard to characterize that (as) anything but a success, at least in my book, because this is a test launch of the rocket and not a satellite launch," he said.

Bankrolled by the fortune of Musk, a technology mogul and co-founder of the online payment system PayPal, SpaceX designed and built the Falcon 1 rocket to significantly lower the cost of space launches and revolutionize the space industry.

The 70-foot-tall booster came within moments of blastoff during Tuesday's first attempted countdown, but computers ordered a dramatic last-second abort when the rocket's first stage Merlin engine showed signs of trouble after ignition.

Countdown software detected the engine's chamber pressure was slightly below normal, but that was likely due to chilled rocket-grade kerosene fuel being fed into the engine, according to Gwynne Shotwell, SpaceX vice president of business development.

The launch team opted to load warmer fuel into the first stage fuel tanks and try again, and the countdown proceeded smoothly until clocks reached zero.

"This was a pretty nerve-racking day, to say the least," Musk said. "The rocket business is definitely not a low-stress business, that's for sure."

SpaceX officials said they remain confident in their plans to launch paying customers' payloads as soon as this year.

"We've been in touch with our customers," Musk said. "They are very excited by the results of this test, and so we feel really good."

The next launch of the Falcon 1 was scheduled for August carrying to orbit the TacSat 1 tactical research satellite for the Naval Research Laboratory. A subsequent mission to launch a Malaysian Earth-observation spacecraft was planned for late this year.

But before those launches are given the all-clear, SpaceX will first have to study what caused the problem encountered during Tuesday's mission and fix it.

Two small NASA experiments were bolted atop the upper stage during Tuesday's launch. The Autonomous Flight Safety System was an instrument designed to detect problems during rocket launches and automatically activiate a flight termination system, which would bring down the rocket before it endangers the public.

An inexpensive transmitter linked with NASA's network of tracking and data relay satellites was also aboard the rocket to beam live telemetry back to the rocket's control room.

Engineers had also planned to demonstrate the Falcon 1's satellite separation system by jettisoning a small 4.5-pound aluminum ring after arriving in orbit.

SpaceX's second launch came a year after the Falcon 1 rocket suffered a major failure during its maiden flight. Investigators traced the cause of that accident to a corroded aluminum nut in the first stage propulsion system, which triggered a fuel leak that led to a premature shutdown of the Merlin engine about 30 seconds after liftoff.

SpaceX engineers overhauled countdown procedures and added upgrades to the first stage Merlin engine to increase reliability, according to the company's Web site.

Tuesday's demonstration flight was sponsored by the Pentagon's Defense Advanced Research Projects Agency under its program to develop responsive space technologies such as low-cost small satellite launch vehicles.

The booster's first stage was fitted with a parachute recovery system, allowing it to slowly drop into the Pacific Ocean a few hundred miles downrange from the Omelek launch pad. SpaceX positioned a ship to retrieve the spent rocket stage in hopes of refurbishing it for reuse on a future mission.

Musk said there should be no problems recovering the spent stage because it performed well and was dropped in the designated area.

"We'll be doing a thorough examination of that piece of hardware," Shotwell said. "It's not as easy to determine how well you did unless you can actually (recover) the hardware."

Eleven more missions are currently manifested for SpaceX's Falcon rocket family, and the contracts are valued at nearly $400 million, Shotwell said.

In addition to the Falcon 1 booster, SpaceX is developing a much larger rocket to carry heavier satellites into orbit. Company officials expect the Falcon 9 rocket to debut as early next year.

The Falcon 1 can haul satellites up to about 1,270 pounds into low Earth orbit, while the Falcon 9 should be capable of delivering about 22,770 pounds to low Earth orbit and up to 10,000 pounds to geostationary transfer orbit, a popular destination for communications satellites, according to the SpaceX Web site.

Also on the drawing boards is the Falcon 9 Heavy, which is expected to launch more than 60,000 pounds to low Earth orbit. That version could fly by 2010.

SpaceX sells the Falcon 1 for as little as $6.7 million, while the Falcon 9 price ranges from about $27 million to $78 million, according to company officials.

SpaceX is also planning to begin launching missions from Cape Canaveral, Fla., and Vandenberg Air Force Base, Calif., by 2009.

Three Falcon 9 launches are already on the books as test flights for NASA's Commercial Orbital Transportation Services program. The program aims to partner with the private sector to create spacecraft to supply the international space station after the agency's space shuttle fleet is retired in 2010.

SpaceX was awarded a contract worth $278 million from the program in August, and the company plans to use its Dragon space capsule for the three demonstration missions.

Oklahoma-based Rocketplane Kistler also won a $207 million contract from NASA and is developing a reusable launcher and orbital spacecraft for another series of test flights by 2010.

The remainder of SpaceX's launch backlog includes six commercial payloads and two launches for the U.S. military.

Our play-by-play coverage of Tuesday's launch and an extensive transcript from Musk's post-flight call with reporters can be found here.

And a collection of images from the launch is posted here.