First flight of Falcon 1 rocket moved to 'tropical paradise'
BY JUSTIN RAY
SPACEFLIGHT NOW
Posted: June 29, 2005


Flight restrictions imposed by a gigabuck spy satellite launch at California's Vandenberg Air Force Base have forced rocket-maker Space Exploration Technologies to shift the Falcon 1 booster's maiden flight to a remote Pacific isle.


| | |
| --- | --- |
| | The first Falcon rocket will launch from this tropical island in the Pacific. Credit: SpaceX |
Commercial startup company SpaceX planned to launch its first low-cost Falcon 1 rocket this summer from Vandenberg. But the U.S. Air Force won't allow the new Falcon to fly until after the final Lockheed Martin Titan 4 rocket lifts off from the base carrying a large National Reconnaissance Office spacecraft cargo.

Military officials are worried about the possible threat, however minuscule, that the unproven Falcon booster could rain debris on the Titan pad in a liftoff mishap.

The clandestine Titan mission was supposed to launch July 10, with Falcon following behind in August. But the wait to launch recently grew longer when an undisclosed problem with the spy payload postponed its liftoff to September 9, and potentially even later.

"It is a little disheartening to be told when you got it there (the rocket at the pad) that you can't launch," Elon Musk, SpaceX founder and CEO, said in an interview Wednesday. "Every month that we don't launch, it hurts us financially because there's a lot of customers out there who only want to sign up after we launch."

SpaceX occupies a pad at Space Launch Complex-3, which is just north of the Titan's SLC-4. Falcon's southerly trajectory would include a close overflight of the Titan complex where that massive vehicle stands assembled for flight.

"The Air Force has said they are unwilling to take any risks with the last Titan 4 mission," Musk said. "There is some risk that if Falcon 1 were to go off track, there's some risk of damaging the Titan 4. I think it is a very tiny risk, but they are unwilling to take even a tiny risk."

While SpaceX could continue waiting for the Titan to go, the possibility of additional delays of the military mission to October or November is worrisome to Musk. And that has prompted SpaceX to shuffle its manifest.

"We just can't afford to sit here for six months. And then of course we could be told in November that there's another problem and it's going to take another three months," Musk said.

"So with the knowledge of the delay and the potential for even further delay, we decided that the smart thing to do would be to switch our first launch to Kwajalein."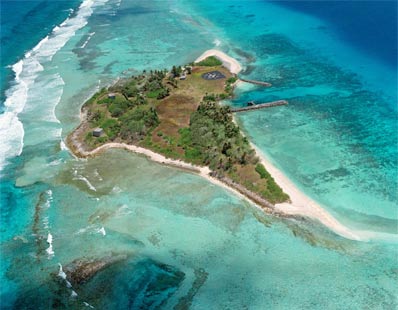 Falcon will launch from this seven-acre island named Omelek. Credit: SpaceX
See a larger image here



Original plans called for the first Falcon to carry the U.S. Naval Research Laboratory's TacSat-1 experimental communications satellite to space from Vandenberg. That would be followed by the mission from SpaceX's Pacific island locale in the Kwajalein Atoll to place the Air Force Academy's cadet-built FalconSat-2 science spacecraft into orbit. To avoid keeping its rockets grounded while waiting on Titan, SpaceX has decided to flip-flop the two missions.

SpaceX is building its Kwajalein launch complex on the tiny isle of Omelek, which is part of the Marshall Islands in the Central Pacific where the U.S. military has long had a presence and today launches missile defense tests.

The seven-acre island should be ready to host the debut launch of Falcon 1 in late September.

"I think the last time (Omelek) was used was about 30 years ago," Musk said. "I think it was used just for some fairly small rockets...There are some little launch pads there but they are too small for us."

Kwajalein Range Services has poured the concrete to form the Falcon launch pad and refurbished a handful of small buildings on the island for re-use by SpaceX.

"There's some toilets, which were in very nasty condition, that are now usable," Musk joked.

A mobile trailer purchased from another island will serve as the site's office.

"It has a pier, a loading dock, helipad, it's a nice little island," Musk said. "It is very nice there -- a little tropical paradise."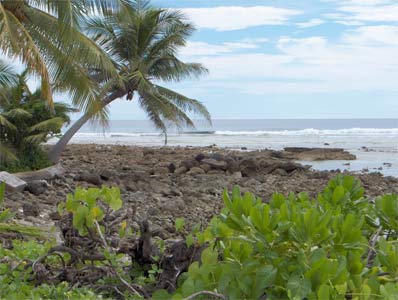 Omelek is part of the Marshall Islands. Credit: SpaceX



The company has just one full-time employee out there -- the former head of Army logistics at Kwajalein. But that will change Tuesday when a dozen SpaceX workers are dispatched to begin building the launch pad infrastructure.

A barge ferrying a hefty load of launch support equipment arrives at Omelek this week.

"The vehicle hangar is on its way. It's similar to the one we have at Vandenberg. That's going to get set up and it'll be there to house the (Falcon) vehicle. The launch mount, the propellant supply tanks, pressurant tanks, there's a huge amount of stuff on its way to Kwajalein right now."

Shipments from Long Beach, Calif., occur every 30 days. The next opportunity in late July will see the Falcon 1 rocket set sail for the month-long trek to Omelek.

"Our first flight unit of Falcon 1 is being shipped to 'Kwaj.' That is the one that would have gone out of Vandenberg," Musk said.

The two-stage rocket will launch the cube-shaped FalconSat-2 into a 250 by 310 mile orbit inclined 39 degrees to the equator. The tiny satellite will probe space plasma that can impact communications and GPS navigation accuracy.

Cadets had planned to launch their craft aboard space shuttle Atlantis in March 2003. But the Columbia accident a month earlier grounded the shuttle fleet. Plans for deploying the small satellite from the shuttle payload bay were later scrapped.

Weighing just 43 pounds, the FalconSat's diminutive size gives its rocket an exceptional amount of unused performance.

"We are using the fact this is a light satellite to do some other tests. We're going to do some post-separation maneuvering and see how that works," Musk explained.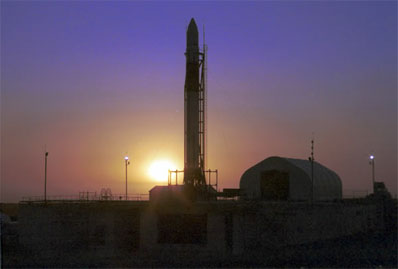 The first Falcon rocket stands atop the Vandenberg pad during testing earlier this year. The tent-like rocket hangar is visible on the right. Credit: SpaceX



As plans move forward in Kwajalein, technicians are fabricating the second flight-worthy Falcon 1 rocket, serial No. 2, in support of the Vandenberg launch. California's Central Coast could see its first Falcon blastoff in November when TacSat-1 is carried aloft, but Musk said scheduling remains fuzzy at best.

"We're somewhat at the mercy of the Range. So it's really the first available date that the Range gives us after Titan 4 flies, but they won't give us a date till it flies. Sort of a Catch-22. So it's hard for me to predict when we would launch after Titan 4. We could certainly launch probably within a couple of weeks after getting notice," Musk said.

"From our standpoint, we need a couple of weeks notice from when they say 'go' to get the team focused on that launch, get all the hardware in place, check everything out, be ready. And then of course there's another variable in there that has to be considered, which is the TacSat satellite people need some time to do final satellite work."