Cape launch site could host new commercial rocket fleet
BY JUSTIN RAY
SPACEFLIGHT NOW
Posted: January 20, 2005


CAPE CANAVERAL, Fla. - As Lockheed Martin's Atlas program prepares to fly away from Cape Canaveral's Complex 36, an advanced breed of rockets being developed by a self-made millionaire is expected to breathe new life into the historic site.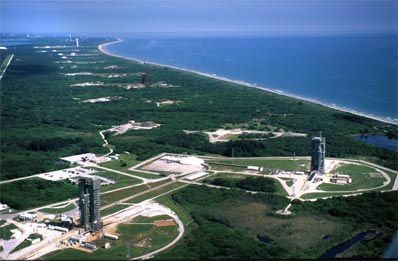 Falcon rockets could be launched from pads 36A (right) and 36B (left) at Cape Canaveral. Photo: Pat Corkery/Lockheed Martin



Space Exploration Technologies Corp., founded by Elon Musk, is seeking to lease the two-pad facility that opened in the 1960s and will host its 145th and final Atlas rocket launch next week. SpaceX has begun a year-long bureaucratic safety and environmental review that will, if all goes well, lead to a rejuvenation of the pads to support the Falcon 1 and Falcon 5 rockets.

"Until the formal process is complete we cannot say the pad is ours," Musk told Spaceflight Now in an interview this week. "But it's my understanding that there is no obstacle to us obtaining the launch pad. Unless something very unusual happens, we should receive it."

The two-stage, small-satellite launcher Falcon 1 will call pad 36A its Florida home. That is Complex 36's northern pad, which has been active since 1962. The larger, more powerful Falcon 5 is headed for the site's pad 36B that entered service in 1965.

"It is a good complex. There is a lot there that can be used," Musk said. "We will be able to use almost everything except for the towers...We would ask the Air Force to remove the towers and keep pretty much everything else."


| | |
| --- | --- |
| | The mobile service tower (left) and fixed umbilical tower (right) on both Complex 36 pads will be torn down for Falcon. Photo: NASA-KSC |
Each pad has a fixed umbilical tower and a mobile service structure. The Falcon design of performing pre-launch preparations with the rocket sitting horizontally requires neither type of tower.

SpaceX, which named its rockets after the Star Wars Millennium Falcon, already has launch sites at Vandenberg Air Force Base in California and the U.S. government's Kwajalein locale in the Marshall Islands of the Pacific.

SpaceX's inaugural rocket is undergoing final preparations on the Space Launch Complex 3-West pad at Vandenberg. Ironically, this too is a former Atlas launch pad. Technicians hope to conduct an on-pad engine firing next month that will clear the way for the maiden Falcon 1 liftoff in late March, carrying an experimental Department of Defense communications satellite into polar orbit.

Complex 36 appeared destined for abandonment as the older Lockheed Martin Atlas rocket models reached retirement. The company's new Atlas 5 boosters are flown from the re-designed Complex 41. But SpaceX has come to the rescue of Complex 36, opting to grab the site when the chance presented itself.

"It is opportunistic. The Air Force was going to basically level pad 36 and we wanted to jump in there and take it before they did that," Musk said.

The Falcons rockets use the same fuels as the Atlas first stage - a highly refined kerosene propellant and liquid oxygen. So SpaceX hopes it can reuse much of the ground equipment currently in place at the complex.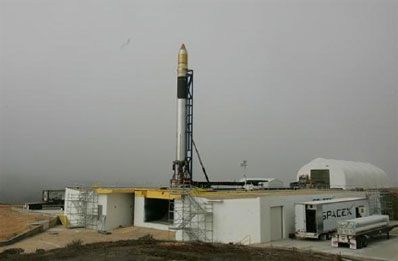 The first Falcon rocket stands on its Vandenberg launch pad. Photo: SpaceX



"It'll probably be better than what we have at Vandenberg where there was just some bare concrete and that was it, whereas at pad 36 there is a lot more infrastructure that we will be able to use. I don't know how much of this will remain, but we would love to use almost everything that is there -- the tanks, the plumbing, everything. We would love to use everything we can."

For now, Falcon does not have any scheduled launches from Florida.

"I am pretty sure there will be demand...once our vehicles acquire a flight history and we get NASA business. NASA likes to launch out of the Cape," Musk said.

The soonest Cape Canaveral will witness its first Falcon blastoff would be around 2007.

"It's hard for me to predict...I think two years from now is kind of a realistic date of when we will do our first launch -- probably about a year to complete the paperwork before we could start construction on our specific stuff. And it also depends on finding a payload that wants to launch out of the Cape."

For more on SpaceX and the Falcon rockets, see our separate story.