Collision between rocket stages doomed Falcon 1
BY STEPHEN CLARK
SPACEFLIGHT NOW
Posted: August 6, 2008


SpaceX's Falcon 1 rocket was brought down Saturday night when the vehicle's first stage collided with the second stage due to residual thrust from the upgraded Merlin engine, the company's founder said Wednesday.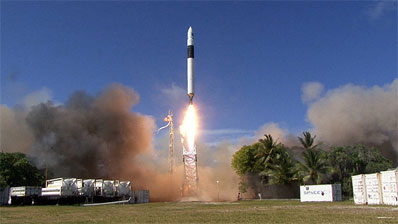 The Falcon 1 rocket launches on its third flight. Credit: SpaceX



The new Merlin 1C engine was expected to shut down one-and-a-half seconds before the rocket's two stages separated a little more than two-and-a-half minutes after liftoff.

"There was still some thrust left over after one-and-a-half seconds, and that thrust caused the first stage to be propelled back towards the second stage after stage separation," said Elon Musk, founder, CEO and chief technical officer of Space Exploration Technologies Corp.

"Neither stage exploded," Musk said. "They just got a little bit cooked."

The rocket soared to an altitude of nearly 135 miles before plummeting into the Pacific Ocean east of the launch site on Omelek Island at Kwajalein Atoll. The company has not recovered any debris.

"It's really just very sad that we had this small design-related issue," Musk said. "If there had been one extra second, this wouldn't have happened."

The problem is relatively minor, and a fix will be ready in time for another Falcon 1 launch attempt as early as September. Parts for the next launch will be transported from the company's Hawthorne, Calif., headquarters to Kwajalein within two or three weeks, according to Musk.

But that launch will not carry a Malaysian satellite as planned.

"We always committed to them that we would demonstrate getting to orbit before we flew their vehicle, so we're sticking to that commitment," Musk said.

Malaysia's RazakSat spacecraft will now launch on the Falcon 1's fifth flight, scheduled for late this year or in early 2009.

Even though SpaceX rockets have failed to reach orbit three times, Musk said the company's customers are still supportive. SpaceX continues to receive encouragement from NASA, the Department of Defense and the Operationally Responsive Space program, which owned the primary payload lost Saturday night.

SpaceX also expects to sign contracts for more launches in the next few months, according to Musk.

The company's backlog now stands at 12 launches, including the upcoming demonstration mission.

Engineers believe there is a straightforward solution to Saturday night's problem. Musk said the team will simply add a few seconds of time between the end of the Merlin's burn and stage separation.

"It's just changing one timing setting and you're done," Musk said. "If we a rocket on the launch pad tomorrow, we could make this timing change, launch and be OK, at least as far as this issue is concerned."

The Merlin 1C engine, which includes a new regenerative cooling system, takes longer to shut down than designers expected, Musk said.

The time between Merlin engine cutoff and stage separation was fine for older models of the engine, which included insulating material on the nozzle that burned away in flight.

"The Re-gen engine has a much longer thrust transient than the ablatively-cooled engine," Musk said.

In the Merlin 1C's cooling system, kerosene fuel first flows through cooling channels lining the engine's chamber and nozzle. The fuel helps cool the scorching temperatures inside the engine, according to SpaceX.

Pyrotechnic bolts sever the physical connections between the stages and pneumatic pushers are designed to spring the stages apart. Those components all worked fine during Saturday night's launch, Musk said.

"It was a very small amount of (residual) thrust, but it was just enough to overcome the force of the stage separation pushers," Musk said.

The pressure inside the engine chamber was only about 10 pounds per square inch, or about one percent of the Merlin's total thrust. Musk said such low chamber pressures are difficult to detect on the ground because the ambient atmospheric pressure is nearly 15 psi.

"The thrust that's seen at sea level is much less than the thrust that's seen at vacuum. So it was essentially masked when the tests were done on our test pad at ground level," Musk said.

Engineers are also examining telemetry data to determine if there were any "near-misses" during the flight, but no such problems have been found yet, according to Musk.

The data indicates the second stage Kestrel engine ignited correctly and the payload fairing jettisoned on time, officials said.

"There are several data points showing a proper start-up before the plasma blow-back destroyed the base of the second stage," Musk said.

The Merlin 1C's performance was better than expected, which is a good sign for the Falcon 9 rocket, according to SpaceX officials.

The Falcon 9, a much larger vehicle built to compete with Atlas and Delta rockets in the U.S. fleet, will use nine Merlin 1C engines on the first stage and a single Merlin 1C on the second stage.

Musk wants a Falcon 1 to succeed in reaching orbit at least once before SpaceX tries launching a Falcon 9.

"Better to have learned this lesson now than to learn it at ten times greater scale," Musk said.

Officials recently completed back-to-back nine-engine test firings of the Falcon 9's first stage, a critical milestone in the vehicle's development.

The Falcon 9 will be used to launch the Dragon capsule, a craft built by SpaceX to carry crew and cargo to and from the international space station after the space shuttle retires in 2010. The Dragon is part of NASA's Commercial Orbital Transportation Services program to procure a new option for cargo transport to the station.

Musk vowed to continue his effort to reduce the cost of access to space. Despite the company's "bad luck," the career entrepreneur said he still believes low-cost space transport can be reliable.

Earlier this week, SpaceX announced a $20 million investment from the Founder's Fund, a technology venture capital firm based in San Francisco.

"That $20 million was just to essentially prop up the war chest and ensure that we always have cash on hand for at least three more flights," Musk said. "I suspect we'll actually not even use the $20 million investment, but it's certainly there in a worst-case scenario."

Musk was careful to describe Saturday night's problem as a "design error" and not an issue with production or quality assurance.

"We first have to eliminate design issues," Musk said. "Only then should the reliability of the vehicle be assessed."