First launch of new Japanese rocket scrubbed
BY STEPHEN CLARK
SPACEFLIGHT NOW
Posted: August 27, 2013


Japanese officials say a computer aboard Japan's new Epsilon rocket detected a faulty sensor reading moments before it was supposed to lift off Tuesday, postponing the launch as engineers diagnose the cause of the last-minute glitch.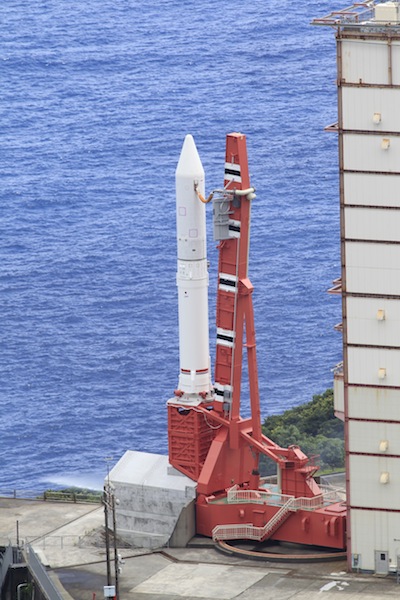 Credit: NASA/JPL-Caltech

The 80-foot-tall booster was poised for liftoff at 0445 GMT (12:45 a.m. EDT; 1:45 p.m. Japan time) Tuesday from the Uchinoura Space Center in southern Japan.
But the countdown was halted 19 seconds before launch time, when a computer noticed a sensor aboard the rocket indicated the vehicle had exceeded preset limits on its orientation. The rocket never moved, and the data from the rocket was inaccurate, according to Yasuhiro Morita, the Epsilon rocket's project manager at the Japan Aerospace Exploration Agency.
"An automatic stop alarm was issued as an attitude abnormality was detected approximately 19 seconds prior to the liftoff time during the automatic countdown sequence," JAXA said in a press release.
Morita said it would take at least three days to analyze the problem and devise a solution.
JAXA spent $200 million to develop the Epsilon rocket, focusing on the reduction of launch costs and the introduction of autonomous systems to streamline assembly and testing before each flight.
Officials say the Epsilon rocket can be integrated in seven days, a fraction of the time required to put together the M-5 launcher, its predecessor for launching small Japanese scientific satellites.
The rocket's on-board computer is designed to monitor its own health during the countdown, and this system noticed the attitude glitch Tuesday.
The Epsilon rocket is loaded with the SPRINT-A science satellite, which will observe Venus and Mars with a small telescope to gauge the impact of the solar wind on their atmospheres. SPRINT-A will also monitor the giant magnetosphere around Jupiter and study its reaction to solar wind particles.