NASA orders extra checks on SMAP's deployable antenna
BY STEPHEN CLARK
SPACEFLIGHT NOW
Posted: September 2, 2014


NASA has delayed the launch of a $490 million research satellite for further tests of a spinning mesh antenna that will measure moisture in Earth's soils, data that scientists say will help predict the future availability of water resources.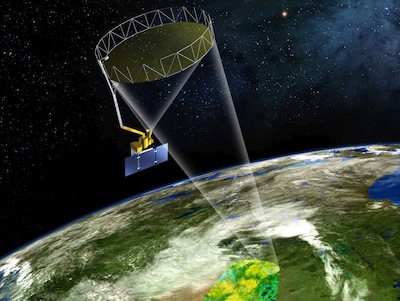 Artist's concept of the SMAP satellite in orbit with the reflector boom assembly deployed. Credit: NASA/JPL-Caltech

The launch of the Soil Moisture Active Passive, or SMAP, mission was set for Nov. 5 from Vandenberg Air Force Base in California.
But mission managers requested more time to assess results from tests conducted on the spacecraft's reflector boom assembly, a deployable 20-foot-diameter mesh antenna responsible for collecting data for SMAP's two science instruments, according to Alan Buis, a spokesperson at NASA's Jet Propulsion Laboratory, which manages the project.
NASA has not set a new launch date yet, but officials said liftoff could occur as soon as mid-December.
United Launch Alliance ground crews have erected SMAP's Delta 2 launcher at Vandenberg Air Force Base. The two-stage medium-lift launcher will fly with three solid rocket boosters.
SMAP will launch into a 422-mile-high sun-synchronous orbit for a three-year mission.
About two weeks after SMAP reaches orbit, the satellite will unfold the reflector boom, which will sit stowed next to the body of the spacecraft during launch. A tie-down mechanism will release the web-like mesh reflector to unfurl to its full size.
The antenna will spin up to 14.6 rpm -- relative to the main body of the SMAP spacecraft -- to cut a circular swath 621 miles (1,000 kilometers) across, gathering data on the level of moisture in soil and whether it is frozen or thawed.
The mission's two instruments, an L-band synthetic aperture radar and an L-band radiometer, will use the rotating mesh antenna.
The reflector's wide coverage and the satellite's orbit will allow SMAP to map global soil moisture every two or three days, according to scientists.
SMAP data will improve weather and climate prediction models and aid in flood prediction and drought monitoring, according to the mission's website.
Follow Stephen Clark on Twitter: @StephenClark1.