Climate change research craft delivered to Vandenberg
BY STEPHEN CLARK
SPACEFLIGHT NOW
Posted: April 30, 2014


A NASA satellite dedicated to monitoring carbon dioxide in Earth's atmosphere arrived at Vandenberg Air Force Base in California on Wednesday, ready to begin a two-month launch campaign leading to liftoff July 1 on a Delta 2 rocket.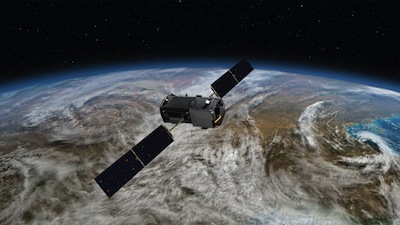 Artist's concept of the Orbiting Carbon Observatory 2 spacecraft in orbit. Photo credit: NASA/JPL-Caltech



The refrigerator-sized satellite was shipped via truck convoy from an Orbital Sciences Corp. factory in Gilbert, Ariz.

By 6 a.m. PDT (9 a.m. EDT; 1300 GMT) Wednesday, the spacecraft was at Vandenberg's front gate on California's Central Coast between Los Angeles and San Francisco, according to Ralph Basilio, project manager for the Orbiting Carbon Observatory 2 mission at NASA's Jet Propulsion Laboratory.

OCO 2 will identify sources and sinks of atmospheric carbon dioxide, places where the gas is emitted into the atmosphere and absorbed back into oceans and plants.

The OCO 2 satellite will be prepared for launch inside an Astrotech clean room at Vandenberg. Basilio said technicians will charge the spacecraft's battery, then begin a series of functional and performance tests to ensure OCO 2 survived the overnight road trip from Arizona.

The schedule calls for fueling of the Orbital-built satellite with 45 kilograms, or about 99 pounds, of hydrazine maneuvering propellant during the week of May 12.

"We have about two weeks of schedule margin, just in case we have any contingencies that we have to deal with," Basilio said in an interview Wednesday. "On or around June 10, we will be handing over the observatory to the launch vehicle contractor so we can start combined operations on that date."

The mission's launch vehicle is a United Launch Alliance Delta 2 rocket. The venerable medium-lift launcher is set to fly its first mission since September 2011 after NASA ordered four more Delta 2s that ULA assembled from leftover parts.

United Launch Alliance completed assembly of the main part of the Delta 2 rocket at Vandenberg's Space Launch Complex 2-West launch pad April 15. Technicians will add the OCO 2 spacecraft to the rocket in mid-June, followed by encapsulation of the 990-pound satellite inside the Delta 2's payload fairing.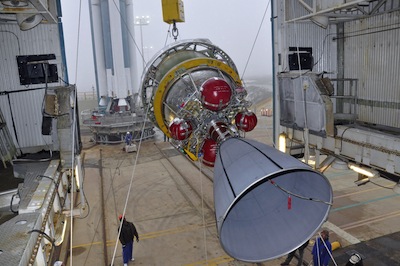 The second stage of the Delta 2 rocket is prepared for lifting atop the launch vehicle. Photo credit: NASA/Randy Beaudoin



The Delta 2 is powered by a kerosene-fueled RS-27A first stage engine and an upper stage consuming a fuel mixture of Aerozine 50 and a nitrous oxidizer. The Delta 2's "7320-10C" configuration selected to launch OCO 2 features three 40-inch-diameter strap-on solid rocket boosters supplied by ATK and a 10-foot-diameter composite payload fairing.

Liftoff is set for July 1 at 2:56 a.m. PDT (5:56 a.m. EDT; 0956 GMT).

OCO 2 will boost itself into a 438-mile-high orbit after launching to a preliminary altitude on the Delta 2 rocket, joining a network of NASA and international Earth observation satellites flying in formation around the planet once every 98 minutes.

The "A-train" satellite constellation allows scientists to compare observations from multiple satellites each designed to measure different parts of the Earth's atmosphere, climate, oceans and land.

OCO 2 will be positioned at the "head" of the A-train as its spectral instrument measures the glint of sunlight reflected off the column of carbon dioxide in the atmosphere.

Scientists say carbon dioxide is the leading human-produced greenhouse gas driving climate change, so understanding the carbon cycle is important for quantifying the role of fossil fuels in carbon dioxide production and forecasting how concentrations of the greenhouse gas will change in the future.

Satellite monitoring of carbon dioxide could yield a significant leap in understanding how the carbon cycle is linked to global warming.

A network of about 300 ground and plane-based stations scattered across the globe regularly monitor carbon dioxide concentrations. But the observation posts do not cover the whole planet.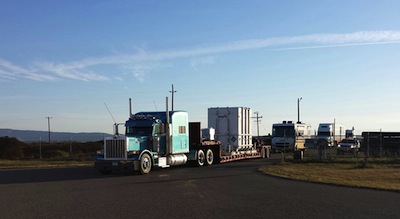 The convoy with the OCO 2 spacecraft and ground support equipment arrives at Vandenberg Air Force Base, Calif. Photo credit: NASA/JPL-Caltech



"Right now, we have a 60-year data record that shows that CO2 concentration levels have increased by about 100 parts per million, or about 25 to 30 percent, in the last 60 years," Basilio said. "But only about half of that carbon dioxide that's emitted through human activity, like fossil fuel emissions, stays in the atmosphere."

Scientists say the rest of the carbon dioxide is absorbed by oceans and plants, and OCO 2 will identify where these "sinks" are located.

"Are these sinks going to become less efficient? Are they going to become saturated? Does that mean more carbon dioxide stays in the atmosphere? What happens when more carbon dioxide stays in the atmosphere? Is that going to further accelerate the global climate change process? These are only but a few of the basic science questions that we hope to be able to answer with OCO 2 mission," Basilio said.

NASA started the OCO 2 mission after a similar satellite was lost in a launch failure on a Taurus XL rocket in February 2009. The payload fairing on the Taurus XL rocket did not separate during launch, and the rocket and OCO spacecraft crashed near Antarctica without achieving orbit.

OCO 2 has the same science goals as the original mission, but engineers modified the satellite's design to upgrade it with modern components. It is not a "carbon copy" of the original carbon research satellite, Basilio said.

Basilio was deputy project manager on the OCO mission and stayed on to lead the reflight.

"A lot of us came over to OCO 2 quite willingly because we had a sense of unfinished business," Basilio said. "We made a commitment to ourselves and to the institution that we were going to deliver the mission that was going to serve all of us well -- the American taxpayers and everyone on this planet. We couldn't walk away, so when the opportunity came up to refly OCO as the OCO 2 mission, all of us jumped at this opportunity."

Follow Stephen Clark on Twitter: @StephenClark1.