Delta 4 launch of new GPS satellite postponed
BY STEPHEN CLARK
SPACEFLIGHT NOW
Posted: October 16, 2013


The launch of a new satellite to replenish the U.S. Air Force's GPS navigation network, previously scheduled to lift off Oct. 23 on a United Launch Alliance Delta 4 rocket, has been postponed, according to Air Force officials.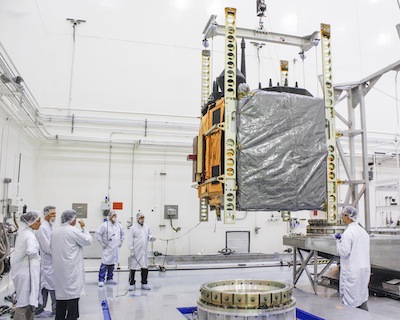 Photo of the GPS 2F-5 spacecraft after its arrival at Cape Canaveral Air Force Station, Fla. Credit: Boeing

The GPS 2F-5 spacecraft, the fifth in a series of 12 current-generation satellites built by Boeing Co., was supposed to be mated with its Delta 4 rocket last week.
But the satellite's trip to the Delta 4 launch pad was pushed back, along with the mission's Oct. 23 launch date, officials said.
United Launch Alliance spokesperson Jessica Rye deferred inquiries on the matter to the Air Force on Tuesday. An Air Force spokesperson did not respond to questions on the cause and expected length of the postponement by the end of Wednesday.
The two-stage Delta 4 rocket and its twin solid rocket boosters were stacked on the launch mount at Complex 37 at Cape Canaveral Air Force Station, Fla., following the expendable launcher's previous flight in early August.
Boeing shipped the GPS 2F-5 satellite from its factory in El Segundo, Calif., to the Florida launch site Aug. 1, kicking off more than two months of testing and fueling before engineers were supposed to move the 3,400-pound spacecraft to meet its Delta 4 booster.
The upcoming launch will mark the 25th flight of a Delta 4 rocket since launches began in November 2002. The launch of GPS 2F-5 will be the fourth and final Delta 4 mission of 2013.