NewsAlert





Sign up for our NewsAlert service and have the latest news in astronomy and space e-mailed direct to your desktop.


Privacy note: your e-mail address will not be used for any other purpose.







The Delta 2-Heavy rocket
FACT SHEET
Posted: September 3, 2011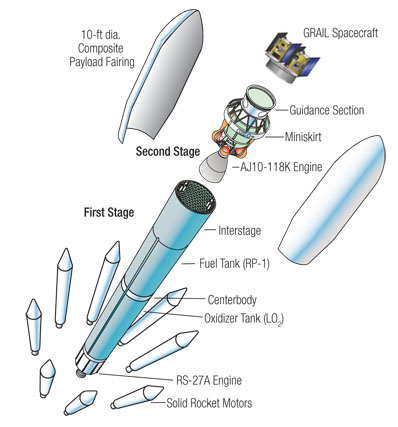 An illustration of the Delta 2 rocket for this launch. Credit: ULA



A United Launch Alliance Delta 2 7920-Heavy will be used to launch the GRAIL spacecraft for NASA.

The two-stage launch vehicle has four major assemblies: the first stage, including main engine and nine strap-on solid propellant rocket motors; interstage; second stage; and 10-foot diameter payload fairing. The Delta 2 is approximately 126 feet tall and eight feet wide.

Manufactured by Pratt & Whitney Rocketdyne, the RS-27A main engine operates on liquid oxygen and RP-1 (kerosene). The RS-27A has a sea-level thrust of 207,000 pounds. Each of the Alliant Techsystems solid strap-on motors has a sea-level thrust of 136,400 pounds. The main engine and six of solid rocket motors burn at liftoff.

An Aerojet AJ10-118K engine powers the second stage and burns Aerozine-50 fuel and nitrogen tetroxide oxidizer. Ignited at altitude, the engine has a vacuum-rated thrust of 9,645 pounds.

The United Launch Alliance Delta 2 family of expendable launch vehicles was derived from the Delta rockets built and launched since 1960. Delta's origins go back to the Thor intermediate-range ballistic missile, which was developed in the mid-1950s for the U.S. Air Force. The Thor, a single-stage, liquid-fueled rocket, was modified to become the Delta launch vehicle, which later evolved into the Delta 2.

Delta 2 rockets can be configured as two-or three-stage launch vehicles with a varying number of strap-on solid rocket boosters and two sizes of payload fairings, depending on mission requirements.