Next Delta 2 rocket to carry sharp-eyed spacecraft
BY JUSTIN RAY
SPACEFLIGHT NOW
Posted: July 14, 2008;
Updated July 15 with revised launch time


Launch preparations are underway at Vandenberg Air Force Base in California to ready a commercial Earth-imaging spacecraft for its deployment into orbit by a Delta 2 rocket.


| | |
| --- | --- |
| | The GeoEye 1 satellite is scheduled for launch Aug. 22. Credit: GeoEye |
The GeoEye 1 satellite arrived at the launch site last Wednesday, July 9, after being trucked from the General Dynamics factory in Gilbert, Arizonia. The craft will undergo a final round of pre-launch testing and fueling inside a Vandenberg processing facility.

"Our Gilbert team has worked diligently with GeoEye to prepare GeoEye 1 for service, and it is rewarding to see these efforts coming to fruition," said David Shingledecker, vice president and general manager of Integrated Space Systems, General Dynamics Advanced Information Systems.

United Launch Alliance technicians last week completed the on-pad assembly of the two-stage Delta 2 rocket that will haul the 4,300-pound satellite to space. The first stage was erected at the Space Launch Complex 2 pad on July 3, followed later by attachment of four strap-on solid boosters and the second stage. The rocket configuration is known as the Delta's 7420 version.

It was a quick turnaround for the launch pad, which hosted the successful June 20 liftoff of a Delta 2 carrying the joint U.S. and European oceanography satellite called Jason 2.

With GeoEye's rocket now stacked on the seaside complex, checkout of the Delta will be accomplished over the next few weeks. The satellite is scheduled for delivery to the pad in early August for attachment atop the second stage.


Space Launch Complex 2 is the Vandenberg pad used by the Delta 2 rocket. Credit: Chris Miller/Spaceflight Now
SEE FULL IMAGE HERE



Blastoff is slated for August 22 at 11:50:57 a.m. local time (2:50:57 p.m. EDT; 1850:57 GMT). The day's brief launch window will extend about 84 seconds.

"Our launch next month marks the culmination of a great deal of dedication by an extraordinarily talented team. We will soon be able to make available to the U.S. government and others worldwide the best quality commercial imagery on the market," said Bill Schuster, chief operating officer of Dulles, Virginia-based GeoEye.

"GeoEye 1, once launched and operational, will further demonstrate the viability of the commercial imagery industry and our ability to provide our key customers the imagery needed to meet critical mission requirements."

A chief customer of GeoEye 1's imagery will be the U.S. government. A $500 million contract from the National Geospatial-Intelligence Agency (NGA) helped finance construction and launch of the sophisticated satellite under the NextView program.

"The three specifications the NGA desires most are spatial resolution, geolocation accuracy and large-area coverage," said Cyndi Wright, NGA's NextView program manager. "As a mission partner, we believe GeoEye 1 will fulfill these requirements for NGA by providing highly accurate, extremely detailed Earth imagery for broad area coverage and updating geospatial foundational layers and mapping databases."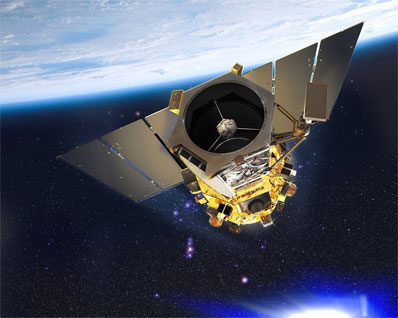 An artist's concept shows the GeoEye 1 satellite in orbit. Credit: GeoEye



GeoEye says the satellite will produce the sharpest images available from a commercial spacecraft, with a resolution of 0.41-meters or 16 inches for black and white imagery and 1.65 meters for color imagery.

"GeoEye 1 is ready for service and demonstrates a level of maturity that can be efficiently repeated in the production of future imaging satellites," Shingledecker said.

GeoEye 1 will join the Ikonos satellite, which was launched from Vandenberg's Space Launch Complex 6 aboard a Lockheed Martin Athena rocket in 1999, to obtain nearly one million square kilometers of imagery each day.


Additional coverage for subscribers:


VIDEO: JASON 2 LAUNCHES ABOARD DELTA 2 PLAY


VIDEO: ONBOARD CAMERA OF JASON 2 SEPARATING PLAY


VIDEO: OUR LAUNCH PAD CAMERA PLAY


VIDEO: LAUNCH AS SEEN FROM THE PRESS SITE PLAY


VIDEO: PAD GANTRY RETRACTED FROM ROCKET FOR LAUNCH PLAY


VIDEO: LAUNCH PAD'S MOBILE SERVICE TOWER ROLLBACK PLAY


VIDEO: TIME-LAPSE MOVIE OF TOWER ROLLBACK PLAY


VIDEO: DELTA 2 ROCKET LAUNCH CAMPAIGN PLAY


VIDEO: JASON 2 LAUNCH CAMPAIGN PLAY


VIDEO: PRE-LAUNCH NEWS CONFERENCE PLAY


VIDEO: JASON 2 MISSION SCIENCE BRIEFING PLAY


MORE: ALL JASON 2 VIDEO


SUBSCRIBE NOW