Technical trouble scrubs Delta 4-Heavy rocket launch
BY JUSTIN RAY
SPACEFLIGHT NOW
Posted: December 11, 2004


Today's maiden flight of the Boeing Delta 4-Heavy rocket was scrubbed because of trouble with the master sequencer that controls the crucial final seconds of the countdown.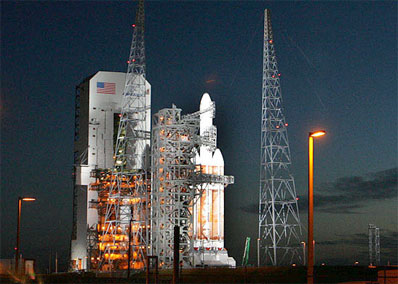 A technical problem will keep the Delta 4-Heavy rocket on the launch pad until Sunday. Credit: Gene Blevins/LA Daily News



As fueling operations got underway this morning at Cape Canaveral's pad 37B, engineers reported a problem with the Terminal Countdown Sequencer Rack computer system. Known as TCSR, this sequencer assumes control of the countdown at T-minus 8.5 seconds, overseeing ignition of the RS-68 main engines and verifying the Rocketdyne powerplants rev up to full throttle before committing the 1.6-million-pound vehicle to flight.

A 7-person troubleshooting crew was dispatched to the pad's telemetry room as officials hoped to resolve the problem. Loading of the rocket with super-cold liquid hydrogen and liquid oxygen was put on hold while the team worked at the pad.

After spending a couple of hours assessing the problem, the decision was made to postpone the mission until Sunday.

"At this time we would like to proceed with a scrub to today's operation," the Boeing launch director told the chief launch conductor. "The main activity for the rest of the day, of course, will be to address the problem at hand."

High-altitude winds and gusty surface winds were concerns during today's countdown, too.

Assuming the sequencer issue can fixed by Sunday, countdown clocks will start early tomorrow morning for a fresh launch attempt. Liftoff will be possible between 2:32 to 5:28 p.m. EST (1932-2228 GMT).

Air Force meteorologists predict an 80 percent chance of good weather during the window with just some scattered clouds at 4,000 feet with 3/8ths sky coverage and tops at 6,000 feet, visibility of 10 miles, northwesterly winds from 300 degrees at 10 gusting to 15 knots and a temperature of 64 degrees F.

"The upper-level trough over Florida today will move eastward off the coast tomorrow resulting in a decrease in winds both at the surface and at the upper levels. Cloud cover will also continue to decrease through Sunday. A slight concern remains for a violation of ground winds," the Air Force weather team reports.

This inaugural Delta 4-Heavy rocket launch will loft an instrumented satellite mockup into geosynchronous orbit during a six-hour mission designed to demonstrate the complex booster operates correctly before two national security payloads are flown next year.


Additional coverage for subscribers:


AUDIO: THURSDAY'S 68-MINUTE PRE-LAUNCH NEWS CONFERENCE QT


VIDEO: ANIMATION PROVIDES PREVIEW OF A DELTA 4-HEAVY LAUNCH QT


VIDEO: RE-LIVE THE INAUGURAL DELTA 4 LAUNCH FROM 2002 QT


VIDEO: ON-PAD FLIGHT READINESS ENGINE FIRING TEST QT


VIDEO: TAKE TOUR OF LAUNCH PAD 37B QT


SUBSCRIBE NOW