Spaceflight Now +





Premium video content for our Spaceflight Now Plus subscribers.

Gravity Probe-B flies
The Boeing Delta 2 rocket launches with NASA's Gravity Probe-B spacecraft from Vandenberg Air Force Base, California. (4min 16sec file)
Play video

Tower view
Liftoff as seen from a camera mounted on the mobile service tower next to the Delta 2 rocket. (26sec file)
Play video

Separation!
The Gravity Probe-B spacecraft is successfully deployed from the Delta rocket as seen by an onboard video camera. (2min 20sec file)
Play video

Become a subscriber
More GP-B video!







Launch photo gallery
SPACEFLIGHT NOW
Posted: April 20, 2004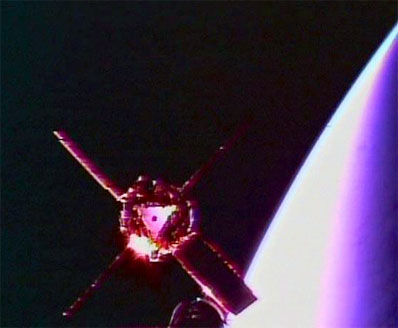 The Gravity Probe-B spacecraft is successfully deployed from the Delta rocket's upper stage. A video camera mounted on the rocket shows the satellite with its solar arrays deployed. Credit: NASA TV/Spaceflight Now


END