NASA infrared observatory launch reset to April 27
BY SPACEFLIGHT NOW
Posted: APRIL 14, 2003


NASA has targeted Sunday, April 27 as the new launch date for the Space Infrared Telescope Facility atop the inaugural Boeing Delta 2 Heavy rocket. The $1.2 billion mission was scheduled to fly April 18 from Cape Canaveral only to be postponed by senior agency officials to resolve concerns with the Delta 2.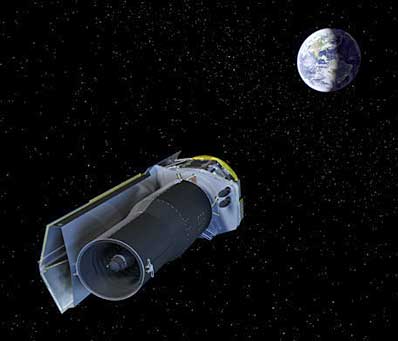 An artist's concept of SIRTF departing Earth. Credit: NASA/JPL/Caltech



Although NASA has yet to explain the specific problem that prompted the delay, sources have said it involves the rocket's strap-on solid-propellant boosters. The Delta 2 Heavy uses 46-inch diameter solid motors originally developed for the more powerful Delta 3 rocket. A standard Delta 2 uses 40-inch motors.

"It has been determined that additional time is needed to complete launch readiness evaluations for the Delta 2 launch vehicle prior to holding the Flight Readiness Review," NASA said in a written statement Monday. "Therefore, the launch of SIRTF is being rescheduled to occur on April 27, 2003, at 4:25:01 a.m. EDT."

There will be just an instant in time each day to launch SIRTF.

This mission -- the fourth and final of NASA's "Great Observatories" series -- faces a May 7 deadline to launch before needing to hand Cape Canaveral's pad 17B to a different Delta 2 that will carry the second Mars Exploration Rover being dispatched to the Red Planet this year.

SIRTF recently completed its pre-flight processing in Hangar AE at the Cape. It was driven to pad 17B on April 5 for mating to the Delta 2. The two-halves of the rocket's nose cone were installed around the observatory on April 10. The spacecraft's servicing with cryogenic helium will begin next week.

Built by Lockheed Martin and Ball Aerospace, the 1,907-pound SIRTF will be launched into an orbit that trails behind Earth while circling the Sun.