Spaceflight Now +





Premium video content for our Spaceflight Now Plus subscribers.

Mission engineering
Deep Impact mission officials provide an engineering overview of the spacecraft's daring attempt to fire a small probe into Comet Tempel 1. This briefing occurred July 1 at JPL. (41min 04sec file)

Play video:
Dial-up | Broadband

Science conference
Scientists working on the Deep Impact mission give an update on research into Comet Tempel 1 and preview what they hope to learn with the July Fourth impact. This briefing occurred July 1 at JPL. (32min 29sec file)

Play video:
Dial-up | Broadband

Launch of Deep Impact!
A Boeing Delta 2 rocket blasts off from Cape Canaveral carrying NASA's comet-smashing probe called Deep Impact. This extended clip follows the mission through second stage ignition and jettison of the rocket's nose cone. (5min 37sec file)
Play video

Comet science
On the eve of Deep Impact's launch, mission scientists hold a news conference at Kennedy Space Center to discuss the comet-smashing project. (35min 17sec file)

Play video:
Dial-up | Broadband

Download audio:
For iPod | MP3

Mission overview
Rick Grammier, NASA's Deep Impact project manager from the Jet Propulsion Laboratory, provides a detailed overview of the spacecraft and its mission. (4min 54sec file)
Play video

Science preview
Deep Impact principal investigator Michael A'Hearn explains how the comet collision will occur and what scientists hope to learn. (7min 11sec file)
Play video

Become a subscriber
More video





NewsAlert





Sign up for our NewsAlert service and have the latest news in astronomy and space e-mailed direct to your desktop.


Privacy note: your e-mail address will not be used for any other purpose.







Hubble captures Deep Impact's comet collision
HUBBLE EUROPEAN SPACE AGENCY INFORMATION CENTRE
Posted: July 4, 2005


The NASA/ESA Hubble Space Telescope captured the dramatic effects of the collision early July 4 between a 370-kilogram projectile released by the Deep Impact spacecraft and comet 9P/Tempel 1.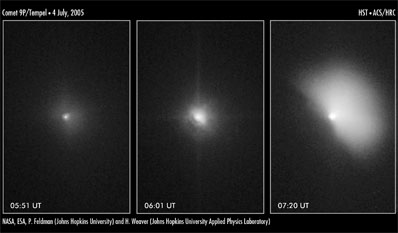 Credit: NASA, ESA, and the Hubble Hertiage Team (STScI/AURA)
Download larger image version here
Download full size image here



This sequence of images shows the comet before and after the impact. The image at left shows the comet 10 minutes before the impact. The encounter occurred at 1:52 a.m. EDT (0552 GMT).

In the middle image, captured 15 minutes after the collision, Tempel 1 appears four times brighter than in the pre-impact photo. Astronomers noticed that the inner cloud of dust and gas surrounding the comet's nucleus increased by about 200 kilometres in size. The impact caused a brilliant flash of light and a constant increase in the brightness of the inner cloud of dust and gas.

The Hubble telescope continued to monitor the comet, snapping another image [at right] 62 minutes after the encounter. In this photo, the gas and dust ejected during the impact are expanding outward in the shape of a fan. The fan-shaped debris is travelling at about 1,800 kilometres an hour, or twice as fast as the speed of a commercial jet. The debris extends about 1,800 kilometres from the nucleus.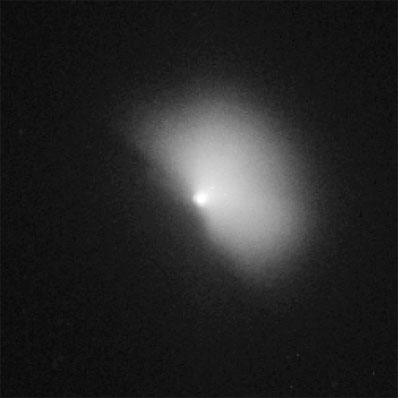 Credit: NASA, ESA, and the Hubble Hertiage Team (STScI/AURA)



The potato-shaped comet is 14 kilometres wide and 4 kilometres long. Tempel 1's nucleus is too small even for the Hubble telescope to resolve.

The visible-light images were taken by the Advanced Camera for Surveys' High Resolution Camera.

The Hubble Space Telescope is a project of international cooperation between ESA and NASA.


Additional coverage for subscribers:


VIDEO: DEEP IMPACT SMASHES INTO COMET PLAY


VIDEO: RIDE ALONG AS THE IMPACTOR SLAMS INTO TARGET PLAY


VIDEO: NARRATION OF IMPACTOR'S FINAL IMAGES PLAY


VIDEO: POST-IMPACT NEWS CONFERENCE PLAY


VIDEO: "DEEP IMPACT: THE MISSION" MOVIE PLAY


VIDEO: "DIGGING OUT THE SCIENCE" PLAY


VIDEO: RECAP OF IMPACTOR DEPLOY ACTIVITIES PLAY


VIDEO: PREVIEW OF TONIGHT'S ENCOUNTER TIMELINE PLAY


VIDEO: LEARN MORE ABOUT THE SPACECRAFT PLAY


VIDEO: SCIENCE DATA FROM COMET OUTBURSTS PLAY


VIDEO: SUNDAY MIDDAY STATUS REPORT DIAL-UP | BROADBAND 1 & 2


VIDEO: MISSION ENGINEERING BRIEFING DIAL-UP | BROADBAND


VIDEO: FRIDAY'S SCIENCE CONFERENCE DIAL-UP | BROADBAND


MORE: DEEP IMPACT VIDEO COLLECTION!


SUBSCRIBE NOW