China's first piloted docking test goes smoothly in space
BY STEPHEN CLARK
SPACEFLIGHT NOW
Posted: June 24, 2012


Chinese astronaut Liu Wang, an experienced Air Force pilot, carefully guided the Shenzhou 9 spacecraft to a docking with the Tiangong 1 space lab module Sunday, notching China's first manual docking in orbit.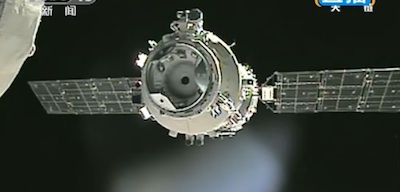 Shenzhou 9 is visible in this view from a camera on-board Tiangong 1. Credit: CCTV/Spaceflight Now

The vehicles were flying around Earth at nearly 5 miles per second, but the docking appeared flawless in video broadcast live on Chinese state television
Wu Ping, a spokesperson for China's human space program, said the manual docking trial was successful.
"The success of the manual rendezvous and docking mission represents another important phase achievement of the Shenzhou 9 and Tiangong 1 rendezvous and docking mission," Wu said in a prepared statement.
The astronauts boarded the Shenzhou 9 spacecraft and undocked from the Tiangong 1 space lab at 0312 GMT Sunday (11:12 p.m. EDT Saturday). The capsule autonomously flew to a point about 1,300 feet from Tiangong 1 before moving back toward the module.
After pausing about 459 feet from Tiangong 1, the astronauts switched Shenzhou 9 into a manual flight mode.
Pilot Liu Wang flew the spacecraft with two hand controllers - one to adjust its attitude and another to manage the speed of Shenzhou 9's approach to Tiangong 1. Wearing a white spacesuit, Liu sat in the center seat of Shenzhou 9's descent capsule for the manual docking.
Contact between docking rings on the two spacecraft occurred at 0448 GMT (12:48 a.m. EDT), and the docking system retracted about seven minutes later to create a firm connection between Shenzhou 9 and Tiangong 1.
According to Chinese state media reports, the astronauts entered the Tiangong 1 space lab a few hours after docking.
The crew is commanded by Jing Haipeng, a veteran of a previous spaceflight. Liu Yang, China's first female space flier, and pilot Liu Wang round out the crew.
The trio will depart the Tiangong 1 space lab Thursday and return to Earth on Friday, Chinese time. China has not announced the target landing time.
The manual docking maneuver was crucial for China's future space aspirations, which include the launch of a larger man-tended Tiangong space lab in a few years. But first, China plans another crewed flight to Tiangong 1 as soon as late 2012.
China plans to launch a larger space station around 2020 to potentially house permanent inhabitants.
Tiangong means heavenly palace in English, while Shenzhou is translated as divine craft.
The two spacecraft connect through a docking system similar to the Russian-designed APAS system, which was used in the joint U.S.-Soviet Apollo-Soyuz Test Project, the assembly of the Russian space station Mir and by space shuttles visiting the International Space Station.
The androgynous docking system is designed so either spacecraft can be active or passive. Shenzhou 9 will be the active vehicle during docking, with Liu using visual and sensor inputs to adjust the capsule's approach.
The Shenzhou docking system is designed to automated or manual dockings on missions with a crew on-board.