Astronauts to attempt China's first manual docking in space
BY STEPHEN CLARK
SPACEFLIGHT NOW
Posted: June 23, 2012


Three Chinese astronauts will temporarily depart their quarters inside the orbiting Tiangong 1 space lab early Sunday, backing away inside a Shenzhou spacecraft before pilot Liu Wang takes control of the capsule to complete the first manual docking in China's burgeoning space program.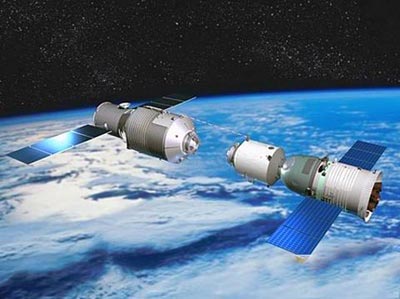 Artist's concept of Tiangong 1 (left) and Shenzhou 9 (right) in orbit. Credit: CMSEO

The maneuver is planned for about 0400 GMT (12 a.m. EDT) Sunday, according to the China Manned Space Engineering Office, a division of the Chinese military responsible for the country's human space endeavors.
The Shenzhou 9 astronauts rode their spacecraft to an automated docking with the Tiangong space lab Monday, two days after lifting off from northwest China atop a Long March rocket.. The crew has worked worked inside the module for more than five days, conducting engineering tests of the bus-sized laboratory and completing a series of medical experiments, according to Chinese space officials.
The crew is commanded by Jing Haipeng, a veteran of a previous spaceflight. Liu Yang, China's first female space flier, and pilot Liu Wang round out the crew.
The astronauts have also exchanged messages with their families on Earth since they arrived at Tiangong 1, according to the state-run Xinhua news agency.
A spokesperson with the China Manned Space Engineering Office said the astronauts were in good condition and all systems were operating normally. China released video of Liu Yang riding a stationary exercise bike inside the Tiangong 1 module.
Liu Wang took manual control of the lab's attitude control system, testing his ability to control the orientation of the 60-foot-long docked complex of Shenzhou 9 and Tiangong 1.
Liu Wang and Jing Haipeng simulated the piloted docking procedure more than 1,500 times before launch, according to Wu Ping, a spokesperson for China's manned space program.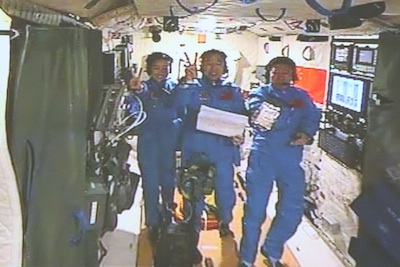 The Shenzhou 9 crew. Credit: CMSEO

The 43-year-old Liu Wang is a senior colonel in the Chinese Air Force with 1,000 hours of safe flying time. He was selected for astronaut training in 1998.
The Shenzhou 9 astronauts will spend another four or five days inside Tiangong 1 after Sunday's docking before departure. Shenzhou 9 expected to land in northwest China's Inner Mongolia autonomous region June 29, Chinese time.
The manual docking maneuver is crucial for China's future space aspirations, which include the launch of a larger man-tended Tiangong space lab in a few years. But first, China plans another crewed flight to Tiangong 1 within a year.
China plans to launch a larger space station around 2020 to potentially house permanent inhabitants.
Tiangong means heavenly palace in English, while Shenzhou is translated as divine craft.
The two spacecraft connect through a docking system similar to the Russian-designed APAS system, which was used in the joint U.S.-Soviet Apollo-Soyuz Test Project, the assembly of the Russian space station Mir and by space shuttles visiting the International Space Station.
The androgynous docking system is designed so either spacecraft can be active or passive. Shenzhou 9 will be the active vehicle during docking, with Liu using visual and sensor inputs to adjust the capsule's approach.
The Shenzhou docking system is designed to automated or manual dockings on missions with a crew on-board.
China says that a modified version of the docking system could permit Shenzhou capsules to attach to the ISS if the country was ever invited to join the multinational research laboratory.
But U.S. law prevents NASA from partnering with China.