Chinese astronauts open door on orbiting research lab
BY STEPHEN CLARK
SPACEFLIGHT NOW
Posted: June 18, 2012


Flying on autopilot with three astronauts on-board, China's Shenzhou 9 spacecraft glided to a smooth docking with the Tiangong 1 space lab Monday, forming a small-scale space station 200 miles above Earth.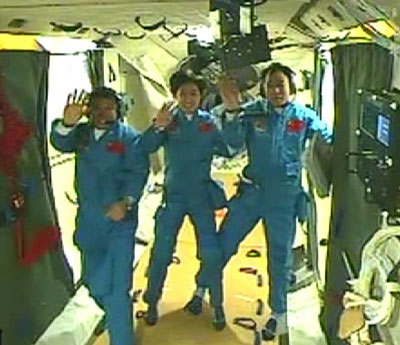 Astronauts Liu Wang, Liu Yang and Jing Haipeng aboard the Tiangong 1 space lab. Credit: CCTV/Spaceflight Now

Jing Haipeng, Shenzhou 9's veteran commander, was first to enter the laboratory module about three hours after the two vehicles docked at 0607 GMT (2:07 a.m. EDT; 2:07 p.m. Beijing time).
Jing floated through the narrow 31-inch passage leading into Tiangong 1, followed moments later by Liu Wang, Shenzhou 9's chief pilot.
The astronauts checked Tiangong 1's environmental and control systems, Chinese officials said, before beginning a series of unspecified experiments.
China's first female astronaut - Liu Yang - joined her crewmates inside Tiangong 1 a few minutes later. All three astronauts appeared smiling and waving in video played on Chinese state television.
The astronauts greeted engineers and officials at the Beijing Aerospace Control Center after entering the Tiangong lab.
"During the flight of the complex, the three astronauts will conduct scientific experiments, technological experiments, exercise and rest in Tiangong 1 target vehicle," said Wu Ping, a spokesperson for the China Manned Space Engineering Office.
The crew became the first people to enter the Tiangong 1 space lab in orbit. It blasted off in September 2011 and was used as a target for the unmanned Shenzhou 8 docking demonstration mission in November.
The astronauts will spend about 10 days docked with Tiangong 1 before returning to Earth around June 29 after 13 days in space. Shenzhou 9 and its three passengers lifted off from China on Saturday.
Shenzhou 9 is China's fourth human spaceflight, following missions in 2003, 2005 and 2008.
On June 24, the astronauts will board Shenzhou 9, close the hatches between the spacecraft, and back away from Tiangong 1, according to the state-run Xinhua news agency.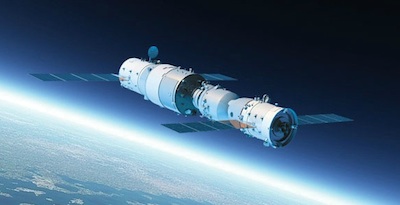 Artist's concept of the Tiangong 1 and Shenzhou 9 spacecraft linked together. Credit: CASC

Liu Wang will pilot the capsule back toward the space lab in a crucial test of the crew's ability to manually dock in orbit. All Chinese dockings to date have been conducted automatically.
The vehicles form a pairing stretching more than 60 feet long and up to 13 feet in diameter, bigger than a double-decker bus. The combo has an interior habitable volume of about 700 cubic feet.
The two spacecraft are connected with a docking system similar to the Russian-designed APAS system, which was used in the joint U.S.-Soviet Apollo-Soyuz Test Project, the assembly of the Russian space station Mir and by space shuttles visiting the International Space Station.
The androgynous docking system is designed so either spacecraft can be active or passive. Shenzhou 9 was the active vehicle during Monday's docking, using laser and radar sensors to feed data into the craft's guidance computer to adjust its approach.
The Shenzhou docking system is designed to automated or manual dockings on missions with a crew on-board.
China says that a modified version of the docking system could permit Shenzhou capsules to attach to the ISS if the country was ever invited to join the multinational research laboratory.
But U.S. law prevents NASA from partnering with China.
Nine people are now in orbit around Earth, including the three-person Shenzhou crew and six residents on the ISS.
Once the Shenzhou and Tiangong modules docked, the Tiangong 1 orbiter took over control of the joint spacecraft. Tiangong 1 carries six control moment gyroscopes to maintain its orientation in space without using precious rocket propellant.
The spacecraft will also share electricity and other resources.
Tiangong means heavenly palace in English, while Shenzhou is translated as divine craft.
China plans to launch larger Tiangong modules in the next few years with more advanced life support systems to prepare for the construction of a large space station the size of NASA's 1970s-era Skylab complex.