Chinese astronauts blast off en route to orbiting lab
BY STEPHEN CLARK
SPACEFLIGHT NOW
Posted: June 16, 2012


Three Chinese astronauts rode a Long March rocket into orbit Saturday, kicking off 13 days of docking trials and experiments laying the groundwork for China's ambition to build a permanent space station by the end of the decade.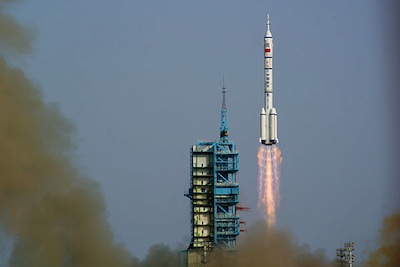 Liftoff of the Long March 2F rocket with three astronauts occurred at 6:37 p.m. Beijing time. Credit: China Manned Space Engineering Office

The Shenzhou 9 spacecraft lifted off at 1037 GMT (6:37 a.m. EDT; 6:37 p.m. Beijing time) from the Jiuquan space base in northwest China's Inner Mongolia autonomous region.
A 19-story Long March 2F rocket - consuming thousands of gallons of toxic, corrosive propellants - accelerated the 8.5-ton Shenzhou spaceship into orbit, deploying the craft less than 10 minutes after liftoff.
Jing Haipeng - a veteran Chinese astronaut - is leading the three-person crew. Liu Wang, an officer in the Chinese Air Force, is the pilot of Shenzhou 9.
Astronaut Liu Yang, a 33-year-old Air Force pilot, became China's first woman in space. She will be in charge of medical experiments during the flight, according to Chinese space officials.
The trio is embarking on China's fourth human spaceflight, and the program's first crewed mission since 2008.
Wu Ping, a spokesperson with the China Manned Space Engineering Office, called the Shenzhou 9 mission a "landmark event" for technical and social reasons.
The astronauts entered orbit showing broad smiles and waving to a camera mounted inside the cabin of Shenzhou 9. The spacecraft unfurled solar panels a few moments later.
Shenzhou 9 is pursuing the Tiangong 1 target spacecraft, an orbiting laboratory module designed as a testbed for future space station components. Tiangong 1 was launched in September 2011 and is circling Earth at an altitude of more than 200 miles.
Five major engine burns are planned between launch and docking with Tiangong 1. Chinese state media reported Shenzhou 9 will reach the target module two days after liftoff, but the exact docking time Monday has not been announced.
Shenzhou 9's computers will automatically process navigation data from a high-tech suite of radar, laser and optical sensors designed to collect information on the range and closing rate on approach to Tiangong 1.
Tiangong means heavenly palace in English, while Shenzhou is translated as divine craft.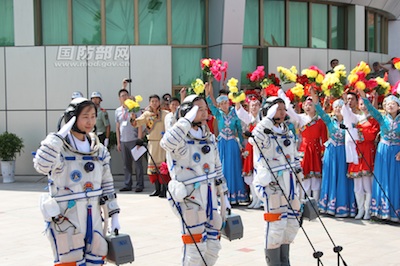 Liu Yang, Jing Haipeng and Liu Wang (left to right) depart their crew quarters on the way to the launch pad before liftoff. Credit: China Ministry of Defense

The vehicles will connect with a docking port similar to the Russian-designed APAS system, which was used in the joint U.S.-Soviet Apollo-Soyuz Test Project, the assembly of the Russian space station Mir and by space shuttles visiting the International Space Station.
At least two members of the Shenzhou 9 crew will enter Tiangong 1, transferring supplies into the bus-sized module and conducting experiments probing the astronauts' medical conditions, officials said.
"During the flight of the complex, the three astronauts will conduct scientific experiments, technological experiments, exercise and rest in Tiangong 1 target vehicle," Wu said.
Some time during the 13-day mission, Shenzhou 9 will depart Tiangong 1 and back away from the spacecraft. Pilot Liu Wang will manually guide the ship back toward Tiangong 1 for a second docking.
Liu and Jing Haipeng have practiced manual docking procedures more than 1,500 times, according to Wu.
The three-person crew will return to Earth before the end of June after 13 days in space. The flight will be China's longest human spaceflight to date.
Wu said the Tiangong 1 module is ready to receive the crew.
Tiangong 1 and the unmanned Shenzhou 8 spacecraft accomplished China's first docking in November 2011.
Another Shenzhou mission will lift off with astronauts in 2013 for a visit to Tiangong 1.
China plans to launch a larger Tiangong spacecraft as soon as next year, followed by a full-size space station module around the middle of the decade.
A 100-ton Chinese space station the size of NASA's Skylab complex from the 1970s could be operational by the early 2020s.