Shenzhou capsule carried dummies, German payload
BY STEPHEN CLARK
SPACEFLIGHT NOW
Posted: November 19, 2011


Chinese recovery crews retrieved two dummy astronauts and a German experiment aboard the Shenzhou 8 space capsule after landing Thursday.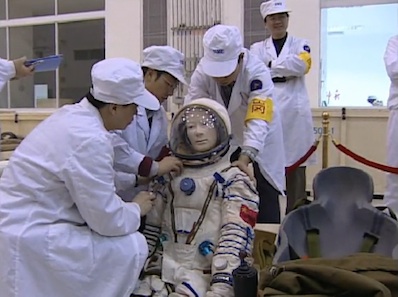 Workers prepare one of the dummy astronauts that flew aboard Shenzhou 8. Credit: CCTV

The dummies and experiments were designed to study how astronauts and biological samples respond to microgravity and cosmic radiation during two-and-a-half weeks in space.
The Shenzhou 8 capsule plummeted through the atmosphere and parachuted to Earth on Thursday, touching down at about 1130 GMT (6:30 a.m. EST) in the grasslands of China's Inner Mongolia province. Teams tilted the gumdrop-shaped spacecraft upright and removed several time-critical payloads, including dummies and the joint Chinese-German SIMBOX experiment.
SIMBOX stands for Science in Microgravity Box, and it contained an array of biological samples for Shenzhou 8's mission.
Attired in spacesuits and helmets, each 165-pound dummy astronaut contained sensors to measure vital signs such as body temperature, respiration, pulse and blood pressure, according to Chinese state media.
China has launched dummies before on a test before the country's first manned flight in 2003, but the Shenzhou 8 experiment will prepare for longer manned missions.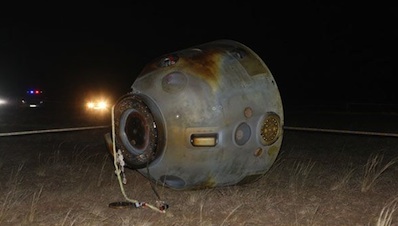 The Shenzhou capsule touched down after sunset in Inner Mongolia, a province in northwestern China. Credit: China Manned Space Engineering Office

China plans to construct an orbital space lab by 2016 and assemble a 100-ton space station by 2020. Astronauts could live aboard those spacecraft for weeks or months at a time.
China has launched three manned Shenzhou missions since 2003, but the longest flight lasted less than five days in 2005. The Shenzhou 8 mission blasted off Oct. 31 and stayed in orbit for 17 days, the longest ever flight of a Shenzhou vehicle.
The SIMBOX payload carried 17 experiments designed by German and Chinese researchers. Plants, nematodes, bacteria and human cancer cells inside the SIMBOX container were exposed to weightlessness and radiation, addressing fundamental biological and medical questions.
SIMBOX featured an intelligent incubator and centrifuge and was built by EADS Astrium.
The flight of SIMBOX aboard Shenzhou 8 marked the Chinese human space program's first cooperation with another country.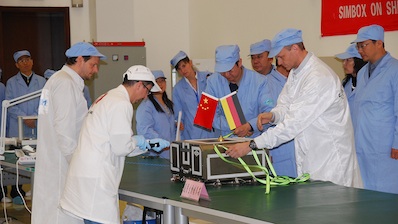 Scientists work on the SIMBOX container. Credit: DLR

"Figuratively speaking, SIMBOX has been a leap over the Great Wall that has opened up a completely new partnership in human spaceflight for Germany," said Gerd Gruppe, executive board member of the German Aerospace Center, known by its German acronym DLR. "Our new partnership with China provides German scientists with additional research opportunities in space. I do not see this as a competition with our proven long-term cooperation partners, the United States and Russia, but rather as a complement."
SIMBOX and the Shenzhou 8 capsule were returned to Beijing after landing.
Shenzhou 8 docked with China's Tiangong space laboratory module twice, demonstrating a suite of high-tech rendezvous and navigation sensors more than 200 miles above Earth. The mission also tested a docking system based on a Russian design used on the International Space Station.
Chinese Gen. Chang Wanquan hailed the mission as a complete success shortly after Thursday's landing.