Successful docking catapults China into elite space club
BY STEPHEN CLARK
SPACEFLIGHT NOW
Posted: November 2, 2011


Two unmanned Chinese spaceships made an automated docking in orbit Wednesday, successfully proving precise navigation and rendezvous technology crucial to China's aspirations for a space station by the end of this decade.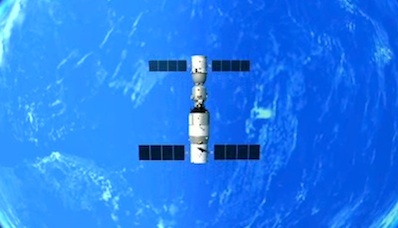 Artist's concept of the Shenzhou 8 (top) and Tiangong 1 (bottom) spacecraft joined together.

Although no one was aboard either spacecraft Wednesday, the precise docking could give Chinese officials confidence to put up to three astronauts on the next rendezvous mission.
Relying on data from radar, laser and optical sensors, the Shenzhou 8 spacecraft's computer automatically guided the capsule to a docking at 1728 GMT (1:28 p.m. EDT) more than 200 miles above China.
The docking occurred during a night pass to avoid interference from the sun's glare with sensitive navigation and rendezvous equipment.
"I announce the rendezvous and docking of Shenzhou 8 and Tiangong 1 has been a complete success," said Chinese Gen. Change Wanquan, commander of China's manned space program.
Cameras on both vehicles captured live footage of the historic link-up and beamed video back to Earth for broadcast on Chinese state television.
After the first contact, the docking ring between Shenzhou 8 and Tiangong 1 retracted and 12 locking pins drove to form a sturdy attachment. Together, the spacecraft form a single vehicle stretching more than 60 feet long and up to 13 feet wide, not including solar panels.
It was the first automated docking by China, which joins an elite club of other space-faring nations with the capability. China became the third nation to launch a person into space 2003 and accomplished its first spacewalk in 2008.
The Shenzhou docking collar is similar to the Russian-designed APAS system, which was used in the joint U.S.-Soviet Apollo-Soyuz Test Project, the assembly of the Russian space station Mir and by space shuttles visiting the International Space Station.
The androgynous docking system is designed so either spacecraft can be active or passive.
China says the docking system would permit Shenzhou capsules to attach to the ISS if the country was ever invited to join the multinational research laboratory.
Once the Shenzhou and Tiangong modules docked, the Tiangong 1 orbiter took over control of the joint spacecraft. Tiangong 1 carries six control moment gyroscopes to maintain its orientation in space without using precious rocket propellant.
The spacecraft will also share electricity and other resources.
Chinese officials say the spacecraft will remain together for 12 days before separating and setting up for a second rendezvous and docking Nov. 14. Shenzhou 8 will back away to a distance of 460 feet before commencing a second approach, this time in daylight to check the rendezvous sensors in sunlight, according to Wu Ping, a spokesperson for the China Manned Space Engineering Office, a division of the Chinese military.
Two days later, Shenzhou 8 will disconnect and retreat from Tiangong 1, then its re-entry module will parachute back to Earth around Nov. 17, concluding the mission.
Tiangong 1 will remain in space awaiting the launch of Shenzhou 9, which could carry human passengers for a manual docking test.
China says at least one of the next two Shenzhou flights, which are both slated to visit Tiangong 1, will be a crewed mission. Both could be manned if Shenzhou 8 is a complete success.
Tiangong 1 is designed for a two-year mission, then China will launch a larger Tiangong 2 module in 2013 for more advanced testing. A third Tiangong module could launch in 2015, paving the way for the assembly of a 100-ton space station by 2020.